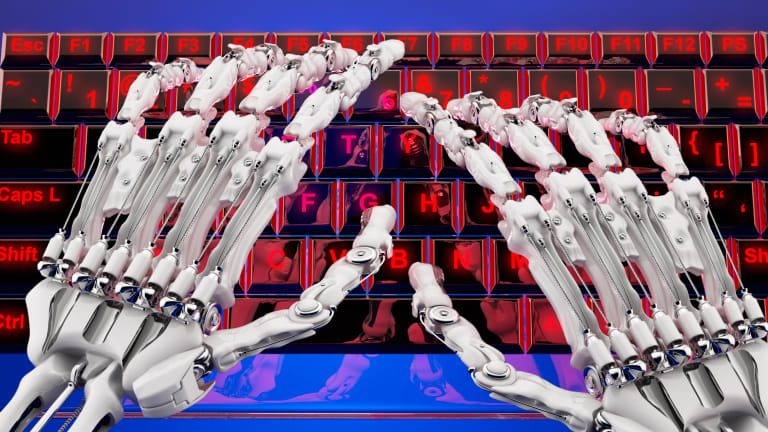 There's a Robot Revolution Coming to Savings, Investing Advice
Will robots be calling the shots with your investment portfolio? Yes, and maybe sooner than you think.
NEW YORK (MainStreet) — You've heard of Robocop — the 1987 film about a part-man, part-robotic police officer wreaking havoc and instilling justices on bad guys in future Detroit?
The movie was so well-received that it spawned two sequels, along with a reboot this year.
Wall Street has a new automated sheriff in town too, but it's probably too early to say if people will have the same kind of love for these so-called "roboadvisors" — a "technology platform that offers investment advice and selection based on an individual's financial goals and manage those investments based on an algorithm for a low cost," according to Hartford Funds.
The Radnor, Pa., investment firm says financial consumers (and even many professional financial planners) aren't aware they have access to the "rapidly growing category" of robotic financial advice. 

WATCH: More personal finance videos on MainStreet | More videos from Scott Gamm
View Today's Auto Loan Refi Rates
Hartford Funds canvassed 1,000 adults and 100 financial planners, finding that just 11% of financial consumers and half of professional financial planners had ever heard of roboadvisors. But when shown a demonstration of how the technology worked, 60% of consumers surveyed said they immediately saw the benefits of working with a robotic financial advisory online platform.
Flesh-and-blood advisers shouldn't break into a sweat over roboadvisors; 74% of consumers say they still prefer a human being handling their money. But experts say a combination of human and technology-based financial advisory practices offer an appealing customer service experience that should gain traction.
"The issue consumers face is that they don't have clearly defined goals and objectives. As a result, they are still inclined to rely on a person for financial guidance. This is where the convergence of traditional advisory services and technology can be very powerful," says John Diehl, senior vice president at Hartford Funds. "We're generally seeing that technology can create significant scale and efficiency for Americans if they have a clear picture of what they want to accomplish. However, establishing that clarity still seems to be primarily a human interaction as opposed to a technological exchange of information."
Hartford says both parties can benefit from roboadvisory services, but it's really financial services professionals who may capitalize most, especially when reaching out to younger customers who tend to use online digital platforms more than their parents.
"Given the relative lack of awareness of roboadvisors among consumers, robo-knowledge can be a key differentiator for advisors," Diehl says. "This can arm them with the insights necessary to further educate existing clients while engaging the next generation of prospects. Millennials in particular present an interesting opportunity as they realize the value of a human advisor, but are also the most tech savvy."
— By Brian O'Connell for MainStreet