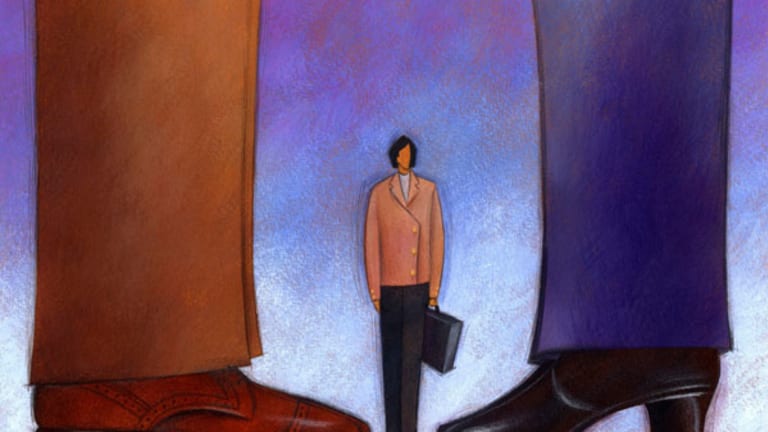 The Worst Small-Business Products of 2009
This year brought a crop of tech blunders, each with its own small-business lesson to be learned. Here are the top three.
NEW YORK (TheStreet) -- And now, some hard lessons from a hard year.
Running a small business can be humbling. I should know. I make my living giving tech advice by and for small businesses. In the course of the average year, I get intimate exposure not only to
Google
(GOOG) - Get Alphabet Inc. Class C Report
,
Apple
(AAPL) - Get Apple Inc. (AAPL) Report
and
Microsoft
(MSFT) - Get Microsoft Corporation (MSFT) Report
, but 1,000 often fabulous small firms. I have direct access to brightest minds and the dimmest bulbs in American business. Yet, even that insight isn't enough to keep me from making mistakes.
The thing is, I am not alone. This year brought us a crop of tech blunders, each with its own small-business lesson to be learned. Here are my top three for the year:
BlackBerry Storm 9530
What will kill you
: Horrifying small business e-mail.
Research In Motion's
(RIMM)
BlackBerry devices, in particular the Bold 9000, remain some of my small-business weapons of choice. And
Verizon
(VZ) - Get Verizon Communications Inc. Report
offers many solid touch-enabled smartphones such as the
Droid
. But what was billed as this year's "category creating" smartphone was the single worst small biz tool of the year. Yes, it was slick. And you felt a palpable click when you entered information because of its haptic technology, but its data entry was lethally inaccurate. If you type faster than one letter every two seconds, your e-mails could turn into gibberish. This unit is simply not to be trusted with critical business communications.
Lesson learned
: New categories are discovered, not created. Enter them carefully.
AT&T's (T) - Get AT&T Inc. Report service for the iPhone
What will kill you
: Horrifying voice call.
Saturday Night Live's
Seth Myers took the words right out of my mouth: The otherwise marvelous iPhone makes miserable calls. What's odder, other AT&T smartphones -- such as units from Samsung, LG or even BlackBerry -- sound just fine. If you're the Apple type, the better small-business option is the iPod Touch. Pair this unit -- the greatest mobile device ever made -- with a cheap T-Mobile hotspot account and you get decent Web access and all the applications you need. Then get any old cheap cell phone for your voice service. I know it sounds nutty, but the iPhone is that bad for small business calls.
Lesson learned
: Brilliance and branding only get you so far. In the end, you're only as good as your partners.
Hewlett-Packard (HPQ) - Get HP Inc. (HPQ) Report Deskjet D1660
What will kill you
: Your business will bleed to death paying for ink cartridges.
I have nothing against H-P. In fact, the D1660 is one heck of a $30 printer: Fast, crisp and easy to use.
Wal-Mart
(WMT) - Get Walmart Inc. Report
blows this cheapie out at about $20. So what's the issue? It's so cheap that replacement cartridges run double the price of the machine. Even moderate use, the cost of the cartridges quickly outstrips the savings on the machine. The bottom line is, you are better off throwing the D1660 away than buying new cartridges. The ink is that pricey.
Lesson learned
: If it's too cheap, there is a reason.
--
Reported by Jonathan Blum in New York
.
Jonathan Blum is an independent technology writer and analyst living in Westchester, N.Y. He has written for The Associated Press and Popular Science and appeared on FoxNews and The WB.