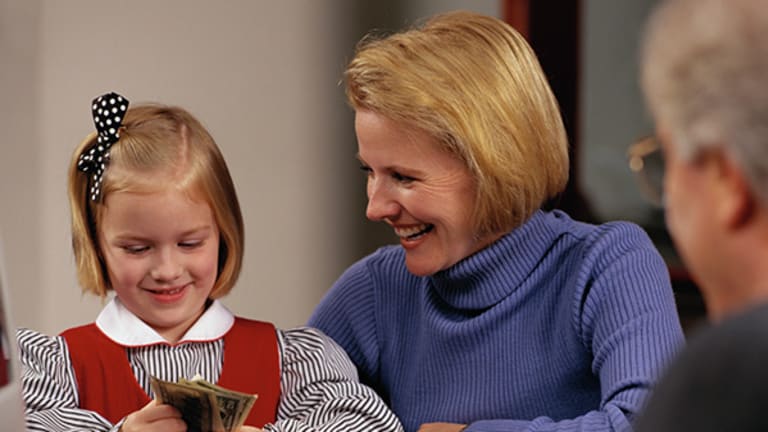 The Workplace Double Standard Men Face That Women Don't
After all, a paternity suit is a legal affair; a maternity suit is just an article of clothing.
NEW YORK (MainStreet) — The CEO of a billion-dollar database company called MongoDB made news this summer when he stepped back from his job and faced a heavy dose of criticism.
Max Shireson reportedly took a lesser role with the organization so he could cut back on travel and spend more time with his kids who are 14, 12 and 9 years old.
"The more we see and take stock of these events and support working families, the more you're going to see that double standard around paternity leave really start to erode," said Chris Duchesne, vice president of Global Workplace Solutions for Care.com. Whether it's professional athletes, lawyers, finance professionals or technologists, a fear of being off the job often keeps new fathers from taking time off following a baby's birth. Some 16% of new fathers take no time at all.
View Today's Highest Savings Account Rates
"They feel they can't afford it," Duchesne told MainStreet. "With so many working fathers who don't have the option of taking paid leave, it's hard for working families to go without the paycheck especially when the mother doesn't have the option of taking paid time off either."
Some 50% of fathers said they'd need at least 70% of their salary to take time off and nearly half reported they'd need 100% of their pay, according to a recent study from Boston College's Center of Working Family.
"The secondary fear working dads have is that they will be passed over or replaced while they're out of the office for family reasons," Duchesne told MainStreet. "This impacts both family dynamics and company culture by adding a level of stress or strain, where fathers feel like they have to choose between work and family."
Legally, businesses that employ 50 or more employees for 20 or more calendar workweeks fall under the federal Family and Medical Leave Act (FMLA) as well as Title VII of the Civil Rights Act, and eligible employees can request up to 12 weeks of paternity or maternity leave regardless of gender (spouses who work for the same employer are only eligible to receive a combined 12 weeks of leave).
"The FMLA only requires employers to offer unpaid leave though employers may choose to offer paid leave in their sole discretion," said Gregg H. Salka, an attorney with the New Jersey office of Fisher & Phillips. "State laws may offer additional leave, protected categories or even financial assistance to new parents."
To be eligible, employees must have been employed for at least 12 months for at least 1,250 hours during the previous 12-month period.
"The failure to properly notify employees of their rights under these laws and provide leave and/or compensation may result in the employer being liable for damages including back pay and attorneys' fees and costs," said Ian Meklinsky, an attorney with Fox Rothschild.
If a smaller company is not covered under the federal FMLA or its state equivalent but does offer maternity leave, then male employees could approach the employer with claims of equality and discrimination.
Save Cash on Payments! Compare Low-Interest Credit Cards Now
"Even if an employer agrees to institute a paternity leave policy, it may be hard to convince the employer to provide fully paid leave since federal and state laws only require unpaid leave or use of vacation and other accrued paid time for both mothers and fathers," said Melissa Burdorf, an attorney.
There are actions fathers can take to manage the perception of taking paternity leave before a newborn arrives.
"The more prepared you are to take time away from the office the better you can expect to have the support of your colleagues and management," Duchesne said.
As the due date arrives, preparations can include putting to bed projects on deadline and establishing a clear chain of command in your absence.
From an employer's perspective
"The benefits to employers offering paternity leave range from improving employee loyalty to creating a family-friendly culture and strengthening teams who have to adjust to a member's absence during leave," Duchesne said.
Policies on a state level are catching on. States like California, New Jersey and Rhode Island are legislating paid leave for parents that go beyond the job protections afforded under FMLA .
"All signs point to fathers today taking on more parenting responsibilities than generations before them," said Duchesne. "And we've seen a lot of leading companies listed as best places to work starting to offer paid paternity leave packages as well as maternity leave."
--Written by Juliette Fairley for MainStreet