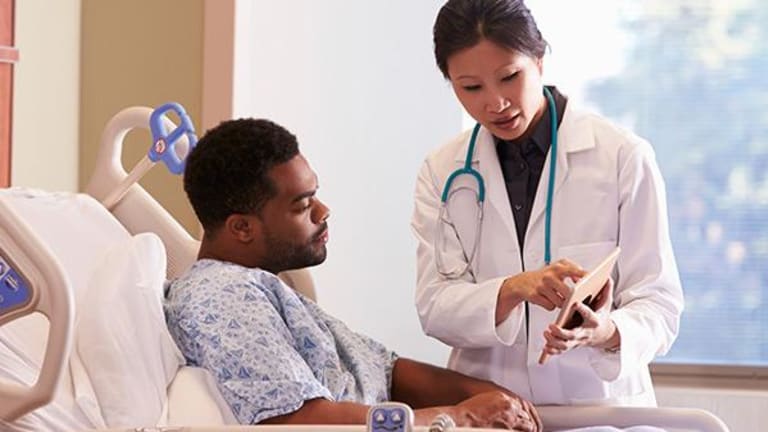 The Window for Consumers to Purchase Health Insurance Shrinking
The opportunity for consumers to purchase health insurance through a government exchange or marketplace is shrinking.
Editors' pick: Originally published Dec. 16.
The opportunity for consumers to purchase health insurance through a government exchange or marketplace is shrinking.
The nationwide open enrollment period ends on January 31 and consumers who do not buy health insurance may face a hefty tax fine under the Affordable Care Act. Consumers whose plans end on December 31 received a reprieve when the federal government extended Thursday's deadline to December 19. to avoid a gap in coverage, allowing their plans to become effective and start on January 1.
As the deadline approached, the number of consumers purchasing health insurance rose. Through December 10, over 4 million people bought plans from HealthCare.gov. Open enrollment began November 1 and 2.9 million people renewed their coverage and another 1.1 million new consumers purchased coverage. The two largest days of open enrollment have been December 12 and 13 as over 700,000 people signed up.
With over a month to shop for health insurance, consumers should avoid waiting until the last minute to choose a plan. Even if you have purchased plans for several years, coverage on your existing plan may have changed and your medical needs may be different also.
"If you have questions, you will need time to talk with someone because health insurance is complex," said Nate Purpura, vice president of consumer affairs at eHealth.com, an online health insurance exchange based in Mountain View, Calif.
"You may have questions that can't be answered by a Google search," he said.
Waiting until a day or two before open enrollment ends means you might overlook some of the costs you have to pay the doctor or hospital, which can add up quickly.
"The out-of-pocket costs you face when you actually use your coverage are just as important as your monthly premiums," Purpura said. "Find the time to find a plan with a deductible and copayments you can actually afford."
Skipping out on coverage means you might have to use your savings to pay for one hospital visit, said Noah Lang, CEO of Stride Health, the San Francisco health insurance exchange company.
"If you're feeling healthy at this time of year, it's easy to dismiss the risk you're taking by skipping out on coverage," he said. "Insurance is there for those times you can't predict, when your family needs the best medical care immediately. No one should have to make the tough decision between spending their entire savings and getting treatment."
If a quick check online does not show if your doctor is still part of a certain network, you might need time to call and figure that out. Determine what kind of prescription drug coverage fits your needs. If you tend to take generic drugs, it may not be a priority.
"When you're rushing, it is easy to forget that not all doctors accept all insurance plans," Purpura said. "If you have a favorite doctor or hospital, you need to make sure they're in the network with any new plan you are considering."
If you miss open enrollment, the fee for 2017 remains the same as 2016. Each person pays $695 and the fee for children under 18 is $347.50 with a maximum penalty of $2,085 or 2.5% of household income, whichever is higher. The fee is paid when you file your federal tax return.
Waiting until the last day means you might get stuck in online queues because thousands of people are attempting to submit their applications.
"In the last-minute crush you could get stuck trying to submit your application for hours and there's a chance your enrollment won't go through in time," he said.
Coverage also does not begin until March 1 at the earliest and is standard since any applications received before the fifteenth day of any month will start on the 1st of the next month. If your application is received after the fifteenth day of any given month, coverage usually begin on the first of the month after next.
Consumers who miss open enrollment can buy insurance during the special enrollment periods only if they experience a qualifying life event. When a qualifying life event occurs, it triggers the special enrollment period of 60 days, giving consumers time to shop for a new plan. These events include losing coverage from your employer or your COBRA coverage ends, getting divorced or married, the birth or adoption of a child or turning 26 and losing coverage under your parents' plan.
Other qualifying life events include moving to a new coverage area or major changes to your income where you can qualify for government subsidies under Obamacare.
Other Stopgap Insurance Products
While these plans fail to provide comprehensive coverage like the ACA-compliant plans, the other insurance products are available year-round and help consumers prevent facing major medical bills. Since the insurance coverage does not qualify under the ACA, consumers still must pay the penalty.
Short-term health insurance plans are popular, but they do not cover pre-existing conditions or preventive care and some do not even include prescription drugs. These gaps provide consumers with coverage for major injuries and unexpected illnesses so they don't face massive bills. The coverage ranges from one month to 12 months.
Accident insurance plans only provide a payment if consumers are victims in a covered accident.
"The money goes directly to you rather than to your medical care providers, so you can use it to pay medical bills or pay for things like rent or your mortgage while you're in the hospital," Purpura said.
The critical illness insurance plans mirror accident insurance plans in case you are diagnosed with a serious medical diagnosis.
The financial risk a consumer takes on when they opt not to buy health insurance is enormous, said Lang.
"Many healthy Americans don't recognize the unlimited protection that comes with health insurance," he said. "It's not unheard of to run up medical bills for half a million dollars after spending a week in the hospital."
While many people are worried about the likelihood that president-elect Donald Trump and Congressional Republicans will repeal and replace the ACA because they have vowed to do so, the details remain scant.
"They are still murky and nothing will change right away," Purpura said. "But it's possible that you may find you have new coverage options in mid 2017."