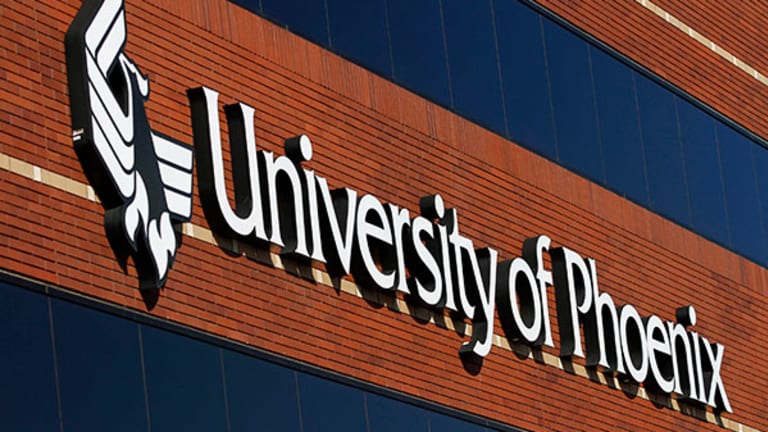 The University of Phoenix Shrinks Student Body as ED's Gainful Employment Rules Take Effect
UOP thinks outside the for-profit box and institutes admissions requirements while unloading office space
NEW YORK (MainStreet) — For-profit colleges have counted on two things:federal money and an uninterrupted flow of students. Now the University of Phoenix (UOP), one of the biggest names in the for-profit college world, said last month that it will close most of its associate degree programs and, for the first time, set academic requirements for admission that will lead to a reduction in the number of students.
On the heels of the AA degree shutdown came a real estate liquidation. Last Tuesday it was announced that Dial America, a New Jersey-based telemarketer and call center provider, sub-leased 50,000 square feet of UOP office space in Phoenix that will house 150 workers. Dial America has similar locations in Rochester, N.Y.; El Paso, Texas; Jacksonville and Orlando. Other real estate-related investments included UOP's purchase of the naming right to the stadium that the NFL's Arizona Cardinals call home.
Come 2016, UOP is expected to be left with about 150,000 students, a steep drop from the 460,000 it had in 2010. For the period ending May 31, its enrollment was 206,900, compared with 241,900 the year before. The planned changes and enrollment figures were announced during a June 29 earnings release by the university's parent company, the Apollo Education Group (APOL) , which derives about 90% of its revenue from UOP.
Apollo also disclosed that in June it bought a controlling interest in The Iron Yard, a digital trade school based in Greenville, S.C. that trains code developers for information technology gigs but doesn't confer degrees. These so-called "coding boot camps" are not eligible for federal student aid—a sign that UOP may be planning for life without access to the federal government's largesse.

Apollo CEO Greg Cappelli said that the University of Phoenix was trying to fix retention problems that have been plaguing the school since the mid-2000s. UPO opened Axia College in 2004, an online school specializing in AA degrees, dropping the minimum age required for admission along with the condition that students be employed.
Aggressive marketing and expanded online course offerings drove UOP's boffo enrollment numbers during the last decade, but graduation rates dropped amid a rising tide of student loan defaults. A 2010 report by the Education Trust found that only 9% of the full-time, first-time BA degree students graduated in six years. The online graduation rate was 5%.
In the last few years, Cappelli said changes made at the university helped to end some of those problems. But they weren't enough to raise academic quality while leaving UOP with a cost structure that hurt the company's bottom line. UOP dodged a bullet last month when its regional accreditor, the Higher Learning Commission, removed the school's "on notice" status, a potential threat to its accreditation which had been in place for two years.
But the biggest game changer may have been the adoption of the Department of Education's gainful employment rules, which the for-profit college industry fought and failed to stop. These rules mandate that schools demonstrate the job placement success of its graduates in order to retain Federal aid.
The Department of Education first attempted to institute gainful employment rules in 2011, but was stopped by a lawsuit filed by the Association of Private Sector Colleges and Universities, a trade group representing for-profit colleges. The current rule, which survived court challenges this year, went into effect on July 1. Under that rule, some 1400 for-profit college programs, 99% of which are taught in for-profit colleges, failed the gainful employment rule. As a result, those students would not be able to use Federal loans to enroll in those programs.
"The changes at the University of Phoenix are probably due to the new gainful employment rules," said Mark Kantrowitz, senior vice president and publisher of Edvisors.com, a source of information on planning and paying for college. He pointed to the high cost of an AA degree, traditionally UOP's bread and butter.
"Attaining an Associate's degree generally involves much more debt than getting a Certificate," he said. "If the annual income for an associate's degree graduate is not much more than the annual income for a certificate holder, it may be more difficult for an associate's degree program to retain eligibility under the gainful employment rules than a certificate program."

Kantrowitz believed that selective admissions would follow adoption of the gainful employment rules and other Federal regulations such as the cohort default rate. "This can yield a student population that is more likely to graduate on time and less likely to default on their student loans," he said. "For-profit colleges have already dropped students who pass an Ability-to-Benefit test from eligibility for admission, instead of requiring at least a high school diploma or a GED. Restricting eligibility based on a high school GPA or other criteria is just a natural progression."
This is also likely to mean that low head count is baked in for the long term. Critics say that profitability are valued more than education at for-profit colleges, and that investors will punish the stock once enrollment starts to drop. On Friday APOL, UOP's parent, closed at $13.69, up from a 52-week low of $12.38, but significantly off the $34.55 high of a year ago.