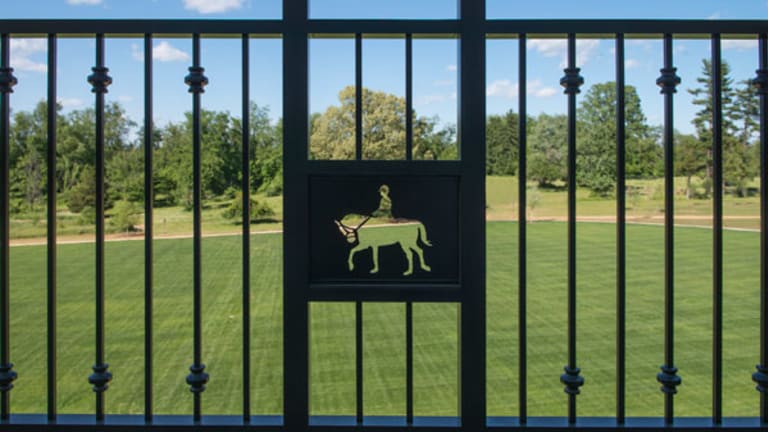 Publish date:
The Salamander Stands Alone in 2013 Luxury
This power playground for Washington's elite opens in August, calling itself the only destination resort of the year.
This power playground for Washington's elite opens in August, calling itself the only destination resort of the year.
SAN DIEGO (
) -- It's being called the future power playground for Washington's elite.
It has been chronicled by
CNN
,
Town & Country
,
The Wall Street Journal
and
The Washingtonian
, among others.
It's the only destination luxury resort slated to open in the United States this year, and while the construction price is not being disclosed, the list of amenities and details that are part of the soon-to-open
Salamander Resort & Spa
is revealing enough.
Built on 340 acres in Middleburg, Va., in the heart of horse and wine country and just one hour outside Washington, D.C., the nation's newest posh resort includes a 23,000-square-foot spa, 22-stall horse stables that allow guests to bring their horses with them, a full-service equestrian center, a high-tech cooking studio that can be rented for private dinners and team-building events and guest rooms that are nearly 600 square feet and have 10-foot ceilings.
Other details include indoor and outdoor pools, tennis courts, putting greens and a zip line and ropes course in the surrounding woods.
Also see: Trump Hotels Reach Out to the Vegan Yogis>>
"It is one of the most luxurious new resorts to be built in quite a while," says Prem Devadas, president of Salamander Hotels & Resorts.
Nearly 10 years in the making, Salamander Resort & Spa is the vision of entrepreneur Sheila C. Johnson.
Johnson, who lives on an estate nearby, is co-founder of
Black Entertainment Television
as well as partner and vice chair of
Monumental Sports & Entertainment
, which owns the NBA's Washington Wizards, the WNBA's Washington Mystics and the NHL's Washington Capitals.
Johnson bought the Salamander property a decade ago because she felt Washington needed a luxurious spa destination. That initial idea evolved into a full-scale resort that, because of its location would become a destination for Fortune 500 retreats, think tank events and political retreats. Final plans included a destination that would offer guests equestrian, spa, culinary, winery, nature and historic experiences.
As part of the resort's nature experience, nearly 200 acres of forest surrounding the main resort building have been placed in a conservation easement to ensure that walking and hiking trails through the woods, which have existed for more than a century, are maintained.
The culinary program includes hosted cooking classes, demonstrations from visiting chefs and the planting of a two-acre culinary garden.
"Even in the garden's early stages, we are growing six kinds of tomatoes, eight kinds of lettuces -- and this is something guests can experience and meet with the gardener to understand what grows in the region," Devadas says. "If you sign up for a cooking class, you will start the class by meeting the chef in the garden, where he will tell you what we grow and why. You will pick herbs and vegetables for the class and then walk into the cooking studio."
But even as he rattles off the resort's impressive list of offerings, Devadas stresses that Salamander Resort & Spa is not a monstrous, overwhelming resort or experience.
"It's really about peacefulness, relaxation and intimacy," Devadas says.
The finished resort includes just 168 rooms and suites, which were fashioned by renowned designer Thomas Pheasant.
There was some resistance surrounding the resort's opening from community members who were not initially thrilled about the plans as chronicled by area media outlets.
Also see: Inaugural Luxury Hotel Index Shows U.S. Still Leads in Hospitality Brands>>
The economic downturn of the past several years also slowed progress. But Salamander is now slated to open in August, amid what Devadas says is a much more stable market for luxury projects.
"There's no question that the luxury market is far better than in 2009, 2010 and 2011, and certain segments of luxury market are back to 2007 levels, which was a high point," Devadas says.
"We're the only luxury destination resort opening this year in the U.S. And there's nothing on the board for next year either. But demand continues to increase," Devadas continues. "But because of the economic downturn and difficulty in getting funding, there's been almost a historic lull in development ... the prognosis or forecast for the next three to four years is that the luxury market should perform very well because of that limited new supply and high demand."
The crush of advance bookings and events planned at Salamander may be one indication Devadas is right. Even though the resort is not scheduled to open for another month, it has already received bookings through 2015.
Just one night after opening, the resort will serve as one of the hosts for a regional food and wine festival, and in October Salamander will kick off the inaugural Middleburg Film Festival -- another idea of Johnson's, who for years has served on the board of the Sundance Film Festival.
Meanwhile, finishing touches continue to be made at Salamander.
"Every day we come closer to the end, everything is exciting -- that unique lighting fixture that goes up in the library or the chandelier going up in the main restaurant, or the finishing of the spa," Devadas says.