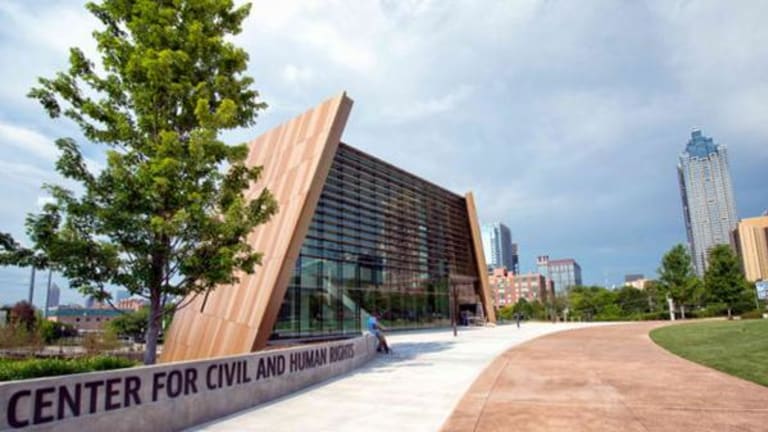 The Rise of Civil Rights Tourism in America's Deep South
A variety of new museums, memorials and high-tech exhibitions are highlighting the civil rights movement and the African American experience in this country in increasingly diverse and unique ways.
Editors' pick: Originally published Oct. 20.
On a warm afternoon in late September, President Obama stood before a crowd of more than 7,000 official guests, including such notable figures as Oprah Winfrey, Will Smith and Supreme Court Chief Justice John G. Roberts Jr. and read the words of Langston Hughes.
"I, too, am America," Obama said somberly, repeating a passage from the poet's 1926 book The Weary Blues.
The comments were chosen to mark the long-awaited opening of the Smithsonian National Museum of African American History and Culture in Washington, D.C., a 400,00 square foot building displaying more than 36,000 artifacts tied to the African American experience in this country.
The eloquent and deeply meaningful words written by Hughes and spoken by Obama on that day could just as easily be applied to all of the new civil rights venues and educational offerings springing up in the Deep South these days, places that are working to showcase a part of our country's history that often exists in the shadows, not fully accepted, recognized or seen as central to the American story.
By many accounts there is a burgeoning civil rights tourism industry taking shape across the Deep South.
The Washington, D.C. museum is just the latest in a string of new and notable offerings.
From new museums and memorials, to smartphone apps dedicated to civil rights tourism and multi-million dollar renovations of long existing, iconic museums, the expanding and diversifying tourism opportunities related to this chapter in our history are providing a richer and more extensive exposure to the African American experience then ever before.
"I think there is a movement or a resurgence right now, given the life and times of civil rights today in this country," says Brad White, chief creative officer at Luckie & Company, an advertising agency that produced both a civil rights tourism smartphone app and an award-winning book. "It seems like civil rights education has taken on a more pressing need right now given the issues that have surfaced with profiling and police, and Black Lives Matter. It's a weird parallel between civil rights in the 1950s and 1960s and today."
Among the new and notable offerings is the planned 2017 opening in Montgomery, Ala. of the nation's largest and most comprehensive memorial and museum dedicated to the victims of lynching, which is being developed by the Equal Justice Initiative.
There are also plans to open the Mississippi Civil Rights Museum in December 2017.
And just a few years ago, in 2014, the National Center for Civil and Human Rights opened its doors in Atlanta.
That same year, the iconic National Civil Rights Museum (located at the Lorraine Motel where Martin Luther King Jr.'s assassination occurred) completed a $27.5 million renovation aimed at providing interactive exhibits that communicate in more modern ways.
After work was completed, museum attendance increased 27%, reaching 250,000 visitors in 2015. The spike in numbers continues this year as well.
Chief Marketing & External Affairs Officer Faith Morris says the swelling crowds has to do with far more than simply exciting renovations.
Many of the issues that were part of the civil rights movement decades ago remain relevant today, such as voting rights in places where people are not being allowed to vote freely and education equity in communities and regions where separate but equal continues to be a reality.
The movement did not die with Martin Luther King Jr.'s assassination.
"There is this interest and need to understand what's going on and why," Morris explains. "If you know your history you won't repeat it, at least not in the way it was done before because you're better informed."
There are few better places to truly understand that history than at the newly redesigned National Civil Rights Museum.
As visitors pass from one exhibit to another there's chanting from marchers and the shouting of a bus driver ordering Rosa Parks to the back of the bus.
The burning bus from the Freedom Ride is also on display and visitors can sit at the original Woolworth's lunch counter from the famous 1960 student-sit in Greensboro, North Carolina. On the stools beside museum visitors at the counter are three-dimensional figures that heckle you, providing at least a small sense of what it must have been like for the brave souls who took a stand that day.
"The museum has always been a phenomenal place but we had to take into account how people engage in information now, and technology is a part of that. People want it to be interactive" Morris continues. "Now it's an immersive experience, you can step right up to an exhibit and take a selfie."

The Alabama Civil Rights Trail app designed by Luckie & Co is yet another high-tech way travelers are engaging in such subject matter these days.
The app, which took about nine months to create and has been downloaded about 10,000 times, includes civil rights landmarks across the state, an interactive timeline that takes users through the struggle for equality, from Jim Crow to mob violence and desegregation; it also includes biographies of famous figures such as Rosa Parks and Martin Luther King Jr.  
The app is so comprehensive and informative it's being used in schools to educate children, a fact that White, the chief creative officer from Luckie, takes particular pride in.
"There's so much in Alabama connected to the civil rights movement," White says. "The app allows people to engage in that sort of tourism and gives them a tool to curate their experience."
He adds that he is hesitant to label the growing number of museums, memorials and travel experiences "civil rights tourism," because to do so cheapens what is being offered and what is being learned.
"Part of civil rights tourism was about creating authentic experiences for people interested in that subject, so people could visit real locations where these historic events occurred," White says. "It can be a powerful feeling to stand in the same places where such violent history happened ...It's sobering. And today it's even more important."
Luckie & Co. also recently created a book focused on civil rights tourism entitled Alabama Civil Rights Trail.
The award-winning book was developed with the Alabama Tourism Department and features vintage photographs alongside contemporary images of churches and other landmarks where African-Americans challenged racial barriers in the 1950s and 1960s. The book's aim is to highlight places that are still accessible today.
With that book in hand, a delegation from Birmingham, including city Mayor William Bell, recently traveled to the United Nations in France to lobby for UNESCO World Heritage Site status for select sites along the Alabama Civil Rights Trail.
The visit resulted in the United Nations awarding the designation of "Memory of the World," for the trail, says White.
"All of the effort, all of the civil rights institutes and all of the dedication to education about civil rights in the south has been about turning that corner so we don't repeat those mistakes," says White. "Today I would guess there may be a lot of people saying we did not learn from the past and we need to educate our communities and young people...You just have to pick up the newspaper today to see why that is true."
Meanwhile there's also places like the Natchez Museum of African American History and Culture.
Located in a historic city on the banks of the Mississippi River, the museum is dedicated to illuminating the African American experience both locally and across the south.
"This museum is a repository of information and artifacts that pertain to the African-American diaspora, dating back to the community's establishment in 1716," says Director Darrell White, who's fond of noting that his is the only African American museum on Main Street in America.
While only a few thousand visitors a year make their way to the Natchez Museum of African American History, it's also the recipient of a TripAdvisor certificate of excellence. The museum's low profile, White says, has more to do with a lack of marketing money then anything else.


The opening of an expansive venue in Washington, D.C. dedicated to the same topic, as well as all the other new memorials, tours and offerings, help to support and reinforce the efforts of smaller places like the Natchez.
"If it can be a big thing in Washington D.C...it means the work we're doing throughout the country does have merit and value," says White. "It validates the significance of what has been occurring throughout the south in smaller properties that are struggling to survive." 
All of these efforts are vehicles that assist in getting the story out, says White. They all, in their own way, call attention to the brave souls who withstood abuse, beatings, and more when all they were trying to do was to was simply exercise rights that were to have been guaranteed by the constitution.
"Civil rights tourism is the new cotton," says White.  "There are many individuals planning to pick at it and develop it in some way."