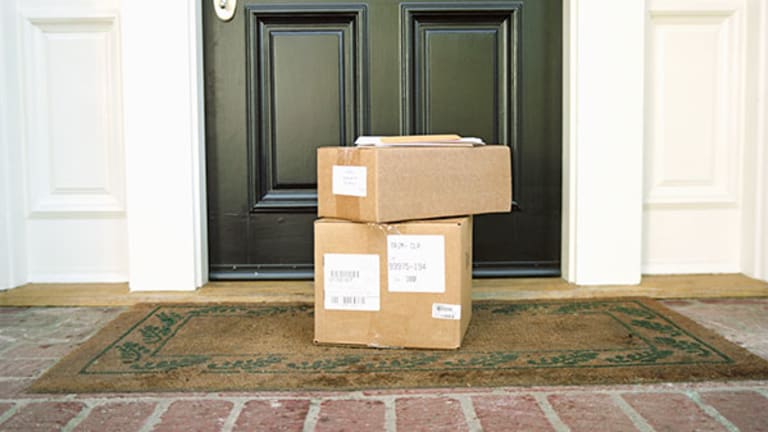 If you've every experienced the disappointment of having a doorstep delivery stolen from your home, or office, you are certainly not alone.
According to new data from InsuranceQuotes.com, 23 million Americans "have had packages stolen from their homes before they could open them."
Thieves are taking advantage of online shopping's growing popularity and swiping deliveries from doorsteps before the packages reach their rightful owners, the company states. While homeowner's or renter's insurance can cover the loss of a home delivery, "it's best to purchase extra liability coverage, often called umbrella insurance," according to insuranceQuotes.com's senior analyst Laura Adams.
That's particularly dangerous for costlier items. Many people will purchase expensive jewelry this holiday season, yet 50% of U.S. consumers won't insure the baubles they give or receive.
"It can be a very expensive mistake not to insure a valuable piece of jewelry," Adams adds. "Most standard homeowner's and renter's insurance policies only insure jewelry up to a couple thousand dollars. Additional jewelry insurance can be purchased for as little as a few dollars each month - a very affordable price, especially when compared to the cost you would incur if you had to replace the item out of pocket."
To mitigate any potential doorstep theft, take matters into our own hands and out of the hands of neighborhood thieves.
"If your employer allows it, consider having your package delivered to work," says Scott Humphrey, second vice president of risk control at Travelers. "If purchasing from a larger retailer, consider having your package delivered to a local store for pick-up. Also when possible, request the delivery company to hold your package at their closest pick-up facility until you can pick it up."
Thieves often follow delivery trucks, watching for prime targets and may strike during working hours as many homes are empty at that time, Humphrey adds. "To help avoid this risk, consider making alternate delivery arrangements, such as having your packages delivered to a location where they can be received in person, like a trusted neighbor or relative's house," he says. "Take advantage of delivery alerts so you can be notified when a package arrives at your home."
Companies can help customers out by dictating delivery conditions. That's what ScanMyPhotos.com does when it has to ship deliveries from its Southern California headquarters.

"We offer signature confirmation tracking and avoiding deliveries during weather conditions when thieves operate with more impunity," says Mitch Goldstone, CEO of ScanMyPhotos.com. "We use software to evaluate weather issues days out nationwide. Plus, orders during impending snowstorms, hurricanes, or heavy rains are held back at our fulfillment headquarters, for example."
Most consumers are at work when deliveries area made, but a few savvy ones have a strategy for that.
"UPS has been terrible with getting me packages at my new house," says Sarah Maiellano, a Washington, D.C. resident. "So I installed the Ring video doorbell. Now, when deliveries show up while I'm at work, I can see them and give direction on what to do with the package, or I know to run home in the middle of the day to get it inside safely."
Of course, there's no surprise there's a mobile app or two to keep your doorstep deliveries safe and theft-free.
For instance, try Slice, which notifies you when a package is delivered - right at the doorstep. The free app automatically tracks your online purchase shipments on a map and alerts you when the package is out for delivery and when it's delivered. Also, if you're shipping a gift to a loved one, you can "share" the shipment via Slice so the recipient will know when to expect it - and it will still be a surprise, since the recipient won't be told what's inside, company officials say.
Federal Express is expected to deliver a record 317 million deliveries this holiday season. If five or ten of those packages are heading to your house, use the tips above to make sure they actually get in your front door.