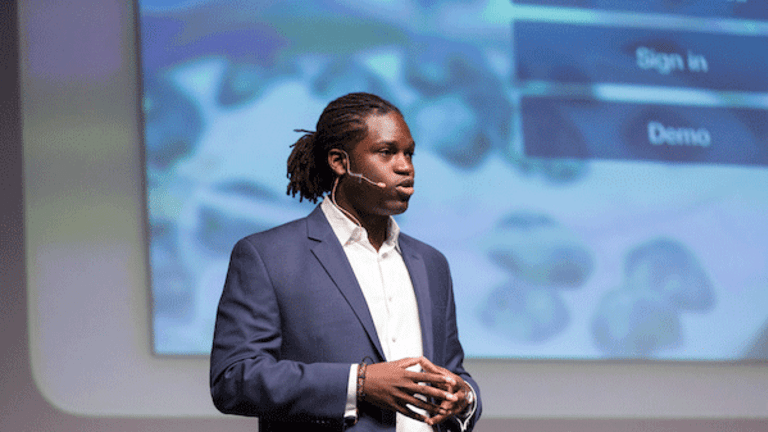 The Number of Minority Entrepreneurs Is Rising, but They Still Lack Capital
While the number of minority entrepreneurs increases each year, the majority of these start-up founders still rarely getting funded by angel and venture capital investors.
Editors' pick: Originally published Feb. 6.
Despite the fact that Sesie Bonsi filed for a patent in 2015 to give his company Bleu, a Los Angeles-based Bluetooth payment system for mobile wallets, an advantage over its competitors, the startup is still lacking enough capital.
Bonsi, who is an attorney and African-American, said due to the riskiness of his specific idea, he doubts he would have received his initial funding if he had not partnered with his co-founder, Brett Howell, who is Caucasian and a "great sales guy" with several years of experience.
"Brett and I had worked together in the past and his expertise as well as his contacts and network and skills helped us into the door," he said. "But, I don't think it was possible for the company to get its initial funding without Brett, because he got us into the room to get the conversation going so we had the chance to meet with the investors."
Without Howell being part of the company, the startup would have never received some of the phone calls to pitch for capital because of the inherent bias from investors and since Bleu is a higher risk venture compared to ones in other sectors.
While the number of minority entrepreneurs increases each year, the majority of these start-up founders still rarely getting funded by angel and venture capital investors. Even start-ups that hold patents or have participated in incubators run by major financial services companies still have trouble attracting investors. Last summer, Bleu took part in an accelerator run by Fidelity National Information Services (FIS), a Jacksonville, Fla.-based financial services technology company, and the startup is also part of a network of early stage fintech companies with direct applicability to the financial services ecosystem served by FIS.
While the hurdles remain immense, there are firms that have created systems to analyze startups to correct for the inherent bias, Bonsi said.
"These investors see through the institutional bias and what they are reading first is the idea or vision of the startup and then they read about the founders and their background or education in a pitch," he said. "They have changed the metrics and are broadening their portfolios."
Bleu's initial, current and prospective investors are "the ones who saw through the bias and instead saw our passion and invested based on the viability of the idea rather than the racial makeup of the founders," Bonsi said. "It's important to note that there are investors and partners who are working hard to overcome the bias and want to invest in great founders and companies."
Solutions to Increasing Capital for Minority Entrepreneurs
The number of minorities who presented their ideas to angels was 14.2% in the first half of 2016 with minority angels accounting for 6.3% of the angel population, said Jeffrey Sohl, director of the Center for Venture Research at the University of New Hampshire. In the first half of 2015, only 5.6% of minority firms pitched their concepts.
The solution to increasing the number of minority entrepreneurs who received funding is complex.
"It's not just one magic bullet," he said. "What happens sometimes is that investors tend to search in their own network for entrepreneurs."
Several prominent venture capital firms were contacted, including minority-owned firms, but none responded to a request from TheStreet for comment.
One critical issue is that minority entrepreneurs often are not part of the right peer networks, said Shruti Gandhi, managing partner at Array Ventures, a San Francisco-based venture capital firm.
"They need to be part of the right circle who is pulling for them," she said. "The networks are the hard part because you have to go and find them."
Startup founders need to "understand the game" and leverage their network by asking those people to introduce them to other peers, because "it's long-term game," Gandhi said.
VC firms need to increase the number of women and minorities who are in management and have the ability to choose which startups received funding, she said.
"I do give minorities a greater chance and opportunity," Gandhi said. "I might see 50 of these companies instead of the five other firms see."
During the past two years, Ajay Shah, co-founder of DOTTY, a Santa Monica-based augmented reality company, has pitched to over 50 venture capital firms and over 100 angel investors, including minority-owned firms.
Unable to secure outside funding, Shah and his co-founders have bootstrapped the company with $300,000 of their personal money and over $100,000 in client money even though he participated in Founders Institute, a Palo Alto, Calif.-based incubator which promised leads and investments.
"Now I'm now incubated by Plug & Play out of Los Angeles and the company is providing tech in augmented reality, one of the hottest fields, but we still have nothing," he said. "Our technology is used in collaboration for images in full 3D with animations sequencing, which means we break the models so you can see the full assembly or internal parts. If you have a complex object like an engine, you can explode it to see the internal workings."
The company has made great strides and has filed patented technology, secured an exclusive agreement with a major sunglasses company, completed a pilot program for a large oil and gas company and also signed a joint service agreement with revenue share from "one of the largest" augmented reality companies, Shah said.
These efforts do not appear to satisfy investors, leaving Shah to believe that he still lacks the right connections.
"When I look in the mirror, I realize my natural tan may affect me more than I think," he said.
Research has suggested one of the reasons black entrepreneurs lack access to capital is because they have less access to wealth than their white counterparts, said Adia Harvey Wingfield, a professor of sociology who studies race and gender in the workplace at Washington University in St. Louis.
White entrepreneurs have greater odds to be able to rely on inheritances and family assets that can be used as capital, but black families generally have only seven cents for every dollar of wealth held by whites, she said.
"This leaves black entrepreneurs at a significant disadvantage when it comes to start up capital," Wingfield said.
Closing the wealth gap between blacks and whites could be achieved by reforming tax codes that disproportionately benefit wealthy elites, along with increasing investment in public education could help facilitate these inequalities, Wingfield said.
"Creating more equitable access to wealth could also lead to major changes in black entrepreneurs' access to capital, which might have a transformative effect on American business and the economy," she said.
Across the country, more startup incubators are being created to give entrepreneurs information through workshops on how to access capital, network, search for employees with expertise in sales, social media or marketing and find mentors to bridge the gap.
The goal is to increase the odds that entrepreneurs can succeed and can build scalable businesses, said Preston James, co-founder and CEO of Div Inc., an Austin-based tech startup ecosystem which provides a 12-week program.
"We showcase and present them to the community to create a mindset that being an entrepreneur is a viable option," he said. "We want venture capital firms to open their minds and wallets and be more diverse."
Research shows that a more inclusive and diverse work environment financially outperforms companies on the bottom quartile of diversity, James said.
"There has been progress, but we still have lot of work to be done," he said.