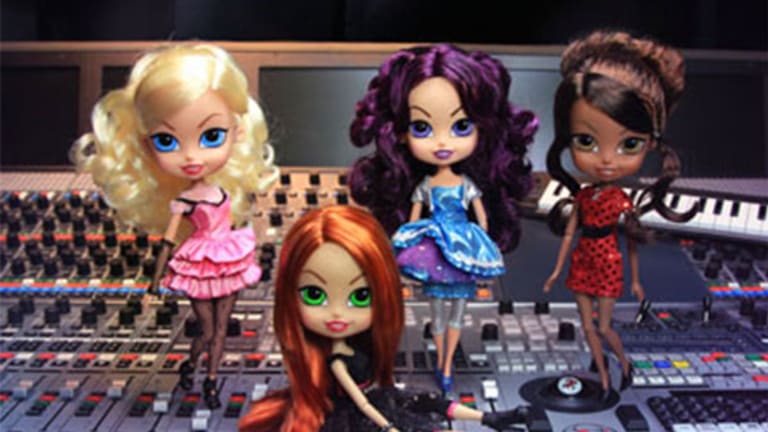 The New Face of Toy Success
Two new doll lines, debuting just in time for the holidays, look to give toy giant Mattel a bit of a rattle this holiday season.
NEW YORK (TheStreet) -- Two new doll lines, debuting just in time for the holidays, are looking to give toy giant Mattel (MAT) - Get Free Report , which owns Barbie, American Girl and the successful Monster High brands, among others, a bit of a rattle this holiday season.
The Beatrix Girls and Prettie Girls! lines, both launching close to the same time last month, are already seeing success by playing up positive messaging by portraying the dolls as role models and making sure that the characters have a strong backstory.
At roughly $22 billion, the domestic toy industry has remained relatively flat over the past five years, according to NPD, with dolls specifically representing less than 15% of that market.
But as seen with the success of the Monster High doll brand and merchandising, industry participants said there is market opportunity in dolls.
Sherry Gunther Shugeman created The Beatrix Girls to become an entertainment brand not just another doll line.
"There's a lot of healthy competition. That really bodes well for consumers," said Adrienne Appell, a spokeswoman for the Toy Industry Association.
She noted that the storytelling component to the doll lines is a key theme of the more successful brands.
"Putting [dolls] in context makes [them] more relatable," she said. "There is still that open-ended free doll play, but they could also read about the dolls, letting them learn more about a world that maybe they don't know that much about. It makes it more relevant."
But gaining market share from well-oiled toy giants like Mattel means more than just storytelling. Successful brands that reach today's digitally savvy kids create channel upon channel of money-making opportunities, including television shows, Webisodes, and most importantly, licensing and merchandise selling, allowing the brand to hopefully extend the lifecycle of dolls from say, 6-to 8-year-old girls to perhaps 10 years or even 12 years of age.
"The big thing is to really develop a niche or segment that is going to be unique in the overall market place," said Miro Copic, principal of Bottom Line marketing and a marketing and branding lecturer at San Diego State University."The path for success is they have be distinctive, they have to offer accessories and play value opportunities, and they have to ultimately have a media connection."
The Beatrix Girls target girls ages 6 to 12 by using edgy rock star characters and through original pop genre music created specifically for the line. The dolls -- Brayden, Ainsley, Lark and Chantal -- are essentially members of a pop music band living out their celebrity personalities.
The dolls themselves launched at Toys "R" Us stores nationwide in mid-October and more recently on Amazon (AMZN) - Get Free Report , online at Wal-Mart (WMT) - Get Free Report and at Ascena Retail'sundefined Justice stores, a popular girl and tween clothing and accessory store.
By launching the doll line as an interactive kid entertainment brand, the hope is to carve a place out for the line as not just another doll stacked up in an already crowded toy aisle.
"The approach to this was all about creating characters who were real," said Sherry Gunther Shugeman, creator and president of Popstar Club, the doll line's parent company. "Just like creating a new show for TV, we created personalities that [are] dynamic and dimensional [and] very realistic."
She enlisted the help of leading animators and doll developers to re-imagine the look of dolls. The result was a more appealing and edgy look -- large heads, big hair and stylish clothes.
Supporting the dolls' rock star personas, Gunther Shugeman looked to create music that would rival that of actual pop hits by luring a Platinum winning songwriter/producer that has worked with Kesha, One Direction and bands created by Simon Cowell (the mastermind behind hit shows like American Idol and X Factor) to do the job.
The songs are available for purchase from Apple (AAPL) - Get Free Report  iTunes and Amazon to music service apps Pandora (P) and Spotify to YouTube.
Gunther Shugeman has a bit of experience in the entertainment area. She has decades of experience in television animation and behind the scenes of cartoon hits such as The Simpsons, Rugrats and Family Guy. It is her content-oriented background that she's betting on to make the Beatrix brand successful.
"Kids do not just play with dolls, they do not just watch TV, they do all of the above. Really, this was about creating a doll that had a presence in all of these platforms and mediums," she said. "I think that's what different about this. It was everything at once."
The Beatrix Girls' quick popularity is also being helped by some of the hottest competition shows on prime-time TV right now -- The X Factor, The Voice and The Sing Off are all singing-based shows.
Equally important, the plan is to have a full line of merchandising covering every major category by spring 2014, including a full line of real size, fully playable guitars, drums and other instruments, for girls to learn to play, made by Peavey Electronics.
Gunther Shugeman emphasized the point made by Appell of the Toy Industry Association, that creating the backstory to the dolls was just as essential as creating the doll specs themselves.
"To me, a great character is ... so unique and so specific and so understandable by the audience that they're predictable as to how they would react in any given situation," Gunther Shugeman said. "What would Bart Simpson do in any given situation?"
But all this takes money to conceive, hire the right people and execute successfully. It also takes a lot of time and effort getting to the big retail players and convincing them to put the dolls on their shelves.
Companies like Mattel and Hasbro (HAS) - Get Free Report have a lot of capital backing them and the ability to infiltrate the media and get huge shelf space in stores.
"Those are all the things they automatically have and we have to fight for," Gunther Shugeman said. "We don't have the same kind of capital and leverage with the buyers, but I will say we've been fortunate. Every retailer we met with recognized how special they are. "
"They love the fact that there is a whole entertainment behind it. Kids today need to be engaged on multiple levels to get emotionally attached to a brand," she said.
Prettie Girls! launched in October 2013 to combat the lack of multicultural dolls in the market.
Trent Daniel, founder of TheOne World Doll Project, a subsidiary of One World Holdings, is taking a more focused approach to marketing and distributing his new multi-cultural doll line, The Prettie Girls!
Daniel saw an opportunity in the marketplace to create the ethnically diverse dolls, because he said there is a lack of quality-made multi-cultural dolls.
"The first thing was the quality," Daniel said. "We needed people to know this was a quality doll -- especially in the collectors market, but also in the retail market place."
One World Doll Project partnered with designer Stacey McBride-Irby, who formerly designed for Barbie for 15 years to create the concepts.
The line will eventually feature five ethnically diverse dolls and one collector's specific doll, the Cynthia Bailey Prettie Girls Collector Doll, inspired from the reality-TV star on Bravo Network's Real Housewives of Atlanta.
Its first doll, Lema, of African-American ethnicity, launched in October. Next up will be Valencia, who is Latina. The rest of the dolls, including Kimani, who is African, Dahlia, who is South Asian, and Alexie (Caucasian), will launch in early 2014.
"We really wanted to make sure there was an underlying message of empowerment for young girls but we didn't want the message to be the overshadowing factor. We wanted the dolls to be fun toys that little girls want to play with," Daniel said.
One World Doll Project has partnered with Doll Genie and two other collector's Web sites to sell the dolls. It also plans to sell the dolls on Amazon. But so far the company isn't selling them in the mass market.
"There has been a shift in the last several years towards online retail, especially when you talk about non-white dolls. The availability [in stores] just hasn't been there. We're finding that a lot of people are going online and looking for these dolls," Daniel said. "Within the first seven days of launching, [we picked up] three [online] distribution deals because the demand is there."
"We've been getting amazing reviews from the collectors' market. Kids are pretty simple to please: Is it fun? Does it look good? Parents' really love the positive message behind each one of our dolls. We really wanted all of our dolls to have depth and character," Daniel said.
The brand will be supporting the distribution with marketing and advertising in core market-specific areas followed only then by more mainstream marketing.
"We know our core markets and it is women of color," he said. "We are very selective and focused on our brand. We're not just running out and looking to throw our dolls on whatever Web site there is. It's not all about just getting on TV or the radio or this Web site."
So far sales are going better than expected. Daniel expects the initial inventory to be sold out by Dec. 15. The plan then is to ramp up production of all the dolls and "make them a hot sell for Christmas 2014," he said.
-- Written by Laurie Kulikowski in New York.
Disclosure: TheStreet's editorial policy prohibits staff editors, reporters and analysts from holding positions in any individual stocks.