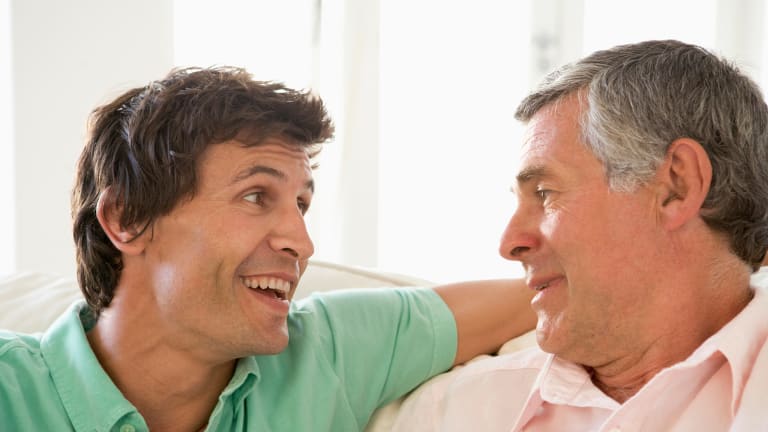 The Most Memorable Money Lessons From Mom and Dad: 6 True Stories
Folks share the clever and quirky ways their parents taught them the value of a dollar.
NEW YORK (MainStreet) — From encouraging us to fill up our piggy banks to reminding us that "money doesn't grow on trees," our parents have had a profound influence on the way we manage our money today. In fact, many adults can remember specific times in their youth when their mom and dad taught them valuable financial lessons. In honor of National Financial Literacy Month this April, MainStreet asked a variety of everyday Americans to share the most memorable ways their parents taught them the value of a dollar. Here are their stories.
Name: Kalen Holliday
Occupation: Director of communications, Covestor
Residence: Sleepy Hollow, N.Y.
"I'm a December baby, and the last of my class to turn 18, so I celebrated my 18th birthday in college. My parents told me they'd come down to Georgetown for my birthday and said I could take a bunch of friends out for lunch. So, I invited 12 friends to a relatively pricey restaurant near campus.
"When the bill came, my dad told the waiter to hand it to me along with a birthday card. I asked why I was getting the bill and my father told me to open the envelope. I figured there'd be cash in there to cover the cost of lunch, but the envelope contained a credit card—and I instantly learned a valuable lesson. A college kid's first credit card is often a weapon of financial destruction. It's easy to offer to pick up the tab and run up big bills. I understood instantly the lure and the downside of having a shiny piece of plastic in my pocket. It was an important life lesson.
"I did have to cover the cost of my first credit card charge for hosting my friends at the restaurant, as well as all future items I charged through my card. I managed to pay for my credit card charges by getting a job. I first got a part-time gig on campus working for Georgetown's student-run travel agency and then for a senator on Capitol Hill. I also made money bartending and babysitting during college.
"Today I am very careful to only charge what I can pay off and am extremely opposed to having to pay credit card interest."
Name: Robert S. Godlewski
Occupation: University relations/strategic communications counselor, Kennesaw State University
Residence: Marietta, Ga.
"My father was a very matter-of-fact sort of man. I was a rising college junior and, without telling my parents, had applied for a fall term to study abroad in England. The extra cost was several thousand dollars, which I thought they would gladly absorb. They were paying for my college education, after all, and this was educational.
"I learned of my acceptance in May and told my father the good news. He informed me in no uncertain words that it would be my responsibility to pay for the study abroad out of my own pocket. When I told him I didn't have that much money, he suggested I work in a family friend's cabinet shop during the summer vacation to earn the money. I had been used to lifeguarding, which paid very little but let me enjoy the summer at a pool. This would be hot, dirty and dangerous work. The hours would be long and strenuous. I didn't like it at first, but as the summer wore on I got used to waking up very early and getting covered in sawdust, sweat and glue—and I made about four times as much as I would have lifeguarding.
"As it turned out, my father was pleased I took on the assignment, so he paid the entire cost of my fall term. He told me to use some of the money I had saved to spend abroad and to invest the rest, which I did. I bought shares of Southern Company stock, which I still have today and which have greatly appreciated in value over the years. My father died a few days after I returned from England, and I ended up paying for my senior year in college and living at home to save money.
"My father taught me a couple of valuable lessons about money management and investing that summer that have served me well, and now I'm trying to do the same with my son. I've learned to spend less than you earn and save money while you're young so you can look forward to a secure retirement. I also anticipate big expenditures and plan for them accordingly."
Name: Hailey Lanier
Occupation: Account coordinator, Flackable, LLC
Residence: Bloomington, Ill.
"My great-grandmother started this tradition and it has been going on in my family since then, including with my mother and the women in our family. We carry what is called 'mad money' in case of an emergency. The way that this started was my great-grandmother would take a $2 bill with her everywhere she went, so if she got mad—at her husband, friend, etc.—or got into a bind, she would have the money for a cab ride home. These days $2 does not go very far, but it helped teach me the importance of having an emergency fund at a very young age. I now make sure to carry enough cash for an emergency everywhere I go, including a $2 bill, which is more symbolic than anything."

Name: Judy Nichols
Occupation: Writer
Residence: Wilmington, N.C.
"When I was growing up in the 1960s, my mother required my sisters and me to save up $10 before we could have a bicycle, which seemed a small fortune then. At the time, I assumed that was normal for everyone and was very surprised to find out my friends' parents gave them bicycles outright with no payment on their part.
"When I was a teenager, I asked my mother why she wanted the $10 in advance, since she and my father could well afford the price of a bicycle. She said she wanted us to know that bicycles cost money and that she thought we would take better care of them if we had to earn the money to pay for them. I did take good care of my bike and always put it back in the garage when I was done riding it. To this day, it bugs me when I see the neighbors' kids leave their bikes in the front yard for days—but I'm sure they never had to save up for them."

Name: Ed Snyder
Occupation: Co-founder, Oaktree Financial Advisors, Inc.
Residence: Carmel, Ind.
"My mom used to keep my parents' spending money from each paycheck in envelopes broken down by what they were for. She kept the envelopes in a bread bag and stored them in the freezer. She told me that if anyone broke into the house they wouldn't find it. Now that's what you call 'cold,' hard cash.
"Today I'm frugal with my money and would rather save it than spend it, and I'm also very detail-oriented and keep good records. That's how my mother was. I don't keep money in my freezer but am very conscious about saving."
Name: Heather Wilde
Occupation: CTO of ROCeteer
Residence: Las Vegas
"I'm the daughter of a CFO from a New York bank who was always teaching me little finance lessons. One particularly funny story I remember him telling me was when I was first given an 'allowance' purely for buying school lunches. Anything I had left over at the end of the week would be mine to keep, if I learned to budget.
"My dad's anecdote for improper budgeting was this: When he was starting out as a young accountant in New York, he himself had an allowance for lunches as well. All the rest of his money went to my mother for paying bills and other expenses. One day, he and his work friends decided to go to a 'new' restaurant they saw that had dirt and dust all over the windows, and they figured it was a dive bar like they always ate at. They were handed the menus but there were no prices.
"At this point, he figured something was up, so he convinced his friends to order grilled cheese sandwiches and water, which he thought wouldn't be too expensive. Their bill for four grilled cheese sandwiches turned out to be $60 in 1974—and it wiped out all of them for the week.
"After my dad told me that story, I religiously bought myself a bagel with butter for 50 cents for lunch every day for my entire high school experience. I pocketed $17.50 a week. My dad's story taught me to always check prices, do your due diligence and speak up if something seems wrong."
—Written by Kristin Colella for MainStreet