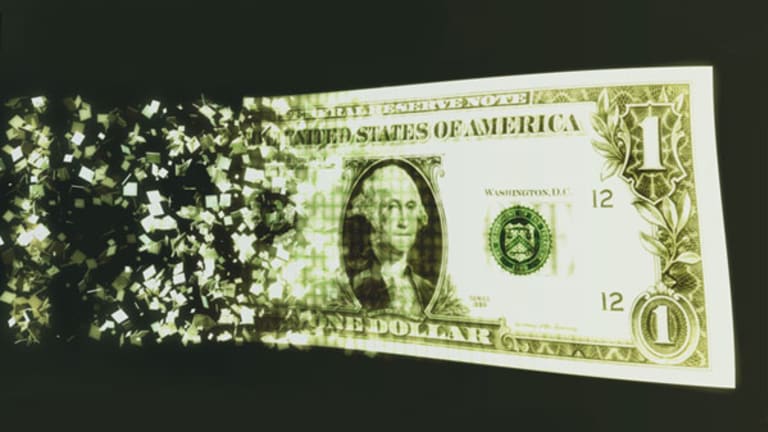 The Money Pivot: Your Drastic Financial Make-Over Begins Now
Is a dramatic change the best answer these days?
By Hal M. Bundrick
NEW YORK (
)--We have been hearing a lot about "The Pivot" for a while now. Silicon Valley lexicon has entered the mainstream once again. Popular use is defining it as a sudden change in strategy for a business, a politician - even a media mogul. Oprah Winfrey says that her fledgling television network is in the midst of a turnaround: "Let me just say, we have made the pivot," she proclaimed on "Good Morning America" last September.
>>Also see: Read This Before Your Bank Account Gets Hacked On Your Phone >>
Businesses make strategic course corrections. They "pivot."
Forbes
even did an article on it last year:
Dizzying Use of the Word "Pivot"
Explained.
You've probably heard Albert Einstein's oft-quoted definition of insanity: "Doing the same thing over and over again and expecting different results." Aren't we all a bit guilty of that in some way, especially in matters of money? We finally pay off a credit card, only to repeat the same mistake by maxing it out again in short order. Times get tough, money gets tight - we stop saving for retirement. We swear we'll never go "all-in" on one stock ever again - but bought E-Trade (ETFC) five years ago at $250. It's scraping near $10 a share now. That talking baby doesn't look quite so cute now, does he?
Frankly, you are probably thinking that your personal finances could use a quick pivot right now. An abrupt course correction. A departure from habitual bad financial behavior. So let us begin. Let's start The Money Pivot.
>>Also see: Is Apple's Passbook the Stealth E-Wallet >>
Where to begin? Marc Lynn is a psychotherapist and organizational consultant with a private practice in Los Angeles. He says: start with taking a breath.
"First, the individual needs to slow down their process so they can begin to make more mindful choices," Lynn says. "Delay gratification. It's no different than a toddler wanting something and the anxiety causing an inability to wait and make a more thought-out decision. Asking the right questions is critical."
>>Also see: The Rise of Twit-Commerce >>
Self assessment is not always our strong suit, is it? Sometimes we just don't know what questions need to be asked. We know we are in a financial bind, or frustrated with the investment choices we've made in the past, or we're facing retirement without adequate financial resources.
All we know is we need a financial turnaround, and we need it now.
"Only when the pain of continuing unproductive behavior exceeds the pain of implementing change can transformation occur," said Karen McIntyre, managing director and senior financial advisor with the Wescott Financial Advisory Group in Philadelphia. "Generally, we are motivated by seeking happiness or preventing loss. Make a list of what you hope to accomplish. Set long term and interim goals. Remind yourself of these goals. Reward yourself when interim goals are reached. Accept that it won't be a straight-line adjustment -- it's a process, and you should expect bumps."
So, we've got the pain of unproductive financial behavior down pat. Our goal is to stop feeling pain and start seeing profit. We need radical changes to begin immediately.
>>Also see: Meet the Start-Up That's Scaring the Network Giants >>
"Stop online bill pay," offers Ted Jenkin, a Certified Financial Planner in Alphretta, Georgia. "This is a tremendous behavioral change. Online bill pay was designed to make the overall bill paying process easier. However, most people simply don't read their bills anymore. Consequently, they fall into a drone-like trap of just clicking and paying the bill, as long as the amount fits within a certain range of what they had in their mind. If you add the online bill paying experience along with credit cards and debit cards, people can't tangibly connect how they spend money with their end-use purchases. By going back to physically writing checks it makes you second guess or think further about what you are spending your money on each month."
And Jenkin says you can take this idea one step further.
>>Also see: Can Your Smartphone Replace Your Financial Advisor and Accountant? >>
"Have someone else pay your bills," he says. "If you lose all control of your own emotions when it comes to managing your finances, hire someone else to pay your bills. While this may add some extra cost, it provides a potential CFO to CEO type stop-gap that may make you second guess your overall purchases."
Curtis W. Chambers, a Certified Financial Planner in Clearwater, Florida has an even more radical suggestion.
"Trash the credit score--intentionally," Chambers says flatly. "We have been taught that we need a perfect credit score to be a good person. It's nonsense -- you don't need credit. So if a person has a problem with taking on new debt, make some late payments and let the credit go bad. That will stop the problem real quick. Then, get with a debt counseling service and set up a debt repayment plan."
Chambers has raised the advice bar, so Ted Jenkin steps back up to the plate.
"Sell your house," counters Jenkin. "For the X & Y generations, homes are an absolute money pit. It isn't just the overspending on the mortgage and the size of the home, but all of the ongoing fixings, latest gadgets, and Pottery Barn furniture that is murdering them. They all believe they deserve MTV cribs."
Now we're talking. This is what we're looking for. Of course, not every suggestion is perfect for every individual's specific financial situation - but this is what we need: "grab-you-by-the-shoulders" urgent advice to compel a positive change in our financial life.
"Don't have a bank account," Jenkin adds. "Instead, set up a centralized cash management account with a financial advisor or counselor so someone can question your decisions. Have no access to an ATM machine. This represents getting physical action versus ease of access to the money."
Finding a process to disrupt poor financial behavior begins with substantive but incremental changes. Something drastic enough to make a difference, but actionable enough to be done today. That's the Money Pivot.
--Written by Hal M. Bundrick