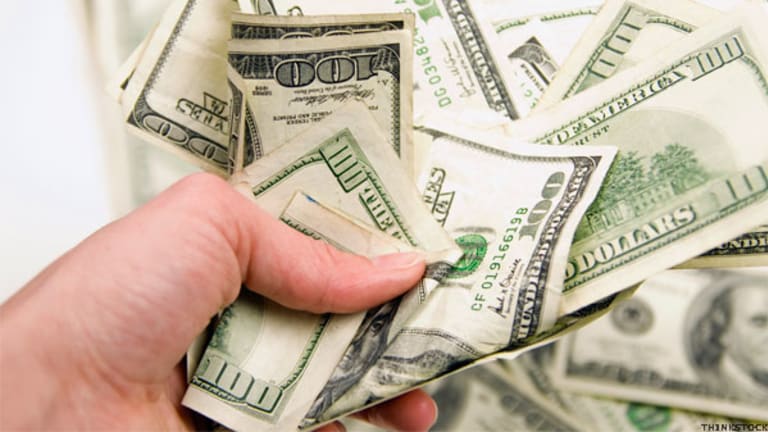 NEW YORK (
) -- Adult children and their parents are normally hesitant to discuss money or financial affairs as these subjects can be awkward. Even though such conversations are difficult it is better to have them while both parties can meaningfully engage in the discussion.
What do I mean by both parties can engage in the discussion? I mean the parents have the cognitive or mental capacity to communicate their wishes to their adult children.
According to a report by the Alzheimer's Association, 5.2 million -- or 1 in 8 Americans -- over the age of 65 have Alzheimer's disease. The same report also cites a study which estimates 13.9% of Americans over age 71 suffer from some form of dementia.
For the aging parent getting your financial house in order is the responsible thing to do for yourself and your children. Likewise, adult children would be wise to engage in this dialogue before capacity becomes an issue. When an aging parent is struck with Alzheimer's disease or another from dementia it will be a draining and emotional experience for the adult child. Without proper planning it will be even more stressful.
So what are the critical estate planning documents needed for aging parents? The critical documents are a durable power of attorney (POA) and a health care proxy/advanced medical directive. Having these documents in place will allow the family's focus to remain on getting mom or dad the services they need. An estate planning attorney will typically prepare the above documents when preparing wills for a client.
Why is a durable POA so important? Not having a durable POA may require an adult child to go to court to obtain a guardianship over their aging parent(s) with mental capacity issues. Besides the extra legal costs, who wants the hassle of going to court to get a guardianship for their parent?
So how does a POA work? Granting someone a durable power of attorney gives them the power to manage another person's financial affairs. An aging parent should only grant this power to someone they really trust. In a nutshell they want to pick a person who will look out for their best interests not someone looking to protect an "inheritance."
When naming their agent they should also pick someone who is capable. I would recommend picking someone who has managed their own financial affairs well. Typically spouse's name each other as agents in their POA document plus successor agents. Having successor agents is important because an aging spouse might be unable to serve as an agent due to their own incapacity or death. Aging parents should also prepare a summary of financial accounts and place it with their other important documents and let their agent know where these documents are kept. An agent who knows where everything is will be ahead of the game if they are ever called into action.
Another critical document for an aging parent is the health care proxy/advanced medical directive. This document operates similarly to a durable power of attorney but focuses on health related decisions. Having this document grants a person's healthcare agent the right to make medical decisions on their behalf, access their medical records, and convey what if any end of life medical treatments they want. For an aging parent doing this document while they have the mental wherewithal can avoid unwanted medical intervention later in life.
Finally, adult children need to be keenly aware this is a sensitive subject and they should approach their parents with the love and respect they deserve. Likewise, aging parents need to be aware of the fact their children are also dealing with their own lives i.e. careers, children, and possibly health issues. A respectful dialogue is the key to making preparations now in case the aging parent is ever afflicted with capacity issues.
Hopefully the aging parent never develops cognitive issues but better to plan for the worst and hope for the best.
Michael Maye is the founder and president of MJM Financial Advisors (www.mjmfinadv.com), a registered investment advisory firm in Berkeley Heights, N.J. He is a member of the National Association of Personal Financial Advisors (NAPFA) and has been a speaker covering tax topics at NAPFA's national and regional conferences. Maye has also been a frequent contributor to the Star Ledger of New Jersey's "Biz Brain" and "Get With the Plan" articles. In addition to NAPFA, he is a member of Financial Planning Association, American Institute of Certified Public Accountants, New Jersey State Society of CPAs and the Estate Planning Council of Northern New Jersey.
Follow
TheStreet
on
and become a fan on