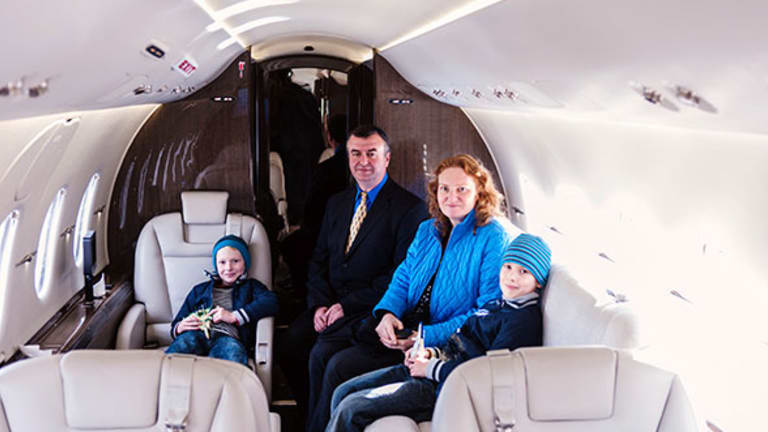 The Many Perks of Private Jet Travel Will Leave You Drooling
There's even more reason to be envious of the private jet set - the exclusive perks, which range from VIP tickets to complimentary hotel stays and spa treatments.
NEW YORK (MainStreet) — Flying on private jets has always seemed like a fabulous way to travel.
With the lack of overbearing security, absence of long lines to board the plane, ultra comfy seats and private cabin - it's definitely a great way to fly if you can afford it.
It's an observation so obvious it practically seems silly right? 
But as it turns out there's even more reason to be envious of the private jet set - and that reason is the exclusive perks. Or as they're referred to by many in the industry - the strategic partnerships.
Those partnerships provide private jet customers with a long list of cushy benefits above and beyond the actual flying experience, including such things as VIP access to concerts and sporting events, free nights at some of the world's top resorts, exclusive shopping opportunities at leading jewelers and fashion houses, complimentary meals and spa treatments and the ability to rub elbows with celebrities at specially curated members-only events.
Providing such benefits or perks to fliers is a trend that's growing more commonplace and in some cases, over the top, with each passing day
Although many of the industry's executives stress that their first priority is providing an outstanding flying experience, it's hard to downplay the allure of such fringe benefits. While others in the industry have no qualms about acknowledging the incredibly luxurious benefits of being among the private jet flying elite.
"Even though our core service is getting members to where they want to go, we don't look at ourselves as just a private aviation or transportation company, but more as a lifestyle membership club," says Mark Sage, chief brand officer for Wheels Up, a membership-based private aviation company. "And we've established a robust set of member benefits. It ranges from jewelers to resorts to luxury retreats. We have really created, and continued to add A-list partners...We've negotiated such incredible deals with our partners that they don't want the general public knowing about these deals."
Sounds pretty great right? And upon closer inspection of the details, it gets more enticing.
When joining Sentient for example, which bills itself as the world's largest provider of private jet travel, members are mailed a glossy exclusive benefits guide that includes more than two dozen deluxe perks. Associated with a variety of industries including travel and hospitality, fine jewelry, lifestyle and food and wine, the perks are made possible through Sentient's partnerships with some of the world's finest hotels and resorts, private clubs and luxury lifestyle brands.
Specific offerings include such things as a complimentary second night when staying at the Boston Harbor Hotel, Boston's only Forbes five-star waterfront property, or a similar offer at the Canyon Suites at The Phoenician, which includes both a five-diamond luxury resort onsite and Arizona's only five-star boutique hotel. The list of these sorts of complimentary hotel stays goes on and on, including the Inn at Dos Brisas, in Texas; Casa De Campo in the Dominican Republic; The Little Nell in Aspen and more.
Meanwhile, if you're a wine lover and also a Sentient Jet flyer, there's the chance to take part in exclusive private tours at some of Napa's most renowned wineries - tours that the membership brochure makes clear, are not available to the general public.
If shopping is your soft spot, Sentient has secured deep discounts at a variety of luxury merchants such as 25% off purchases at Dean & Deluca or a $500 credit toward purchases at Ghurka.

"It's all part of a promise to our customer base to serve them at a premier level," says Andrew Collins, president and CEO of Sentient Jet.

The company has been offering perks of one kind or another since it was established in 1999, but the exclusive benefits program was formalized in 2013, says Collins.
Access to such benefits however, doesn't come cheap. Sentient Jet offers various levels of membership including select membership, which starts at around $124,825, and preferred membership, which begins at $139,500.
On XOJet meanwhile, the partnerships offered by the company connect fliers with such things as private residential clubs, sporting events, lifestyle services and high-profile security services.
Among XOJet's current offerings are exclusive experiences with the Golden State Warriors, Element Lifestyle concierge services and Yellowstone Club, one of the largest private residential clubs. Also on XOJet's partner roster is Virgin Galactic; Creative Artists Agency (yes, the one that represents numerous A-list celebrities) and Butterfield & Robinson, which was named world's best tour operator in 2015 by Travel + Leisure.
The company calls its partners like-minded luxury travel experts who, like XOJet, are focused on creating lasting memories.
One recent example was connecting fliers with VIP tickets to the Mayweather v. Pacquiao fight in Las Vegas, thanks to the Element Lifestyle partnership.
XOJet executives, however, say that while these perks are nice, the company is focused on going above and beyond to serve its clients, and often that doesn't involve external offerings.
"Our focus is providing a personalized experience," says Renee Aivaliklis, the company's vice president of client service at XOJet. "If there's a little of nugget of information we can obtain, like they're doing a flight for an anniversary, we will do everything we can to make it a personal experience for them." 
Recent examples of such personalized service include helping to make a client's anniversary celebration for his wife even more special by providing champagne and chocolate covered strawberries during the flight and engaging the flight crew in maintaining the secret of where the plane was flying.

Additionally, in the case of XOJet, the perks or partner offerings are not complimentary, but rather represent exclusive opportunities that the company merely connects its fliers with.
"They are accessing tickets that they might not have access to otherwise," explains Aivaliklis, "It's the hard to find things that we can magically produce with our partners."
That alluring mix of magical partner offerings and fabulous flight experiences comes at a variety of price points for XOJet customers. Elite access membership is about $100,000, while preferred access sets one back about $200,000.
If you're a fan of the uber-exclusive, members-only Hermitage Club, or perhaps Kwiat diamonds, then Wheels Up just may be the private jet company for you.
Those are just some of the exclusive brands and companies that provide benefits to Wheels Up fliers, says Sage, the company's chief brand officer.
And in the case of Wheels Up, the benefits are complimentary.
"Our partners are providing benefits to our members complimentary, because frankly they want to be able to touch our customers," continues Sage, noting that all potential partner offerings are vetted carefully to ensure that they meet the company's standards for exclusivity and uniqueness.
"We don't like to do coupon offers. We want it to be something that our fliers could not get by going into the store or resort or calling on their own," he adds.
Making things even more interesting for the Wheels Up fliers, the company also regularly organizes its own exclusive gatherings and events, such as Superbowl parties that will include famous athletes and musicians among the party goers or Master's PGA parties along the golf course in Augusta, and Heisman parties with former trophy winners. Many of these elite party attendees - celebrities, athletes, musicians - are all Wheels Up members themselves and do not mind attending such events, says Sage.

As for membership fees, in the case of Wheels Up the price structure is somewhat different - there is a one-time initiation fee of $17,500, and on the anniversary of the second year of membership annual dues begin, which are $8,500. Members get access to the Wheels Up fleet of planes, for which there's a fixed hourly charge to fly.
Sage likens it to a country club membership, albeit one with some amazing perks.
"It's interesting -- I would say the core of our team at Wheels Up are pioneers who were establishing a member benefits platform over ten years ago and nobody was doing it then, so imitation is flattery," he says.