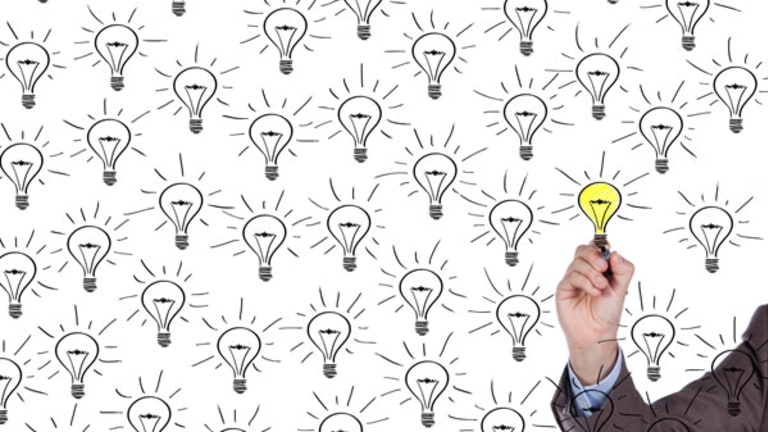 The iPhone Kills the Business Card
These smartphone apps eliminate that stack of business cards for as little as $7.
If you want to do the business networking thing right, you'd better know who you met and when. Thank heavens keeping those pesky contacts straight is getting easier with a new generation of smartphone business card reader apps that turn your Apple (AAPL) - Get Report iPhone, Google (GOOG) - Get Report Android device, Microsoft (MSFT) - Get Report WinMo mobile phone or even your Symbian OS-based phone into an on-the-go, paperless business contact management tool.
Smartphone business card readers are apps that can read and understand images, phone numbers, addresses and other info off business cards via photos taken by powerful cameras on the new generation of
Verizon
(VZ) - Get Report
Droids, T-Mobile myTouch 4Gs or
Sprint
(S) - Get Report
HTC EVOs. Instead of taking a contact's cards, stacking 'em up and transcribing them later -- if you are especially diligent -- you snap a picture of the card, feed it into the scanning app and confirm the information is correct. Then hand that card right back to your new business buddy.
Not surprisingly, business card readers have become hot apps on the iTunes App Store, Android Market and Windows Marketplace. But selecting the right one isn't easy. Here are my picks for the latest and greatest in scanner apps:
CamCard Business Card Reader
for iPhone, Android and WinMo ($6.99)
For data recognition, cross-platform support and all-around business use, it is tough to beat
IntSig's
CamCard Business Card Reader. For $7, your smartphone becomes an all-in-one business card scanning solution. Load the app, take the picture, scan the info and you're done. I was impressed with the quality of data capture, although high-concept, heavily designed cards will probably be a challenge to capture properly. And like with all readers, be sure to confirm that the info you scanned was captured correctly. The downside? If the camera on your smartphone takes a long time to be ready to take a picture, or is clumsy to use, expect an awkward moment or two with your new business contacts as you stand around taking pictures. It can get kind of silly.
DYMO CardScan Mobile
for Blackberry, iPhone and WinMo ($9.99)
Yes, the
Newell Rubbermaid
(NWL) - Get Report
kitchen products company is in the app business, and it really does charge 30% more for about the same features and performance as the card scanner competition. But the fact is, DYMO's freestanding CardScan desk card scanner is the de facto standard in the business world. Look around and you will see them everywhere. And going with its dedicated app for your mobile phone makes the most out of these devices. Scanning quality is perfectly good, though I give the nod for quality to the CamCard. I will keep it simple: If you have DYMO CardScanner on your desk, get the CardScan Mobile app.
ABBYY Business Card Reader
for Symbian and iPhone ($4 at iTunes; Symbian version is $25 unlimited)
Symbian OS users, including all you
Nokia
(NOK) - Get Report
owners out there, here is the business scanning tool for you: The ABBYY Business Card Reader for the iPhone and Symbian OS. ABBYY, as a company, specializes in all sorts of image-scanning, document-recognition and translation software, and its card reader is the pick for international business use. It supports 17 languages, including Norwegian dialects such as Bokmal or Nynorsk. And the tool has a clean if sparse interface. Users can expect overall solid performance. If you are looking to keep your contacts organized as you travel around the globe, get the ABBYY on your phone.
>To submit a news tip, email:
.
RELATED STORIES:
>>Wal-Mart, the Business Phone Company
>>Microsoft Excel Finally Worth It for Apple Users
>>Mobile Wi-Fi Hotspots Can Be Draining
Follow TheStreet.com on
and become a fan on
Jonathan Blum is an independent technology writer and analyst living in Westchester, N.Y. He has written for The Associated Press and Popular Science and appeared on Fox News and The WB.