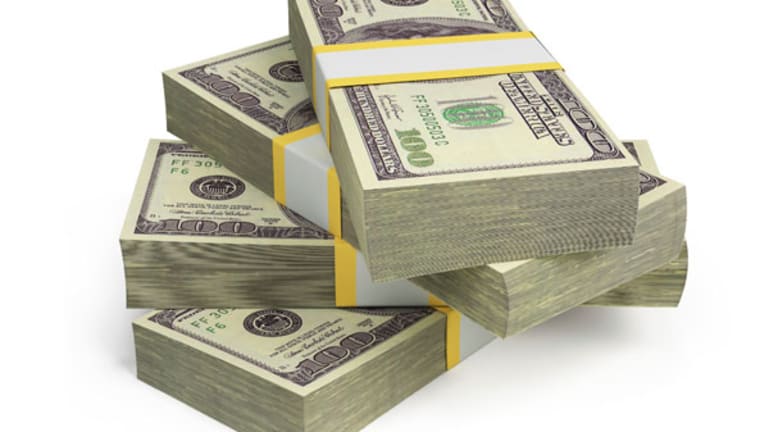 The Insidious Secret of the Dollar Store
If you're amazed at how cheap things are in a dollar store, you'll be even more amazed to find out you're overspending.
BOSTON (MainStreet) -- As a rough economy eats away at disposable income, times have been good for so-called "dollar stores," the bargain-priced purveyors of discounted goods.
Among the national players in this unique space are
Family Dollar Stores
(FDO)
,
99-Cent Only Stores
(NDN)
and
Dollar General
(DG) - Get Dollar General Corporation Report
.
If you're amazed at how cheap things are in a dollar store, you'll be even more amazed to find out you're overspending.
But even the most grateful shopper might wonder where merchandise comes from that can be sold for a dollar (and, truth be told, often a little more). Why are brand-name products cheaper and -- in terms of boxing and labels -- a bit "off"? Are dollar stores really a good deal?
Ellen Ruppel Shell, a journalism professor at Boston University, is author of
Cheap: The High Cost of Discount Culture
(Penguin Books, 2009).
For the book, she tracked the supply chain for dollar stores back to warehouses exclusive to wholesalers where "you find unbelievable prices ... shoes for 45 cents, that kind of thing" and further back to China and other countries that export many of the goods put up for sale.
Among the lessons she learned is that a low price is far more important than even mediocre quality.
Those 45-cent shoes, for example, "are very poorly made and not meant to last beyond a very short period. They might be great indoors, but you can't really wear them outside."
Even a brand name is no assurance of quality.
"You can't really be sure if the name brands are the same product that are associated with the brand," she says. "You have to be a knowledgeable consumer to know whether, in the case of small electronics, for example, if it is a name brand that also produces an off brand. It is a 'buyer beware' kind of thing."
While true that a frugal shopper can find relative bargains on items such as soap, their business model is designed to get one to actually overspend, she says.
"Things are so inexpensive and you are primed to buy something inexpensive, so you are much more likely to purchase things for which you don't have a use," she says. "Dollar stores are usually shabby, and that is the idea -- it makes it feel more like a 'treasure hunt' as you are poking around. Most of the time, these things are not really treasures, but since you are primed for this experience you are much more likely to make a purchase. At a department store, even at a lower price, you might think of them as shoddy and pass them by, but in the context of a dollar store they kind of glitter and attract you."
When those "finds" turn out to be of poor quality, or even unusable, customers rarely blame the store or try to return or exchange the purchase.
"You ascribe the low quality of that purchase to the fact that you got it from a dollar store," she says. "You say, 'Of course, what was I thinking, it's only a dollar store.' The expectation of quality is virtually nil. You are not looking for quality. You are looking to get more for less, and that's the calculation that gets shoppers in trouble. They think, 'Well, this piece of treasure wasn't so good, but there will be another one.' You feel like you are combing the beach and the watch you found doesn't work, but that's to be expected."
Her advice to consumers is to shop judiciously. Get what you need. And get out.
is a consultant for new dollar stores, most of them independent. He has also started an
to broker merchandise.
He says the popularity of the business model over the past couple of years has led to some changes.
"The pure dollar concept, the $1 price point, is really tough. I haven't opened a straight dollar store in over a year and a half," he says.
Instead, owners are increasingly adding higher-priced merchandise into the mix. One retailer he helped recently opened a slightly higher-priced discount store right next door to his traditional dollar store.
How to get merchandise is "the No. 1 question" he gets from those considering an entry into the business. The climate has changed since 10 years ago as the popularity of the concept has meant an increase in the number of independently owned stores and the suppliers to serve them.
Dollar store owners have their pick of off-brand merchandise as well as recognizable labels. Hamilton cautions them, however, to be wary.
"There is kind of a core set of suppliers who are very established and do a very good job for our customers, but there are also a lot of them that come and go," he says. "You need to know what you are buying, and if you don't ask the right questions you are going to be shocked by what you receive. ... You can buy off-brand batteries for less money but they probably wont work."
One avenue for dollar stores is to work with well-known liquidation and overstock companies. Food items are often available at a discounted price as they draw closer to their expiration date. "Distressed" products can range from those with misprinted labels to slight variations in volume and ingredients.
Hamilton advises his store-owner clients to go with recognizable brands as much as they can. "Even if your prices are a penny or two higher,
shoppers will be loyal to you because it is a better shopping experience," he says.
Availability of high-quality goods is also no longer an issue. "What I'm seeing is that the market is being recognized by other retailers and at the wholesale level," he says. "More and more companies are realizing this is a great channel."
The appeal, he says, is that even a modest store can churn through a million items in their first year.
"If you are a wholesaler, and you start seeing opportunity to turn over tens of thousands of grocery items, why wouldn't you," he says.
-- Written by Joe Mont in Boston.
>To contact the writer of this article, click here:
Joe Mont
.
Readers Also Like:
17 Famous Products Invented by Accident