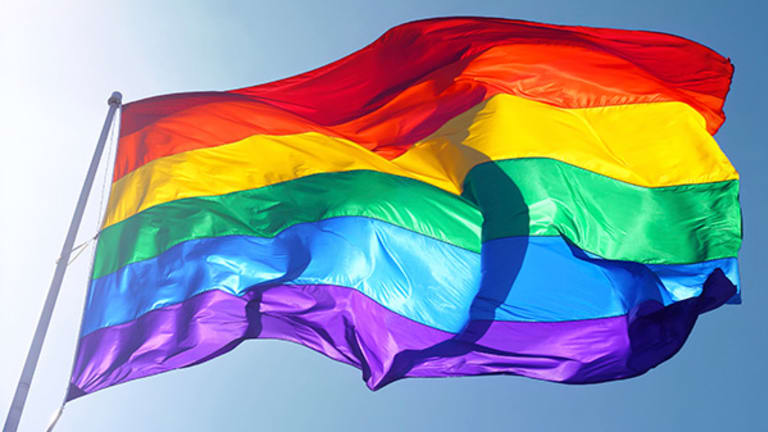 The Gay Wealth Gap Hurts Same-Sex Couples, Even Married Ones
With all gains toward marriage rights for same-sex couples in the past two years, it can be easy to forget sexual orientation discrimination is still a major problem.
NEW YORK (MainStreet) — With all the gains toward marriage rights for same-sex couples in the past two years, it can be easy to forget sexual orientation discrimination is still a major problem. But then a study drives home how far we have to go before the queer community approaches true equality, particularly on the economic front.
A recent Gallup-Healthways Well-Being Index poll found that Lesbian, Gay, Bisexual and Transgender (LGBT) people fared worse on every measure of well-being than their straight counterparts. And LGBT folks fell farthest short in what is arguably the most critical of the indicators: financial health.
The other measures – physical, social, community and purpose well-being – are all, of course, key to living a fulfilling life. But financial security is probably the indicator that makes it easiest to make other life changes.
Money can give someone who finds himself ostracized from his community a way to move; it can pave the way for someone with a dead-end job to go back to school and retrain in something more interesting, and it can provide opportunities to get out and meet new people.
But only 32% of gay, bisexual and trans men reported being financially secure, compared with 40% of straight men, in the analysis of questions about standard of living, ease of paying for necessities and financial worry. Queer women did even worse, with only 27% reporting being financially security, compared with 39% of straight women, according to the study, written by Gary J. Gates, a demographer at the Williams Institute, an independent research organization focused on sexual orientation.
LGBT people's relatively poor financial health can't be attributed to any one thing, said Sarah Warbelow, legal director for the Human Rights Campaign, a civil rights organization focused on LGBT equality." Instead, she said, it's caused by a number of factors, including a lack of family support for teens, employment discrimination and, still, the lack of marital rights.
Kids whose parents stop supporting them, financially or otherwise, after they come out of the closet, are likely to fall behind their peers, said Warbelow. About 40% of homeless youth are LGBT, according to 2012 Williams Institute survey of groups that provide services to homeless youth, far above the percentage of the general population that's queer.
Teens rejected by their families may lose access to college or have a more difficult time finishing high school.
"That affects their earnings potential," said Warbelow. Even when people can catch up later in life, "someone in their 30s [that had been kicked out of their house as a teen] would be on a very different trajectory" than someone who hadn't, said Warbelow.
And losing your family's acceptance can affect people's financial well-being in less dramatic ways: angry parents may be less likely to give young adults other types of financial help, such as help for down payments on homes, which can affect long-term financial well-being.
LGBT people also face employment discrimination, which can hurt result in lower earnings, said Warble. Some 15% to 43% of LGBT workers have experienced discrimination, according to a 2012 study by the Center for American Progress. Now 18 states have no law barring sexual orientation discrimination and, even where protections exist, many are weak, the report said.
And discrimination may not always be obvious or easy to fight, said Warbelow.
"It can take multiple forms," said Warbelow. "Not just being fired, [being] denied promotions, being passed over for opportunities that can lead to promotion. Even when employment laws in place, if the culture remain hostile to LGBT people, individuals may still [be less likely to get ahead]."
Finally, despite recent gains, some states still bar same-sex couples from marrying. And even in marriage equality states, the financial impact lives on from bans that ended only relatively recently, and the federal government's refusal to recognize marriages until last year. Medical bills may have piled up from members of couples who weren't able to be insured through a partner's insurance. And people may have lost out on Social Security benefits they otherwise would have been able to receive through their spouse, Warebelow said.
Lesbians may have seen more of an economic impact than gay men, because they are more likely to be raising children, which, no matter what the gender of their parents, are expensive. Almost half of LGBT women are raising at least one child, compared with about a fifth of LGBT men, according to a 2013 study from the Williams Institute.
"It really is the additional challenges that come with raising a family," said Warbelow.
Another factor for queer women may be the perception of how well they are doing, said Jennifer Hatch, managing partner of Christopher Street Financial, a wealth management firm focused on LGBT clients.
"I would guess that LGBT women suffer from lower self-esteem than the population as a whole because of internalized homophobia," she said. "It is hard to value one's self if you are exposed to a lifetime of anti-gay messages."
She noted that even though LGBT people reported financially thriving at lower levels, the survey didn't show that anyone was really doing well - no more than 40% of any group, gay or straight, reported financially thriving.
"Are expectations that much higher than our reality? Even in the wealthy clients (LGBT and straight) whom we advise, most people are chronically insecure about their financial future -- despite our calculations and entreaties that they will be able to meet their future needs," said Hatch. "This is the human condition I have concluded."
--Written by Simone Baribeau for MainStreet