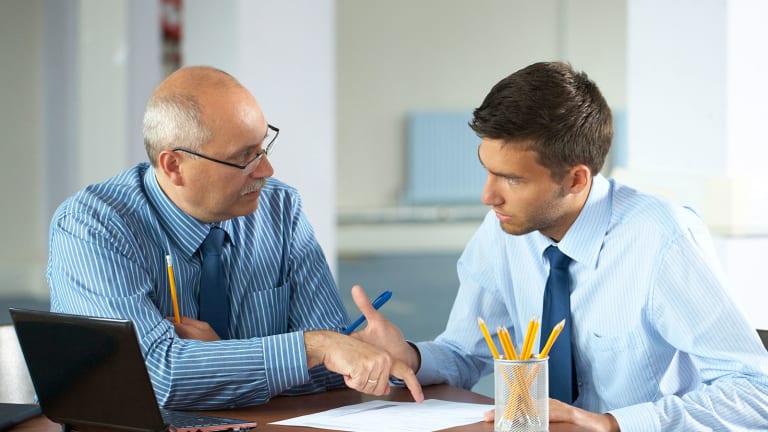 The Fine Art of Getting More Money Out of a Job Performance Review
Don't go into a job performance review ill-prepared - it could cost your paycheck money.
Don't go into a job performance review ill-prepared - it could cost your paycheck money.
With the days peeling off the calendar, and 2016 only a month away, millions of employees can look forward to an annual workplace ritual - the yearly job performance review.
A recent study from OfficeTeam reveals that 79% of U.S. human resource managers schedule annual job reviews annually (although the same study states 25% of employees don't believe performance reviews help their job performance.)
Only 5% of employers say they "never" hold employee performance reviews.
"All performance appraisals are not created equal," says Robert Hosking, executive director of OfficeTeam. "But love them or hate them, performance discussions can be an effective tool, as long as both managers and workers properly prepare."
That's a fair point, and to take that love/hate thought one step further, why not use a performance review, no matter how you view it, to up your salary in 2016.
MainStreet reached out to some career specialists who offer a few tips on how to conduct some jiu-jitsu on employers during a review, and turn the tables to get more cash in your paycheck next year.
 - Make a list and check it twice: "Generate a list of the projects to which you contributed throughout the year and confirm with your manager the extent to which you achieved their goals," says Lynda Spiegel, a 15-year human resources professional and founder of Rising Star Resumes, a career coaching and resume service. "Then ask your manager if he or she agrees those contributions merit the a one-time bonus based on those contributions. By tying the performance review into a bonus, rather than a raise, you're showing that you understand the relationship between high-performance and its rewards."
 - Package your performance: Performance reviews are a common part of conducting business, so treat it as such, notes Jacqueline Twillie, author of Navigating The Career Jungle: A Guide for Young Professionals. "Depending on your industry you can get really creative with this. For most professionals, creating a PowerPoint style presentation will be effective. In a more creative environment, you could create an info graphic or short video." Just make sure to back your request for a salary increase up with industry data, and talking about your bills and student loan debt as the reason for your request. Focus on the value you deliver to the team and company, Twillie adds.

 - Educate your employer: Most employers have no really specific idea of the full scope of beneficial activities employees perform, says Michael Johnson, director of search marketing at Proformative.com, a financial services company that provides consulting services for accountants, treasures, and other financial professionals. "From the employee's point of view, try to fill in the blanks," Johnson says. "The goal is to paint a picture of how incredibly impossible it would be to find someone to replace you. Replaceable people get replaced or at the very least have to learn to live on a stagnant income. Always remember, employers give raises to employees they fear losing." There's no need for loud trumpets, he adds. Be diplomatic, but get your point across.
 - Do your reading: Xari Chartrand, a human resources business partner at Halogen Software, advises getting to know your company's compensation policies. "This will enable you to make the case for what you're asking and back it with performance results that demonstrate you're deserving of what you're asking," Chartrand says. "Second, keep the focus on you and your accomplishments, and the value you bring to helping your organization achieve its overall goals. Be honest about your motivation. Also, be realistic. Take a look at salary survey data online to gage where you stand among others in your industry."
The takeaway from workplace experts is to be prepared, be fair to yourself in emphasizing your value to the firm, and use all the leverage you can muster to earn you a bigger payday in 2016.