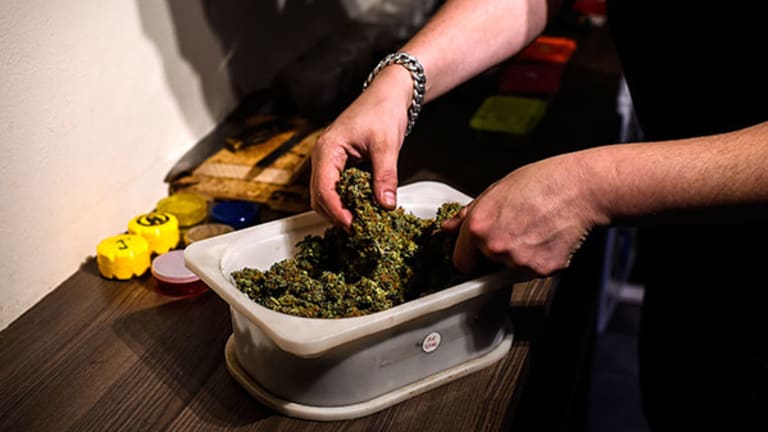 The Ethics of Investing In Pot - Can It Be A Moral Investment?
With marijuana legal and in more and more states, is investing in the pot business considered an ethical investment? The answer might be a surprise.
NEW YORK (MainStreet) - As more established investors flock to the cannabis vertical including Peter Thiel of Paypal fame, the conversation about investing in cannabis is slowly shifting, but larger investors still remain wary of the vertical - and for several reasons.
There are still huge and looming legal liabilities for investors that begin with braving the drastically shifting regulatory intrastate mandate and the federal law. The recent grand jury and SEC subpoenas of Medbox (MDBX) late last year also undermine the depth of accountability now being required and not always present at newly public cannabis companies that must also be corrected and assuaged before larger institutional investors will brave the market.
But a new question has now entered the conversation as marijuana becomes more broadly legal. Is it morally legit to invest in the industry?
Is investing in the pot industry a "sustainable" if not "ethical" investment?
There are two ways investors seem to be approaching the issue. The first is to look at the cannabis business as akin to a "sin" industry, like tobacco or alcohol. From the other perspective, however, the industry offers broad opportunities to shape an ethical debate and the agriculture industry of the future.
Michael Swartz, an analyst with Viridian Capital and Research who covers the industry, says that while it can be difficult to know how to distinguish between investments on this level, it is not impossible.
"In states with legal recreational and medical markets, such as Washington and Colorado, there are separate licenses required to operate for medical or recreational purposes," he said. "This dual licensing system has made it easy to distinguish between a 'sin' investment and 'non-sin' investment. Other industry sectors such as consulting, software or security, will not have such a fine line. Companies in these sectors have the tendency not to limit themselves to operating for strictly medical or strictly recreational purposes, since they have the ability to service both recreational and medical markets."
Medical investments - whether into compounds or equipment, for example - are clearly broadly categorized as ethical investments. Writing last year in a newly published medical study about the impact of cannabinoids on movement disorders, Israeli researchers not prone to hyperbole flatly stated that their findings would move national policies into the reform side of the ledger.
From an entirely different perspective, particularly the investments now underway on the grow and technology side can also be considered a "cleantech" if not "sustainable" infrastructure investment sorely needed in the American economy.
"Investors can mitigate many of these concerns by investing in companies that have a diversified business model, with multiple revenue streams that focus on the development of growing technologies that span both the traditional agriculture and cannabis industries," said Swartz. "These technologies are developed to solve a variety of problems, such as creating a controlled environment that removes the need for all the chemicals the market is trying to escape, as well increasing yield per land footprint, while minimizing the effects of weather and location."
The focus on an indoor industry, including recent movements in New York State that seem to indicate that this phenomenon is finally hitting the East Coast, is clearly an area where investments are on the "green" and "ethical" side. Firms are also clearly beginning to challenge state and local policy, where it is developing to provide services which are challenging the status quo in favor of overall reform.
"Many technologies are designed to promote job creation and food sustainability in previously remote and unproductive areas of the world, in addition to reducing water waste," said Swartz. "In addition to cannabis, these agricultural technologies have the ability to produce a number of high quality agricultural products including herbs, lettuce, spinach, and plants that require pollination such as strawberries."
From a corporate responsibility perspective, this is the kind of behavior that not only changes laws, but increases what some observers call societal justice. Swartz councils that there are specific benchmarks investors should look for along the way however.
"Investors' number one priority should be looking for best company practices, specifically in regard to what we have identified as the top three company values that are integral to the success and future growth of the cannabis industry, compliance, standardization and quality-control," Swartz said.
That said, it is clearly much easier these days to not only invest in green and make a bundle, but also have a positive impact as one does so.
--Written by Marguerite Arnold for MainStreet