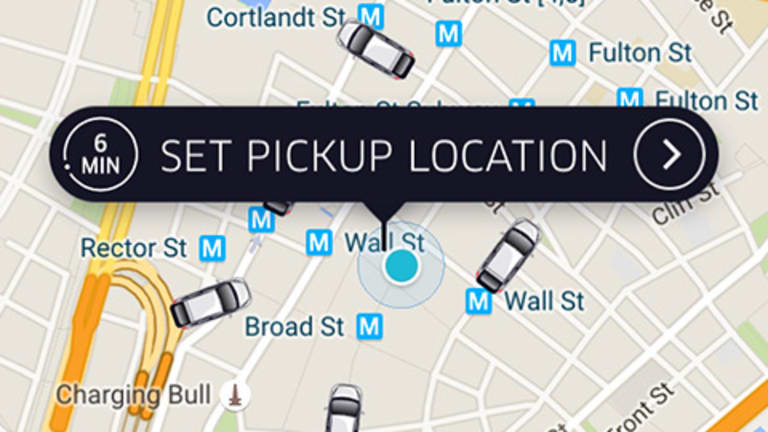 The Downside of Driving for Uber
You know the upside. Get ready for the downside, from depreciation to drunks.
NEW YORK (MainStreet) — You know the upside of driving for Uber (and, by extension, its competitors such as Lyft): a well-greased PR machine has spread the belief that this is an easy way to pick up some cash-filling hours you'd otherwise spend watching ESPN or Netflix, and, along the way, you will probably meet some cool people.
You also get to be your own boss. It's just you, the road and an app that tells you when a passenger is beckoning. 
All good. Except - before taking the Uber plunge - realize that the gig also packs a negative payload. Experts and drivers themselves readily dish on the negatives.
Accept that driving others around a town you know is fun, especially with GPS showing the way, and you'll indeed earn a few dollars. A plus you will have over taxi drivers is that - generally - your likelihood of being robbed is slender, because monies are exchanged electronically (no cash), and the passengers have identified themselves to Uber.
Now for the negatives. The pay just is not that high, said Harry Campbell, an Uber driver who blogs at TheRideShareGuy. "It's $10 to $20 per hour," said Campbell, who is based in Los Angeles and who added that Uber has significantly cut what drivers are paid. "Rates were 30 to 40% higher a year ago."
In Seattle, Uber driver April Stratemeyer said she generally averages $15 to $25. (Uber, for the record, shows numbers that claim an average income of $19.04 per hour.)
$20 to $25 sounds good to you? Campbell has a caveat there. To earn the higher rates a driver has to work peak times which, usually, means Friday and Saturday nights. "The busiest times are when drivers earn the most," said Campbell. He added: "And you have to deal with those passengers."

Talk with Uber drivers and what "those passengers" means is drunks. They are rowdy. They may curse the driver. Worst case scenario, they throw up in the car and you know whose job cleaning the mess up is. "It's challenging dealing with those passengers," said Campbell in diplomatic tones.
"You can even get them at 5 p.m.," said Stratemeye. Apparently those passengers started at noon, hung in at the bar and - good for them - opted not to drive themselves home personally. But then they become the Uber driver's problem. "I get them all the time," said Stratemeyer with a tone of resignation.
That is not her biggest gripe however. What is: "I wish we got benefits." A class action lawsuit challenges Uber's characterization of its drivers as independent contractors - thus not owed benefits - but there are miles to go before a decision is reached. For now, even Uber drivers who log 40 and more hours weekly get bupkis in terms of sick leave, health insurance and vacation time.
Wear and tear on his car is the big Campbell concern: "How much depreciation am I putting on my car? That is hard to calculate." The IRS allows a mileage deduction of 57 cents - to cover fuel, depreciation, whatever - but it is difficult to say if that is what an Uber driver would need. Short distance, big city driving generally puts more wear and tear on a car than a long, leisurely highway trip. Campbell is right: there is no obvious metric for allowing for wear and tear on the car but whatever that number is, it has to be subtracted from the hourly rate to produce a truer measure of a driver's income.
The $20 or so per hour an Uber driver may get is gross. Subtract depreciation to get a more valid measure.

Another complaint: "Not getting enough pings for jobs," said Luke Harris-Gallahue, a team member at Hurdlr.com, a service company for Uber drivers. What that means is that a driver may be ready to roll - primed for that next passenger - and some times of the day he just may sit there, desperately waiting for the next ping, which shows a passenger ready to go. You don't get paid for wait time. Not a dime.
Know that there is just about nothing the average Uber driver can do to stimulate demand. Waiting, quietly, is about the only path. Said Jordan Perch at DMV.com: "Uber drivers can not do anything to increase the number of fares in order to earn more money when faced with low requests."
Bottomline: Do the math. Best case scenario driving for Uber is maybe $1,000 per week and then depreciation - a volatile variable - has to be subtracted. And many hours and weeks will not produce best case wages. Added Perch: "Driving for Uber certainly seems like a great way to make a quick buck, but just like any other job, it has its pros and cons. Many people forget about the drawbacks while focusing on the prospect of making some extra money."
This article is commentary by an independent contributor. At the time of publication, the author held TK positions in the stocks mentioned.