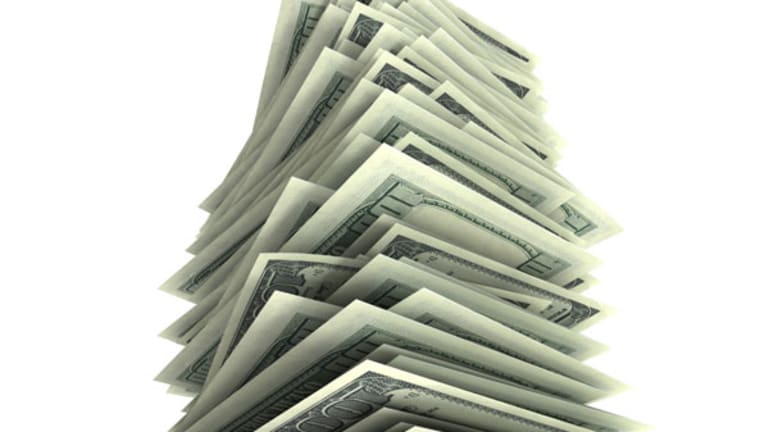 NEW YORK (
) -- If I ever get around to writing my magnum opus on the Digital Depression, this year probably won't rate even a full chapter. It wasn't the dumbest or the most brutal.
But it was an Olympic year, so what better time to fire up the national anthems, wave the flags and award the gold, silver and bronze for an Olympic-sized problem: What was big in digital idiocy -- perhaps we should call it digiotica? -- for 2012.
Will the winners please approach the podium.
Bronze medal: Ignoring the Amtrak-ization of the Google Economy.
The big news in 2012 is the Amtrak-ization of the Web. Yes, the Web-addicted still point to jumping revenues at Web companies such as search giant
Google
(GOOG) - Get Alphabet Inc. Class C Report
. The 15 ish-percent bump from Q2 to Q3 this past year is a popular
.
But sober observers are finally seeing that nationalized railroad sort of vibe: Operating profits slid by roughly the same percent or so for the same period. And the "down and to the right" profit margin trend was mimicked by
Facebook
(FB) - Get Facebook, Inc. Class A Report
,
eBay
,
LinkedIn
(LNKD)
and others.
Considering that Web stars such as
Amazon
(AMZN) - Get Amazon.com, Inc. Report
long ago stopped caring about posting net margin percentages that are
awfully tough to tell from zero
, how long will it be before all information age companies pull into a similar razor-thin earnings station?
Remember, it was just 100 years ago that our pathetic, subsidized railroad system,
Amtrak
, was not just one, but a group of the most powerful and profitable private companies ever. Today, nobody is turning off the Internet no matter what. So how far are we really from being forced to adopt some sort of Amtrak/power utility-like socialized model for the Web?
History is not on the information age's side.
Silver medal: Pretending there's any money at all in the music business.
This was the year the music industry officially became the blue whale of the information age: big and beautiful, but seriously endangered.
Just consider the band that the U.K.'s
and
, just to name a few, say was the biggest in the world: Mumford & Sons. Indeed, the English folk rock boy band posted some gaudy stats this year, including a near-record 600,000 first-week unit sales for an album called
Babel
.
Sure, that sounds fab -- except when you factor in the stunning ginormity of the digital music industry.
As of the end of 2012, according to
, a music consumption tracking app by London-based online music service
Last.fm
,
was sampled by users 50.9 million times on its service across all devices
since 2002
, which is when Scrobble began tracking.
Let's assume these 600,000 units sold at $16 each, a CD-like price. Forget the fact that a mere 1.1% of all those people listening to Last.fm converted into paying customers. Do the math and you'll see the world's "hottest band" makes just 19 cents per sample of their wildly popular tracks.
And don't forget, this data is just for Last.fm. If you bake in digital consumption across other digital platforms -- iTunes, Grooveshark and all the rest -- revenue per sample rates probably fall well below a cent.
Even in the age of digital pennies, that's pocket change.
Gold medal: Hoping sex will sell.
But the far and away winner for what was not working in webonomics in 2012 goes to the Web's oldest profession: adult entertainment. Data in this sector are always murky. But I really have to hand it to
, which this year reliably pegged the shocking scale of porn sites such as Xvideo and YouPorn, which can fetch 4.4 billion page views per month -- about triple CNN's traffic.
But according to published accounts, nobody's making that traffic pay.
According to the
from Los Angeles-based XBIZ, which tracks trends among 6,000 adult industry members, a full 44.2% said this sort of free online content was their biggest concern.
Stephen Yagielowicz, an editor at XBIZ, posted a
for an
that should be awfully familiar to those in the publishing and movie businesses: a diagram on how the industry must adapt to fewer paying customers and more Web freeloaders.
There is talk of live Webcam services that resist digital commoditization -- it was a hot topic at what was likely the
first virtual adult entertainment convention
, held back in February -- but this was the year pornographers got intimate with the reality of life in the digital age: doing more for less.
"Stars that used to make $1,500 a scene are now making half that," is how Michael Stabile described the practical effects of the technology
. "But the small-time producer, a ubiquitous part of the industry during its boom years, is almost extinct."
The Playboy Mansion it ain't.
This commentary comes from an independent investor or market observer as part of TheStreet guest contributor program. The views expressed are those of the author and do not necessarily represent the views of TheStreet or its management.