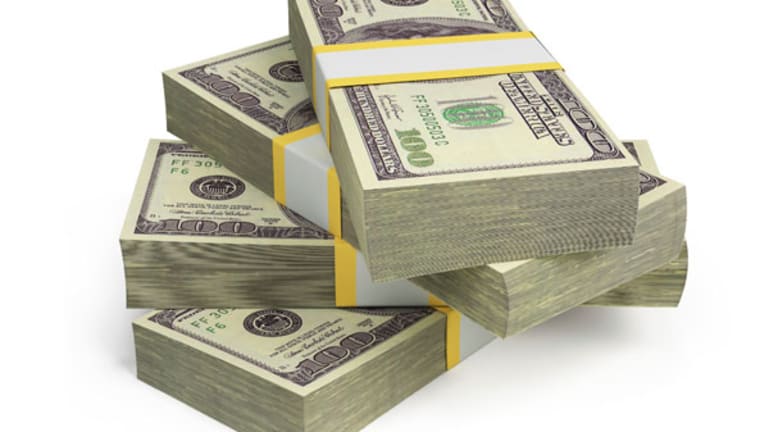 The Digital Skeptic: What If the Art Market Was the Model for All Markets?
Unlike financial markets, art markets work.
NEW YORK (
) -- Ariane Lelong-Mainaud knows an artful way to teach our dysfunctional financial markets the difference between a bogus tweet and a real ticking bomb: Buy and sell stock the way we buy and sell art.
"The way art is bought and sold has not changed for centuries, maybe thousands of years," Lelong-Mainaud told me over a luxuriously slow Japanese meal. "There is nothing electronic. The auction house is in the middle. There is a buyer. There is a seller. There is a price. It's done."
Also see: Cramer Greets the 21st Century: Crowdfunding
Lelong-Mainaud has art in her blood. She's not only the president of the Paris-based
Association Pour la Defense de L'Oeuvre of Joan Miro
, she grew up in a family of
gallery owners
in a world of modern masters such as David Hockney, Francis Bacon and Louise Bourgeois as well as Miro himself.
In fact, she knew the artist well as a child; so well that -- without much exaggeration -- she can spot a fake Miro a mile away.
"People who own Miro bring me in to confirm they are real before they are bought or sold," Lelong-Mainaud said. "Twentieth-century art is much harder than older art to make a forgery. So it's very simple to tell if it is not real."
I asked what happens when she spots a fake: "I tear it up," she said flatly. "People cry. The picture may have been paid for with millions. But if it is a forgery, I destroy it."
This stone-cold sense of the real from the fake makes Lelong-Mainaud the go-to woman for authenticating Miro at the world's heavy-hitting art auction houses, including New York's
Sotheby's
(BID)
and London's
Christie's
.
She will not comment on specific pricing, buyers and sellers. But my talks with her over the past several months revealed a rare, inner glimpse of the dark world of how prices are set, buyers are found and information is distributed in the roughly $50-billion-a-year worldwide art market -- which, by the by is as absurd as absurd gets by contemporary, digital information-based financial market standards.
Think about it: There is no underlying cash flow or enterprise value to price with art. No product revenues to factor in. In fact, there are really no products at all.
Also see: 10 Biggest Summer Blockbusters Without Superheroes
"Art's value does not come from an underlying asset or income stream. It's all about what the next person will pay for it," Marion Maneker, publisher at New York-based trend-tracker
, explained to me over the phone. "That makes a large portion of the market private and unknowable. Yet it's interesting how many people are drawn into it."
Unlike financial markets, art markets work.
Here comes the digital-age investor big think: In spite of this wanton violation of every supposed bedrock notion of modern narrative-based digital asset pricing and exchange -- where more
disclosure
, more information and, geez, more trading is seen as a positive -- the process of selling art, as out of date as it appears, is as good as it gets when it comes to trading in this collapsing digital age.
"Everyone makes money," Lelong-Mainaud told me with a wink. "I will always be doing this."
A quick look around shows the source of her optimism. Yes, parts of the art market are soft. Sotheby's, for example, saw total revenues drop by 8% for 2012, year over year. But plenty of art trading is stout. So-called private trading in art, which essentially happens away from public auction, grew by about 10%. And the blockbuster deals just keep coming. Sotheby's recently sold a medium-level 18th century Italian masterwork,
Susanna and the Elders
, for $11.4 million, exceeding the pre-sale estimate by roughly 20%.
Good luck trying to match this sense of prosperity in the art market with the larger modern financial markets.
The hallowed
New York Stock Exchange
is suffering the indignity of being
to a discount trading outfit called
ICE
, based in Atlanta for heaven's sake. Whispers swirl that the equally storied
Chicago Board Options Exchange
is on the block. And the mold of bearishness is even wafting out of high-tech markets like the
Nasdaq OMX Group
.
Also see: 3 Tricks Cavemen Used to Get First-Class Seats
"Since decimalization and new market regulations effectively squeezed the margins -- and the potential for graft -- out of the system during the last decade,"
wrote David Weidner over at MarketWatch
, "the business of running a stock-trading marketplace became a sideline."
Learning to slow down.
So how does the art market work when financial markets don't? Easy. Insiders confirm there is no digital-age attempt to nickel and dime the trading system with illusory, data-driven efficiencies.
Rather, the art market functions as any market really should: one deal at a time.
"The system works because the major galleries behave like market makers of the old New York Stock Exchange," Maneker explained. "They go out and buy work of artists they believe in. That gives investors the confidence that art will have value."
That process of actively protecting each trade slows trading down and lets participants separate the noise, such as fake tweets and flash crashes, from the value.
"The process moves slowly. Everyone can get in touch with their emotion for the art," Lelong-Mainaud said. "That way, the passion can come out in the price."
Considering the upside lurking in the art market, and the nightmare our financial trading systems has devolved into, how much worse would asset pricing and execution really be if equity trading aped art trading? That is, if stocks were exchanged in transparent trading servers supported by private market makers -- probably the issuing companies themselves?
In a world where
Apple
(AAPL)
can make its own market in its own stock, what on earth do we need larger stock markets far?
This commentary comes from an independent investor or market observer as part of TheStreet guest contributor program. The views expressed are those of the author and do not necessarily represent the views of TheStreet or its management.