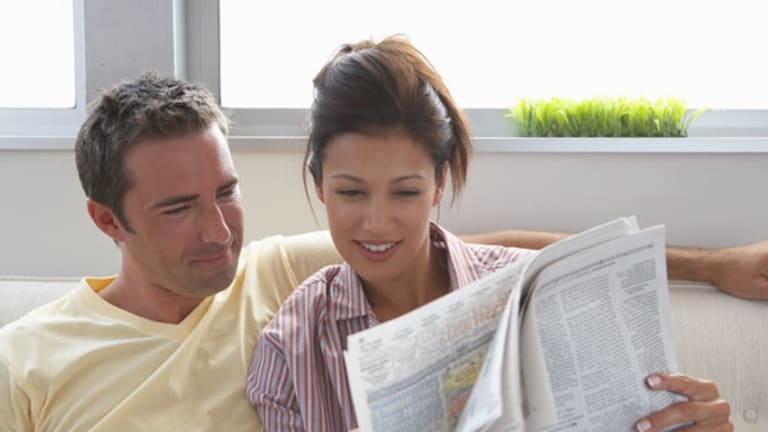 The Digital Skeptic: The Newspaper Gets Its Revenge
What makes real money these days is keeping it small and local, staying calm and ignoring the Web.
NEW YORK (
) -- Sherwood Olin has apparently cracked the code for building a news business in this crumbling digital age.
"If the Pope crashes one foot outside Lincoln County, it's not news," Olin, the editor of Newcastle, Maine's hometown paper told me a month or so back.
Also see: Cramer Greets the 21st Century: Social Media Aggregators
His
Lincoln County News
is one of the most fascinating media entities I have encountered in some time. It's been the news source for this rocky nook of mid-coastal Maine for the past 138 years, pretty much once a week, and somehow over that century and a third this traditional printed paper has escaped the dogs of the digital age.
First off, big is beautiful when it comes to
The Lincoln County News
. Yes. There's a
and
Facebook
(FB)
page
, but the foundation of this brand is a full-color, 36-page, seven-column-wide printed edition.
This stretch of news real estate -- just under 36 inches wide when open fully -- creates a dramatic frame for content. Sure, the coverage is about damage-free blizzards, citizens stressed about fireworks legislation and the kid who won the spelling bee. But the message is clear: Information has value. It's a commitment to news that comes straight from the owners of this privately held operation.
"I tried to push for bigger photos," Olin told me of a conversation he had with Chris Roberts, publisher for
Lincoln County Publishing
-- who runs the printing press by himself, according to Olin. Olin wanted more layout options with larger images.
Roberts "looked at me long and hard," Olin said. "And then politely said, 'But that would cut down on the news.'"
Also see: Top Ten Traders to Follow on Twitter
By all accounts,
The Lincoln County News
-- with two editors, four staff reporters, about three dozen stringers and support staff and advertising personnel -- is a pretty darn good business. Olin said he prints 9,000 copies per week and revenues are solid.
Buffett's deal of choice
Anybody watching newspaper stocks -- which have seen a mid-teen percent valuation jump in the past year -- will agree Olin is probably right. The upside of small- to medium-sized print outlets has not been lost on America's best investors. None other than Warren Buffett began gobbling up smaller print news outlets last year. The flashiest was a $142 million purchase of 63 papers from Richmond, Va.-based
Media General
(MEG)
.
In fact, this sector is so successful that analysts are codifying an investing approach. Want to buy a local print cash cow? Check out a blog post by Peter Beller and Sarah Erickson, content director and content manager respectively at Los Angeles online content exchange Ebyline, called,
Uncovering the Buffet Equation for Newspaper Survivability
.
The secrets to media success these days? Never mind talk at media giants such as
Gannett
(GCI)
scoring this or that paid-content play online. What makes real money these days is keeping it small, keeping it local, ignoring the Web and not sweating falling circulation.
If investors want to see what woes await if this advice is ignored, just drive north on Route 1 to Thomaston, Maine. There
Courier Publications
-- the publishers of
The Courier Gazette
,
The Camden Herald
and other local Maine papers -- was bought in 2008 by a Web entrepreneur named Richard Anderson. Armed with an
$885,000 Knight Foundation grant
, Anderson changed the focus of these outlets from print to Web, gave most of his content away online and deployed new digital production software. But -- like many other media outlets lost in the Web wilderness -- costs rose, revenues fell and by March 2012 Anderson
ceased operations
.
Also see: 10 Major League Towns Where Baseball Doesn't Cost a Bundle
Even still, local news printed on paper held its value: A free-circ paper publisher named Reade Brower bought the outstanding assets, reports show, and a print-focused
Courier Gazette
and
Camden Herald
began
.
No new media answer
Even more stunning for investors to consider is how new-media's leading lights are almost irrelevant in the discussion on how to replicate the success of
The Lincoln County News
. Last month, I had the chance to directly question Tim Armstrong, CEO of
AOL
(AOL)
, about the success of papers such as the
News
compared with struggling new-media local options -- specifically Armstrong's
Patch
.
"That type of success you see in smaller papers is what we hope to replicate," he told me. When I pressed him and mentioned the grim results for
Patch
, Armstrong said he hopes it will be profitable by the end of 2014.
Here's the kicker: Maybe new-media options such as
Patch
work out. And maybe they won't. The fact is, it probably doesn't matter.
The Lincoln County News
will probably be around for another 138 years, Web or no Web. That means, for investors looking for rare upside in today's confused information economy, kicking it old-school and seeking out news, printed on paper for a targeted market turns out to be as good a bet as you can take.
"We are not going anywhere," Olin told me.
This commentary comes from an independent investor or market observer as part of TheStreet guest contributor program. The views expressed are those of the author and do not necessarily represent the views of TheStreet or its management.