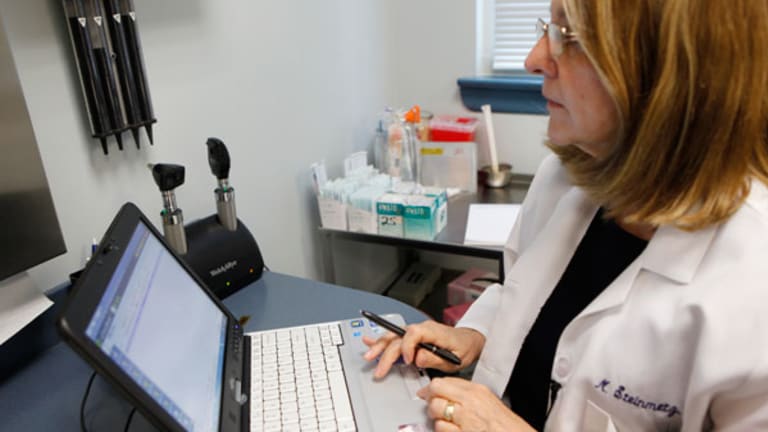 The Digital Skeptic: Security Leaks Flatline e-Health Care
Health care records are essentially unprotected commodities for criminals, an expert says, and not worth much.
NEW YORK (
) -- Greg Porter has this frightening diagnosis for e-health care investors: The digital diseases of piracy and commodification of information that have debilitated the music, publishing and financial services industries have infected their field as well.
"The theft of protected, personal health information has never been higher," he told me in a brutally frank phone call on the sad health of digital patient data.
is no quack. He's the founder of
, a small Pittsburgh information security company, and an adjunct faculty member at Carnegie Mellon University, where he pioneered the curriculum on information security in the health care industry.
Also see: Cramer Greets the 21st Century: Twitter
"I'm trying to let anyone within earshot know about this," he said. The trouble is, few in the industry appear to be listening.
A stunning
21 million health care records
have been compromised since the fall of 2009; that's when the U.S. Department of Health and Human Services began keeping track. The agency goes as far as to post these breaches on an agency website "Wall of Shame." Last year, the Utah Department of Health alone
inadvertently exposed
some 780,000 patient records.
"You almost become numb to it after a while," he said. "You wonder, 'Does it matter? Does the public care?'"
A healthy health care market?
Investors need not bother with med school to learn that health care in the U.S. has belligerently resisted the digital age. Most experts I spoke say it's roughly a decade behind the leading edge of information age.
But like it or not, health care is going digital. The sector is undergoing a shock-treatment regimen of federal mandates such as the Patient Protection and Affordable Care Act and stimulus enticements from the American Recovery and Reinvestment Act.
And investors and blue chip companies are rushing to cash in.
Also see: Tax Audit Horror Stories: What To Do When The Unthinkable Strikes
Behemoths such as Dublin, Ohio-based
Cardinal Health
have been pushing electronic health care solutions with consulting services for small practices. New York-based start-up
ZocDoc
claims 2.5 million users -- and Jeff Bezos as an investor. Just last week, Boston-based
QPID
, an electronic medical records search tool to help doctors pre-screen patients, announced it had
from Boston-based
Partners Innovation Fund
and
Matrix Partners
.
Chamath Palihapitiya, a general partner with
The Social+Capital Partnership
and a former senior executive at
Facebook
(FB) - Get Free Report
, told me flatly that e-health care is one of just four of the venture fund's major investment areas.
"There is so much opportunity to bring more rational health care choices to consumers," he told me over the phone.
The patient is not well
While investors may see nothing but the healthy glow of profits here, even a cursory tour of e-health care with Porter as a guide shows that protecting this wave of digital information is going to be like curing the Spanish Flu.
"We're just seeing the tip of the iceberg in terms of breaches," Porter says.
Porter says that even the basics of information security -- stupid stuff such as unique passwords, simple file protection and basic malware software -- are flatly beyond the e-health care industry. Most health care records are essentially unprotected commodities for criminals, he says, who use them to get free medical services and trade in prescription drugs.
"This is not sophisticated to obtain. It took me less than 30 minutes of research and I was trading information with people willing to buy and send me samples," is how he described the process of obtaining valuable health care identities. It's a process that will only get easier as e-health records get more prevalent.
What's the price of a stolen soul working out to? Not much. Porter estimates the street value of an individual e-health care record has collapsed to just $20.
Also see: 6 Surprising Taxes Headed Your Way
"Imagine if that was your information being traded on the open market," he said. "It's infuriating and inexcusable."
The prognosis: Not so good
The bitter pill health care investors must swallow tastes like this: The market in digital health care information turns out to be awfully similar to any other digital market, with shrinkage, theft and piracy just the sad facts of life.
That means, friends, that just like in the music industry -- where 65% of content is obtained for free, according to the Recording Industry Association of America -- similar amounts of e-health care records will be similarly stolen. Investors, therefore, need to hedge the risk that margins on delivering health care data will shrink along similar lines of music, publishing and financial services.
Investors should plan on margin-killing free and freemium Web businesses to grind parts of e-health care market into dust. Go look:
WebMD
and
FamilyDoctor.org
are already well along morphing into no-margin, free, ad-supported -- not to mention profit-challenged -- e-health care riffs just like music and content services such as
Grooveshark
and
Last.fm
. And government e-health portals similar to IRS.gov in the financial planning and accounting realms will take their bite.
Sure, as in music and publishing, the live performance and event elements will hold value. Surgeons, nurses and ambulance drivers will still get paid. But the so-called massive market in the virtualization and trafficking in health care data that is driving this current wave of investor speculation will almost certainly suffer the same maladies as the rest of the Information Age.
Like any e-business, e-health care will struggle to be healthy.
This commentary comes from an independent investor or market observer as part of TheStreet guest contributor program. The views expressed are those of the author and do not necessarily represent the views of TheStreet or its management.