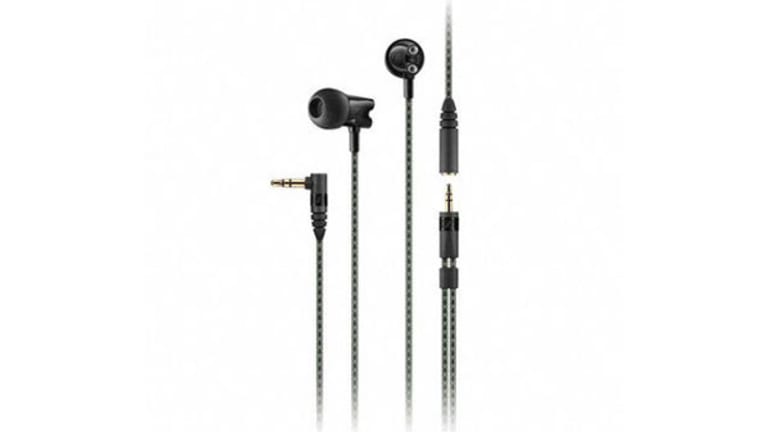 The Digital Skeptic: Making Millions From $1,000 Earphones
Sennheiser knows a thing or two about perfection. And about having a simple, productive innovation process.
NEW YORK (
) -- When the man who figured out how to sell $1,000 earbuds offers me business advice, call me crazy, but I listen.
"It's the experience -- you work for a long, long time to get that as reasonably perfect as you can," Axel Grell told me a few months back. "Then, from there, you can begin."
Grell knows a thing or two about perfection. He's the product manager for high-end audio at premium German audio equipment giant
Sennheiser
. That makes him the brains and guts behind some of the most awesome headphones on the planet.
"If things have a quality, you see that and you can touch it," he explained. "I try to bring the best of what is possible for the money."
Not surprisingly, Grell's latest creation, the red-hot
($999) flatly crush not only what
Apple
(AAPL) - Get Apple Inc. Report
passes off as earbuds on the iPad, but trendy units from
Beats By Dr. Dre
,
Sony
and
Bose
.
Good luck getting your hands on IE 800s. The company confirms that, in spite of building several thousand units since its
, it has added a third shift at its German production plant to keep up with demand.
What makes them worth a cool grand?
"The secret is the transducers -- that's the tiny little speakers," he explained. "It is the five years it took to make them. They are superior to what is made in Asia."
What makes all this audio glory investor-worthy is that even though Sennheiser is a private company -- there is no ticker to trade, unfortunately -- German financial law requires a
deep level of fiscal disclosure
. That means, for investors tired of watching consumer tech giants such as
Samsung
, Apple,
BlackBerry
(RIMM)
and
LG
bumble around figuring out who they are in today's race-to-the-bottom global tech market, Sennheiser has become a refreshing business case study.
The numbers Sennheiser posts are impressive. In spite of facing the worst European economic crisis since World War II, the audio parts company still managed to grow sales 13.5% in 2011, year over year. Headphones -- made mostly by Grell's group -- make up about 30% of that total, with cash flow from operations essentially tripling over the same period.
Be warned. Grell is no Steve Jobs. He can be shy, retiring and gleefully wanders deep into the tech weeds of 40mm ring enclosures and wide-band ring radiators. But
and what you hear is as fascinating a picture of what's sounding good and bad in today's noisy global consumer tech world.
"The quality," is how he sums it up. "You have to have that quality."
It's simple, stupid: Quality
The spooky part is how simple Grell makes getting paid sound in today's noisy global tech biz. When I asked him what kind of complex business processes are needed to actually create such groundbreaking products, there was no Apple-like zen mystery or
GE
(GE) - Get General Electric Company Report
Six Sigma quality-control consulting nonsense.
"It starts with a simple conversation with the boss," he said. "The IE 800s came about over meetings with Heinrich Esser, now president of professional systems." Grell said it was a simple series of chats about the company having to do something groundbreaking to compete with low-cost global audio component producers.
The key, Grell said, is that managers actually trust engineers to know what should be done. "Getting to a commitment was simple," he said "Esser said, 'OK, we do it. So do it.'"
Outsourcing, supply-chain management and global logistics -- the stuff that breaks the back of most global tech giants -- are almost ridiculously simple at Sennheiser.
"We design and create most of it all ourselves," he explained. A spokesman for the firm, Jeff Touzeau, confirmed the company has robust global manufacturing, with plants in Ireland and outside Albuquerque, N.M. But high-end items such as the IE 800 are made strictly in Germany, where quality can be controlled.
"The mission-critical parts we make ourselves," Grell said. "Our quality standards are very high. If we cannot find a supplier, we make it."
Remarkably, price is also not the barrier investors would expect. Grell made it clear that there's a floor in pricing to have proper quality. But it is not as low as you think.
"It is not necessary for it to be a $1,000 earphone. For $99 you can have a good headset," he said. "But $49 does not work. You start having to use materials you don't want to use."
Experience this
Grell's investor takeaway is, therefore, exactly this: Listening for profits in consumer tech is not about chasing the next bogus Web experience or cynically hacking the mind. But rather, artfully connecting a listener to a musician. Then getting the heck out of the way.
"The approach is that once the artists and producers have done their work, all those emotions are there in the recording," Grell said. "We offer as direct a connection to those feelings as we can. That gives them goosebumps, which happens with me sometimes when I listen to my products. Customers come back for that. They will pay for that."
Now that I hear it, Grell may not be so different from Steve Jobs after all.
This commentary comes from an independent investor or market observer as part of TheStreet guest contributor program. The views expressed are those of the author and do not necessarily represent the views of TheStreet or its management.