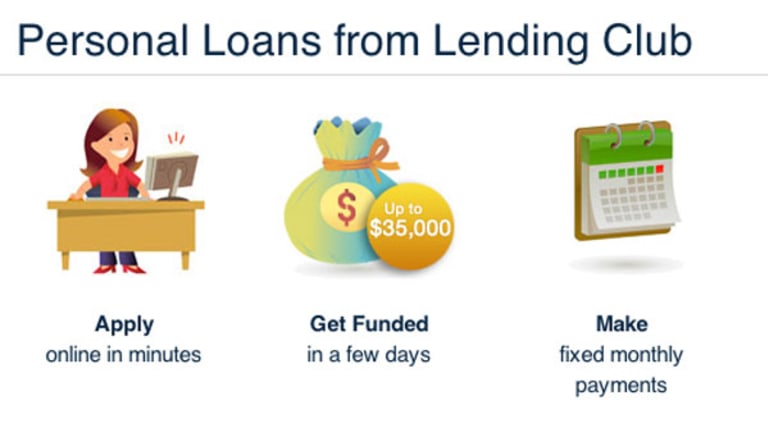 The Digital Skeptic: Lending Club Data Raises a Default Question
With whispers of an IPO for this peer lender, investors need to dig deep into data to understand actual returns.
NEW YORK (
) -- When it comes to
Lending Club
, membership may -- or may not -- have its privileges.
"I am very supportive of this company," said
, CEO and founder of Denver-based
, an industry information and training organization aimed at the fast-growing peer-to-peer lending market. "But I still feel the management is missing an opportunity to properly explain what the investor opportunity is for the long term."
Renton, a blogger and author, has written a book called
about how,
, a consumer lending unknown named Renaud Laplanche grew to harness more than $2 billion in investable assets and attract backers such as top-tier VC firm
Kleiner, Perkins, Caufield & Byers
; former secretary of the Treasury
; and
(GOOG) - Get Alphabet Inc. Class C Report
.
"The attraction is clear. At its heart, peer lending is a fabulous new asset class for both investors and consumers," said
, managing partner of
Twin-Engine Consulting
, a Richmond, Va., consumer lending consultancy that has done work at Lending Club.
It also never hurts that there are whispers of a massive IPO for the ticker, probably next year.
What's Lending Club's secret? It cleverly uses the Web to flank traditional Wall Street lenders by connecting directly those with money to lend to those in the market to borrow. I am not ashamed to admit I was impressed when Lending Club COO Scott Sanborn confirmed to me in an email that investors saw roughly a 6% annualized returns, net of fees, not only in 2008, but also 2009 and 2010. If you remember, friends, that is when traditional banks paid nothing.
"I am very proud of the performance of the platform during the worst downturn in 75 years," company founder Laplanche told me last week.
But several months ago a slow and steady drumbeat of concern began flowing my way over how investor returns are disclosed at Lending Club. Back in May, Allan Roth, an analyst I trust,
wrote at CBS MoneyWatch
that his test investment of $2,600 gave him returns much lower than expected.
Also see: The Digital Skeptic: Getting Paid to Pick a Fight With the Internet>>
"I do think that Lending Club is overstating investor return -- and probably significantly," he wrote.
That's a sentiment confirmed by professional investors with experience with Lending Club's approach.
"I am in the market all the time with other active professional investors on Web-based lending platforms," said Sam Graziano, CEO of
Fundation
, a New York City small-business automated lending platform similar to Lending Club. "And that sounds like an accurate statement to me."
What's being in this club really worth?
That issue, at least based on what I have learned during a dozen interviews with Lending Club managers and analysts, boils down to the difference between the reported value of an investor's return early in the life of the loan against the actual return at the end of the loan.
Laplanche, Sanborn and VP of Platform Performance Matthew Wierman each confirmed that, at its core, this difference is due to the timing of money investors lose when borrowers stop paying back their loans and enter default.
"The reason why you see a higher rate of return earlier in the life of a loan is because the full effects of the defaults in those loans has not yet occurred," Laplanche said.
In fact, if you are patient enough to dig deep into the Lending Club website -- it took me six clicks from the homepage, and you have to know exactly what you are looking for -- you will find something called the
Cumulative Loan Charge-Off Curve
, which defines how these defaults work. Most start in Month 4 and level out at near Month 25 on a usual 36-month loan.
Laplanche responded that his company both places the projected return for 80% of the loans on its homepage and then clearly spells out the exact effect of default for each specific investment when the loan is originated.
"It would make no sense for us to irresponsibly increase originations," Laplanche told me when I pressed him on whether Lending Club was being clear enough in how it discloses defaults for the average investor. "That would be the worst thing we could do."
Also see: The Digital Skeptic: Small Business Will Save Us? It's a Lie>>
The birth of a battleground stock
That may be so. But what Laplanche -- and investors -- are up against in estimating the default risk properly becomes obvious when I downloaded the
publicly available live investing data for tens of thousands of loans
underwritten, priced, originated and serviced since 2007.
My biggest takeaway from looking under the database hood at the Lending Club is, quite frankly, this is a heck of a dizzying investment target for investors to hit. While Lending Club data are filled with recognizable lending risk concepts -- including FICO scores and debt-to-income ratios -- interpreting this information is most definitely challenging not only for small investors, but even for experts.
"Overall there is real return here. But it's complex even for me. And I do this for a living," Dull says. "As a category, there is going to be a lot of room for investor interpretation."
Already, I am getting the feeling this "room for interpretation" is organizing into a classic bull vs. bear debate over the Lending Club, similar to those that have haunted one-time Web darlings such as
Netflix
(NFLX) - Get Netflix, Inc. Report
and
Facebook
(FB) - Get Meta Platforms Inc. Class A Report
.
"I am going to be making hay while the sun shines," Renton told me unabashedly, "And make my 11%."
Others, meanwhile, wonder how many will renew their memberships.
"What you come to understand is that the Web effect here is minimal. This is a consumer loan and they are a fundamentally different investment animal from stock, bonds, forex or commodities," Graziano said. "The seemingly minor details of how returns are calculated turn out to be very important."
Laplanche disagrees vehemently with the notion that the company does not work hard to explain the investor risks. A company representative said it is public knowledge that Lending Club will be rolling out a business competing with Graziano's Fundation, and therefore his opinion was not representative of the wider Lending Club investment base.
"It is not impossible that a few people do not have the right expectations of our product," Laplanche told me as I confirmed the facts of this piece with him. "But now we have 60,000 investors, over five years of loans. And $2 billion invested. We have done not just a good, but a great job, matching investor expectations."
After two months of breaking down what is really happening at Lending Club, I for one won't be surprised if it's a deep debate on whether it will be a club anybody wants to join.
This commentary comes from an independent investor or market observer as part of TheStreet guest contributor program. The views expressed are those of the author and do not necessarily represent the views of TheStreet or its management.