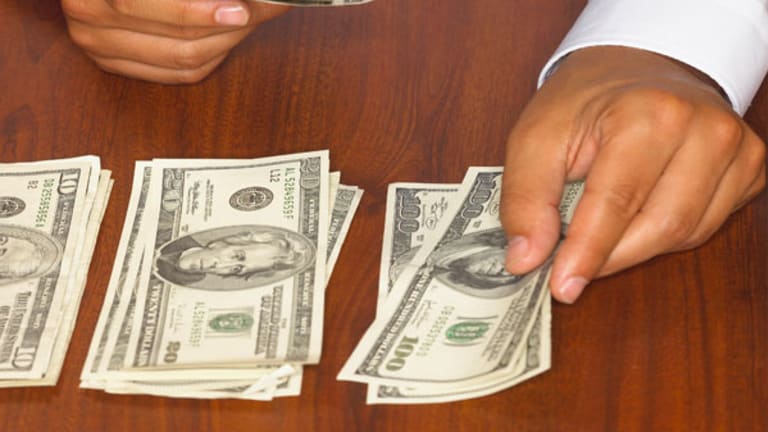 The Digital Skeptic: Justin Timberlake Is Just Getting By
You can have the top-selling album and haunt late-night television, but even JT isn't making money off music.
You can have the top-selling album and haunt late-night television, but even JT isn't making money off music.
NEW YORK (
) -- Topping the pop charts for the past six months is one thing. But making any money at it, that's another. Just ask Justin Timberlake.
Right before the Fourth of July holiday,
Billboard.com
went wide with fresh
Nielsen SoundScan
album sales numbers. Not surprisingly, for the
Timberlake led the industry with his
The 20/20 Experience
disc, which moved a solid-sounding 2 million units so far this year.
It's no secret
how JT did it
. The man sang, danced and acted with a Schwarzenegger-on-steroids work ethic. Remember how he played both host and musical guest on
Saturday Night Live
back in March? And he did not one, but five nights as Jimmy Fallon's co-host. Then, let's see ... there was the round-the-clock free performances at SXSW in Austin followed by more appearances on Leno, MTV and Fox. The grind of what of what it took to actually guilt today's lazy, thieving music consumer into paying real money for a real record is all perfectly documented on justintimberlake.com.
But investors should take note that, in spite of all the hustle, if this album's first few months on the market is any indication, being a musical star these days is not the living it used to be.
Also see: Justin Timberlake is Bringin' MySpace Back, Or Trying To>>
"Timberlake is just doing it to get the word out," said Brandon Duncombe, the smartest industry-savvy person I know. Duncombe co-owns
EnP Music Group
, a Miami recording and talent management firm. "He's not going to be making much money on this record. He's got his film career."
Never touching Whitney
To see what Duncombe's talking about, let's compare what a star such as Timberlake made in sales with the earnings from a chart-topping disc of the past -- say, from the
; more specifically, the Clive Davis-produced, Whitney Houston-featuring soundtrack for
The Bodyguard
.
It's an apt comparison.
The 20/20 Experience
is a first-line earner for the American corporate music machine as
The Bodyguard
was back in the '90s. And earn it did.
The Bodyguard
was the first album to sell more than 1 million copies in a week, says the Recording Industry Association of America. Depending on who you believe, it moved anywhere from about 28 million to 45 million copies worldwide. Estimate a median-value 36 million units moved at a $15 purchase price and let's call it roughly $540 million in global album revenues.
Sales Mr. Timberlake will never, ever touch.
In its debut week,
The 20/20 Experience
did
a Whitney-like 980,000 in disc sales
. But by week four, music industry news service
Digital Music News
said
just 97,696 units moved
. It's not just that it was a 89.9% drop in less than 30 days. Houston's sales for "The Bodyguard" are simply out of reach.
Album sales just "isn't a high that lasts very long anymore," wrote
Digital Music News
' Paul Resnikoff.
Not the living it used to be
Now comes the tantalizing question: What's JT's actual cut of the
The 20/20 Experience
action? That's like asking how
Google
(GOOG) - Get Report
searches the Web or how FICO calculates your credit score. I literally got mocked by industry insiders when I tried to find out. But in this Internet age, there are no secrets. Anybody can put together a reasonable guess.
Also see: 10 Best Summer Music Festivals You're Not Seeing>>
Steve Knopper did an oft-cited
Rolling Stone
piece in 2011 called
The New Economics of the Music Industry
. He put artist royalty rates in the 12% to 20% range. But Donald Passman, a longtime industry lawyer, in his book
All You Need to Know About the Music Business
pointed out that the artist pays all his expenses out of that cut, including managers, lawyers, accountants, marketing and travel. Cord Jefferson, on the African-American news and culture website
The Root, estimates
that, after backing out all said costs, artists -- even major ones such as Timberlake -- actually take home just 2.34% of every record-dollar sold.
Using the
iTunes price of $13
for the 10 songs in
The 20/20 Experience
, assuming 2 million discs sold, that's $26 million in top-line sales. Assuming a 3.5% cut, which could be high considering promotion costs, JT's net take-home year-to-date on the album is probably well less than $1 million.
Or what Whitney Houston probably made in less than two weeks!
Even worse, according to SoundScan, JT's disc was the only album that sold more than 1 million this year -- meaning Timberlake's take is the absolute tip of the music industry-earning iceberg. After that, the industry's biggest stars -- including Mumford & Sons, Bruno Mars and Blake Shelton -- make much, much less.
It's what Warhol forgot to mention about 15 minutes of fame in these digital days: Being a "superstar" means learning to get by with less.
This commentary comes from an independent investor or market observer as part of TheStreet guest contributor program. The views expressed are those of the author and do not necessarily represent the views of TheStreet or its management.