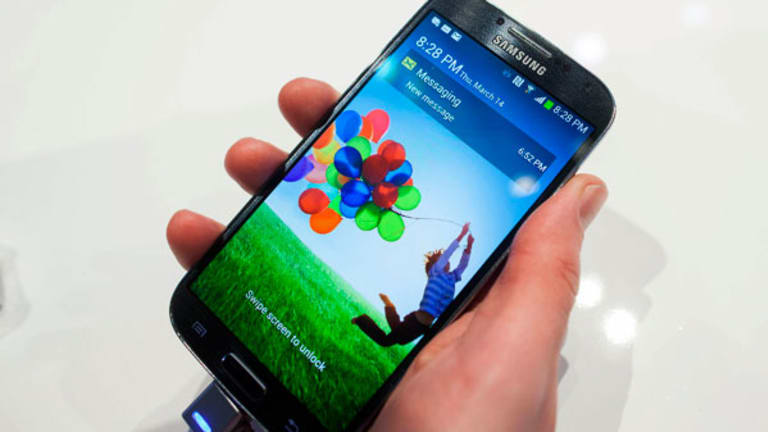 The Digital Skeptic: It's Not That Samsung's Galaxy S4 Is an iPhone Killer
When it comes to Apple vs. Samsung, no matter who 'wins', everybody will be bloodied.
NEW YORK (
) -- The question isn't whether the
Samsung
Galaxy S4 is an iPhone killer, but whether it's a smartphone killer.
The South Korean tech giant's uber-hyped smartphone got its long-awaited curtain call last week at Radio City Music Hall. Samsung's mobile chief, J.K. Shin, was clearly borrowing from Apple's playbook with the splashy New York launch, channeling the late Steve Jobs' theatricality and getting in Apple's grille by positioning itself as the true mobile innovator. And the buzz was that Samsung may have finally built the
Apple
(AAPL) - Get Apple Inc. Report
smartphone slayer it has long yearned for since Apple reinvented the category in 2007.
"Innovation is what will get consumers to buy new devices," was
to
The Wall Street Journal
. "I don't dwell on market share numbers, but I'm not satisfied with our market share in the U.S."
But if this is supposed to be the tech fight of the century, Apple vs. Samsung is a boxing match in which both fighters are on track to collapse from exhaustion. The companies operate in an increasingly brutal smartphone market in which true innovation gets more difficult and expensive with every launch.
We've seen this show before
Unless something blows up after long-term use, the
is without question an awesome device. Its by-now-signature 5-inch diagonal high-resolution screen sets the bar for portable displays. The camera is extraordinary for a smartphone with 1080 megapixels -- there are two cameras, in fact, front and rear-facing. I was impressed by the touchless, voice-activated features. The battery has roughly 20% more capacity than its predecessors. And in an interesting reaction to rising security concerns, its Knox security suite allows users to essentially run a work and personal version of their phone.
Still, it didn't take long for investors to swing from pre-launch excitement to dissecting the very limited potential of the S4 as a market game changer.
"We believe the S4 will certainly sell well and it is incrementally negative for Apple; however, the device is not revolutionary in our view," was
Jefferies
analyst Peter Misek's
.
And over the weekend, as I compared the S4 with dozens of other phones on the market, Misek's point was dead on. The screen, camera, processor and software are better, but only marginally. Everything about the phone is sadly similar to other devices.
A galaxy not so far away
To me, the S4 doesn't just compete with the iPhone 5. It competes against the iPhone 4S and the Galaxy S3 and S2. Oh and what about the
Motorola
Droid? And the
HTC
Droid Incredible? And the other dozens and dozens and dozens of touch-controlled smartphones that are deeply penetrated at retail?
For many, less is quickly turning out to be more. In December,
UBS
(UBS) - Get UBS Group AG Report
analyst Steve Milunovich told mobile news site BGR.com that, by his estimates,
the iPhone 4S was outperforming
the newfangled iPhone 5.
And carriers have not been shy about pouring product into this already commoditized market.
AT&T
has made its no-cost,
a first option for shoppers. It had little choice. It's competing with aggressive retailers such as
Wal-Mart
(WMT) - Get Walmart Inc. Report
, which
offers
the HTC Droid Incredible, a 4G LTE smartphone, for only $50 and $90 in monthly access fees for unlimited talk and text and 1GB of data.
And in such a collapsing market, how differentiated would a dirt-cheap Kindle smartphone from
Amazon
(AMZN) - Get Amazon.com, Inc. Report
be from a Samsung Galaxy S4?
No winners, just losers
Will there be money to be made? Probably. But not much. Even vertically integrated screen and device makers such as Samsung are feeling the pinch. Not only are phones feeling stiff competition, but the core screen-making business has devolved into a money-losing business for the South Korean conglomerate. It
its LCD business
after losing some $891 million on screens in 2011.
The smart bet in smartphones is now about realizing that when it comes to Apple vs. Samsung, no matter who "wins," everybody will be bloodied.
This commentary comes from an independent investor or market observer as part of TheStreet guest contributor program. The views expressed are those of the author and do not necessarily represent the views of TheStreet or its management.