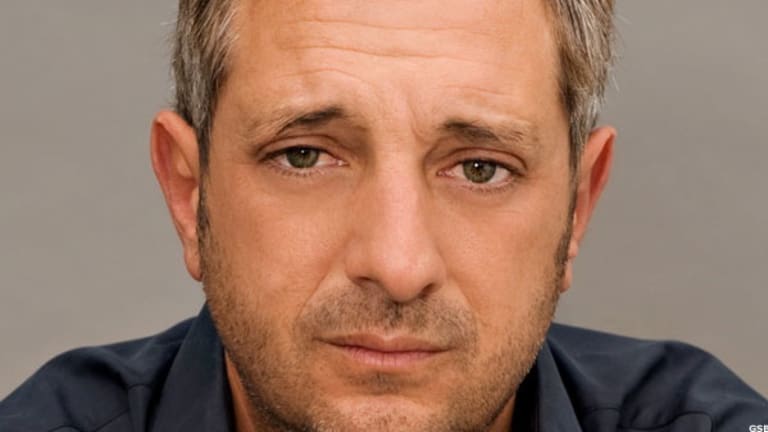 The Digital Skeptic: Getting Paid to Pick a Fight With the Internet
Andrew Left does well by self-publishing pugnacious but articulate arguments against the Web's highest flyers.
Andrew Left does well by self-publishing pugnacious but articulate arguments against the Web's highest flyers.
NEW YORK (
) -- Andrew Left simply cannot abide being left out.
"I bring up the points no sell-side research analyst wants to talk about," Left told me during one of our many bare-knuckle shout fests that technically count as phone interviews.
Left is founder and executive editor of Los Angeles-based
. And this essentially self-employed investor/analyst has spent more than a decade self-publishing some of the most derogatory, pugnacious -- yet surprisingly articulate -- investment arguments against the digital age's highest flyers.
"Citron challenges any reader to identify any publicly traded company that has lost money for 18 years in a row and is trading at an all-time high valuation," was my favorite line from the shot -- oh, sorry, the "story" -- Citron wrote
about Indianapolis-based online referral service Angie's List
. "Are they curing cancer? Are they solving the world's energy problems? No ... they are referring a plumber to you."
Also see: The Digital Skeptic: Celebrate eBay -- the Web Parade's Only Winning Float>>
Investors should realize that Left's analysis flies smack in the face of, by my count, 18 sell-side analysts that cover Angie's List. Or that the rank-and-file investor has ginned this ticker up to a $1.6 billion market cap. Or that Angie's List's management essentially laughed at me when I asked them to comment on the validity of his arguments.
Or the fact that the man openly bets against the companies he runs down.
"What do they think, this is a charity?" was Left's answer when I told him about the esteem he is held in by Angie's List. "This is not the United Way. This is how I make my living, and my returns have been tremendous."
Left would not quantify what "tremendous" actually worked out to. "I just can't go there, for a million reasons," he said.
But a search of public records shows the judge in Left's
not only felt comfortable with his stated profession of stock trader, but felt it a fair split of the household resources to burden Left with paying $47,137 a month(!) in combined spousal and child support.
"I have to be doing pretty well, right?" he said quietly, when I told him what I had dug up.
Living the short life
For investors patient enough to look beyond Mr. Left's bombast, they will be rewarded with as refreshing and value-based an investing philosophy as I've seen on the limits of the Information Age.
"I go long on stocks all the time. I look at the Internet and I love any company that takes a problem, solves it and makes a profit in the process," he said. "You know
OpenTable
? I love OpenTable."
For Left, the dysfunction in the digital economy is that the good stories raise up the bad stories, giving Left the chance to play a sort of anti-Warren Buffett. Instead of businesses that work, he seeks those that don't. He looks for management that is not entirely honest with Wall Street and deep insider selling of company shares.
Once Left develops an argument, he researches it deeply and posts that research on what amounts to a blog. Then he uses his own money to set up traditional short investments against that company.
"There is no trick to going short. I own maybe 20 positions at any time. I borrow stock, I use puts and calls to manage the risk in real time," he said. "But being a short is not for every investor. The risk is unlimited, the gains are not, and the ebb and flow of the market is against you."
Also see: The Digital Skeptic: Bricks and Mortar No Easy Answer for Web Retailers>>
Better than the average bear
Left is far from perfect. Though remarried for nearly five years, his divorce filings offer a glimpse of a man with a hectic life that leaves him fuzzy on the basics -- like on what date he married. There are also blurry lines between Citron Research and activist sites Left owns, including
. And most importantly, Left would not answer my questions directly about who or what resources he uses to help him report, edit and publish his stories.
"I do not pay for stories, but I have four contractors I use to help me with research," was all he would say over three hours of interviews.
Also, he admits openly that he can be terribly wrong. "I completely misunderstood
MySpace
when it first came out, for example," he admits.
But overall, Left leaves nothing on the table. And as the independent professional contrarian that I have somehow become, it's hard not to admire his guts.
"A lot of people feel that a stock has a God-given right to go up. It doesn't," is how Left summed it all up to me. "And I have done better than the average bear at pointing that out. Literally."
This commentary comes from an independent investor or market observer as part of TheStreet guest contributor program. The views expressed are those of the author and do not necessarily represent the views of TheStreet or its management.