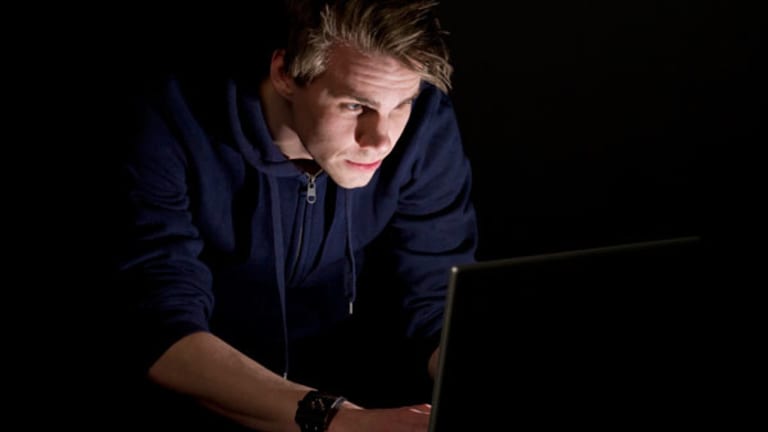 The Digital Skeptic: Facebook-Killing Dark Social Rules The Web
Large swaths of the Web are out of reach of supposedly omnipotent giants such as Google and Facebook.
NEW YORK (
) -- Simon Moss has discovered that Web media giants such as
Facebook
(FB) - Get Free Report
,
Twitter
and
LinkedIn
(LNKD)
face a shadowy competitor.
"Dark social is what is driving my business now," Moss told me over the phone. The recently transplanted Australian is deep in the business of staying in touch with what works with the Web in these grim digital days.
He's raised $2.2 million on the most interesting media start-up idea I've seen in months. Called
, this eight-person New York-based digital photography market matches the unpublished images of top-flight professional photographers with first-rate media companies and advertisers such as
Saatchi & Saatchi
,
TWB
and many others.
"The world's best shooters have terabytes of photos that never get used," he says. His service lets art directors and page designers specify exactly what they are looking for in a photo. Then it pushes those "image briefs" up to its network of photographers, who then match the spec to their extant images. And price their photos accordingly.
"We offer an upgrade of the cliched stock shot," Moss said. "But not the luxury of the full commission brief. The client gets a $25,000 shot for $8,000 and the shooter gets 8K he would not have otherwise made."
The critical value-add for Moss -- he gets a 30% cut on each photo sold through his service -- is that ImageBrief is not Flickr, Picasa,
Dropbox
or any sort of open content sharing platform. Rather, it's a carefully curated niche offering, and only vetted professional photographers and art directors can participate.
When I asked him what his No. 1 marketing weapon is for connecting with roughly 5,600 photographers and 700 clients, Moss had a fascinating answer: It isn't Web marketing or social media or any sort of hip, big data analysis. Rather ...
"It's dark social," he said. That is, the human interactions that happen in the digiosphere -- usually via Web chatter such as email, SMS or voice calls -- but not via big social networks.
"You know they are there because the phone rings," Moss said. "But you can't measure it, so it stays dark."
Casting a giant dark social shadow
Remarkably, even a cursory glance around the Web reveals that large swaths of the Internet are out of reach of supposedly omnipotent giants such as
Google
(GOOG) - Get Free Report
, Facebook and LinkedIn.
Alexis Madrigal, the tech channel editor over at
The Atlantic
, has done an excellent breakdown on this dark, unquantifiable web.
"To be honest, this was a very difficult thing to measure,"
. "One dirty secret of web analytics is that the information we get is limited."
How limited? Madrigal actually posted the inbound Web traffic to TheAtlantic.com and revealed that a stunning 56% -- or basically double the referrals from Facebook -- came from unknown, or dark, places online.
"Dark social is nearly always our top referral source," he wrote.
The dark Web of opportunity
The notion that wide swaths of the Web are beyond the reach of Facebook, Google,
Reddit
,
StumbleUpon
and other supposedly inevitable big winners in a big Internet is not lost on aggressive entrepreneurs.
This month, St. Louis-based
LockerDome
announced a $6 million funding round from serious backers including Jim McKelvey, co-founder of
Square
, and the president of the St. Louis Cardinals, Bill DeWitt III. LockerDome offers a simple sports-themed social media service, surprisingly close to Facebook and Twitter, that does little more than easily allow athletes to socially interact with fans.
LockerDome's executives agreed enthusiastically that modern integrated Web platforms such as Facebook fulfill surprisingly little of the Web's full potential.
"The opportunity is finding the limits of what they don't do well and serving that market," Gabe Lozano, founder of LockerDome, told me over the phone. Lozano argues passionately that for all their ubiquity, big Web services do a bad job of serving niches markets online.
Lozano has the numbers to back up that gut reaction. His LockerDome broke 10 million unique visitors in February by offering essentially nothing more than well-curated social content from sports stars including Troy Polamalu, Larry Fitzgerald, Blake Griffin and many more.
"The interest-focused Web is very poorly served," Lozano says. "It's why we are growing so fast."
The big Web ain't that big
The investor risks here are significant. First, there appears to be little a Facebook or Twitter can do to capture the value of lucrative social connections that happen on dark networks away from their platforms.
"I don't see any scenario where I will be paying for my dark social contacts," Moss said. "The awareness that we add value is what I have to invest in for my business to grow."
Even more worrisome, Web may turn out to be a small man's game. That is, large Web operations may simply not be able to capture the full opportunity of the niche-oriented Internet. "The interest-specific experience of what we are doing is very tough for a Facebook or Twitter to match," Lozano said. "It's just not what they do."
The Internet universe may turn out to be like the universe itself: little tiny pockets of value falling through a dark void unable to supporting meaningful life.
This commentary comes from an independent investor or market observer as part of TheStreet guest contributor program. The views expressed are those of the author and do not necessarily represent the views of TheStreet or its management.