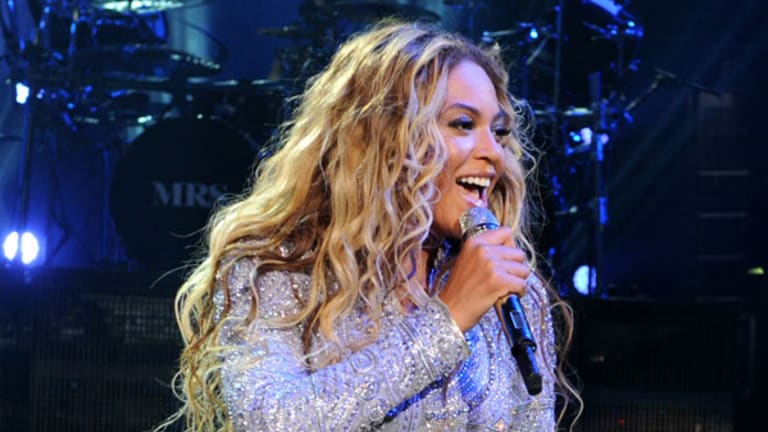 The Digital Skeptic: Even Beyonce Battles the Bottom Line on Tour
Think music become rich touring? The expenses of mounting a show leave even the most fabulous stars struggling.
Think music become rich touring? The expenses of mounting a show leave even the most fabulous stars struggling.
NEW YORK (TheStreet) -- Gary Bongiovanni has spent three decades telling people just how hard it is to make a living on the road.
"Touring used to be the bastard stepchild of the music business. You toured to sell records," said Bongiovanni, founder and editor of the Fresno Calif.-based live event tracking firm Pollstar. "But now musicians tour to get paid and a lot of people think it's easy money. But it's a really, really risky business."
Investors who are tiring of blithely accepting the Internet Age drivel that live-event dollars somehow make up for thin digital revenues at entertainment giants such as Warner Music Group, Universal Music Group or Sony Music Entertainment, are wise to listen to Bongiovanni. He -- with his staff of 50 -- have been sifting through global concert grosses, ticket sales and tour event data since the early 1980s.
"I am not a computer guy," he said. "I was forward-looking enough to understand there was a business need to organize that concert industry data and make it available."
That database gives Bongiovanni unparalleled access to the real dollars flowing to top acts such as The Rolling Stones, Fleetwood Mac and Taylor Swift as they roam the world trying to make a living making their music.
Also see: The Digital Skeptic: Justin Timberlake Is Just Getting By>>
His takeaway?
"There is no magic to the process," he said. "You can get paid, but it's never easy."
Live events do not make the music industry whole
Investors who study Bongiovanni's database will see that, yes, in fact the total box office for live shows did effectively quadruple from 1999, from $1.5 billion market annually, to last year, when ticket sales added up to $4.7 billion. But that jump happened as total music disc, CD and download sales collapsed from roughly $19 billion in 1999 in North America to $7 billion or so today. That means the total market for live and recorded music is actually about 40% smaller than it was back in 1999.
"The biggest single change is the rise in ticket prices," Bongiovanni said. "People think it is the greedy promoter making that money. But it's the artist trying to get paid what they think they are worth."
And making up the money lost to the digital economy is no easy move, even for the industry's top stars.
Take Bongiovanni's data archive on Beyonce, dating from 2003. Sure, there are good paydays. On June 1, for example, she -- along with Florence and the Machine, Timbaland and other acts -- sold out England's Twickenham Stadium, grossing north of $5.1 million. But one night of millions does not make a living on the road.
Over the 195 shows Bongiovanni tracked, Beyonce grossed an average of about $1.1 million per show.
"Keep in mind," Bongiovanni said, "the cost to tour comes out of that gross." And for a slick, high-produced performance event such as a Beyonce tour, the costs are sky high.
Mark LaFay, an Indianapolis-based former concert promoter who has produced more than 450 shows and runs a creative technologies agency called Sonar Studios, has put a live event settlement sheet online that specifies the costs an artist such as Beyonce faces: facility fees, ever-rising seat taxes, promoter fees, advertising, design, barricades, catering, promotion, security, sound, lights ... and many others.
Also see: The Digital Skeptic: David Lowery Wants the Maoism Out of the Music>>
LaFay points out that stars of Beyonce's caliber structure their tours so event promoters split much of the risk, and experienced acts have become adept at digging into new revenue streams such as parking and merchandise.
"But still there are astronomical expenses," LaFay said. "Factor in management fees and I would say of that $1 million gross, maybe 10% finally flows to the talent."
Live music Is getting old fast
The scary part is that low margins, high risk and a lower overall total market size are not actually the biggest problems facing the live music industry in the digital age. What really is the 800-pound gorilla in the live touring room is the miserable job the information economy is doing in creating tour-worthy acts. Of the top tours for last year, only a very few -- say, Coldplay -- were also in the Top 10 for single sales.
"At some point the actuarial tables are going to take over and The Rolling Stones and The Eagles will stop touring," Bongiovanni said. "Can Taylor Swift replace Madonna on the road? I am not sure. But who replaces those retiring acts -- and those ticket sales -- has been the question for the last 10 years."
Bongiovanni is hopeful a new generation of non-musical large scale events such as Cirque Du Soleil, Walking with Dinosaurs and World Wrestling Entertainment will be a hedge against a digital-age music industry struggling to create new live acts.
"Thank god we have the Harlem Globetrotters to put butts in seats." he said, "If not, I would be worrying."
This commentary comes from an independent investor or market observer as part of TheStreet guest contributor program. The views expressed are those of the author and do not necessarily represent the views of TheStreet or its management.