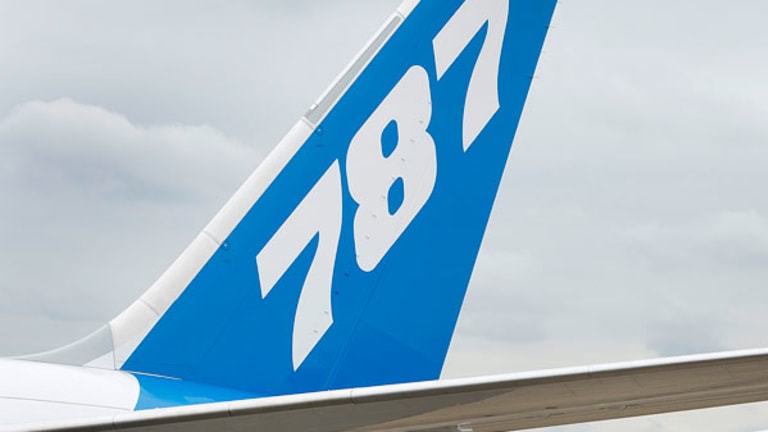 The Digital Skeptic: Dreamliner Brings iPhone 'Reliability' to the Skies
Recent battery concerns point out that on Boeing's 787 Dreamliner, the beta testing gets done at 35,000 feet.
NEW YORK (
) -- Uresh Sheth is like everybody else having bad dreams about the 787 Dreamliner: struggling with a crash course in keeping the
Boeing
(BA) - Get Boeing Company Report
wonderplane from, you know, crashing.
Sheth has a plum day gig analyzing mortgage-backed securities. But by night, starting back in 2008, the plane lover began collecting details on his passion craft in his blog,
.
"What is fascinating about this plane is that it is totally different than anything in the past," Sheth told me.
Over time Sheth's meticulous collection of
and active sources have created as valuable a picture of the project as I have found.
"Boeing really wanted to be a systems integrator with the 787. But that did not work out. So now they're also a manufacturer," Sheth said. "And the level of integration is so much more complex than anything out there."
Sheth's amateur 787-sleuthing puts the current Boeing battery crisis in a critical digital age context. Namely, that means the 186-foot, 502,500-pound flying machine is terribly similar to computers, cellphones or any other complex integrated hardware and software device:
Fabulous, but also fabulously complex. So complex that when things go south, one never really knows why.
Welcome to the dark age of digital aviation
Before you mistake the 787 Dreamliner for a mere plane, may I direct you to a 747-sized pile of white papers, case studies and academic literature Sheth has studied. Boeing made it clear early on that the plane was its transcontinental flight into tomorrow.
The craft would not only "bring the economics of large jet transport to the middle of the market." it would be built like no other. Forget pricey skilled labor handcrafting planes in a single factory in soggy Seattle. Oh no. The 787 would fly to the front of the outsourcing and Information Age manufacturing class by being built by a global army of brilliantly managed, interlocking experts. The company bragged that maintenance capabilities would be further enhanced by a library of cost-saving digital manuals and
engineers.
"We want it to be inexpensive for the airlines and safe for the passengers," said Molly Boose, technical fellow for intelligent graphics with Boeing Research and Technology in a
.
And it all seemed like a brave new world of efficient air transport, save for one scrupulously well documented trend: Based on published documents, Boeing struggled mightily to manage the information needed to actually build the 787.
Lost in a cloud of data
The documentation of data gone wild with this plane is almost a cottage industry among journalists, analysts and academics. Serious A-list professors such as Ravi Anupindi of the University of Michigan, who did a fascinating breakdown on how sourcing thousands of cheap assembly parts confounded Boeing.
There is the
by Michael Hiltzik of the
Los Angeles Times
that detailed the costly outsourcing mistakes with the 787,
confirmed by the Harvard Business Review
.
"Boeing agreed not only to outsource an unprecedented amount of the plane's parts to partners in Europe, Japan and China, but also to transfer to them unprecedented know-how,"
in a 2009
Review
post.
But to me, the most readable, earnest -- and frankly, terrifying -- telling of how humans were lost in the big data skies is told by an Eller College of Management student at the University of Arizona named David Mahmoodi. In 2009, working from public documents, he wrote a paper called
that is a must-read for any investor.
Mahmoodi breaks out the grim details of how an Italian subcontractor hired to build the fuselage actually
shipped thousands of fasteners in crates
instead of installing them in the plane. Or how Boeing struggled to properly engineer its outsourced parts among global production teams
"
I don't think it should be pushed on the inexperience of the mechanics," was how Joy Romero, vice president of
Vought Aircraft Industries
, which supplied parts to Boeing, was quoted by Mahmoodi. "It's more about the clarity of the specifications."
Given this level digital confusion, Sheth confirms it is more than fair to wonder if the batteries are not the only issues lurking in the 787.
"The things with these batteries is, there were never any other problems in the past. And it erupted like a volcano," Sheth said. "It could be anything."
No reboots at 35,000 feet
Sheth wants to be clear. Key customers continue to take delivery of the 787s and he believes Boeing will find an answer to its battery woes. 

But consider this: At least based on the picture painted by public documents, the 787 is not only as complex as any other modern integrated software and hardware device -- say, an iPhone, a Surface tablet or a Prius. It is
more
complex. That means real-world trial and error debugging will almost certainly be required to smooth out the 787's kinks. But unlike Priuses, iPhones and Tablets, there is no culture of recalls, updates and reboots in aviation.
With the Dreamliner, the beta testing gets done at 35,000 feet.
"We are in uncharted territory," Sheth said.
This commentary comes from an independent investor or market observer as part of TheStreet guest contributor program. The views expressed are those of the author and do not necessarily represent the views of TheStreet or its management.