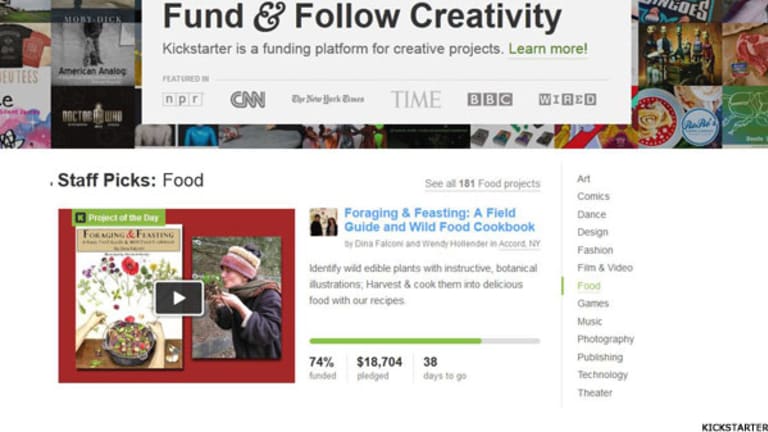 The Digital Skeptic: Crowdfunding Follows Porn Into Digital Slum
Crowdfunding is already so large and out of control that proper market structure is no longer an option.
NEW YORK (
) -- Steve King really did raise $313,490 on Kickstarter. But what happens now that he's been "Kickstarted"?
"It absolutely democratizes the process of raising money," King told me as he demonstrated his red-hot, newly crowdfunded tablet pen tool,
. He says people like him have a shot at changing the world.
"But are the markets ready for this?" he asks. "And what actually happens to businesses like mine that succeed there? That I don't know."
King knows how to play the part of crowdfunding superstar, as gave me the guided tour on how he and business partner Christine Gonsalves got their funding.
Relying on a keen sense of retail sales developed as the owner of the Alameda, Calif.-based gift shop
, King obsessed over his stylus idea until he created a tool he liked. He traveled to China for prototyping and spent two weeks making a sales video. On May 3, he posted his pitch on
Kickstarter
, setting his original goal at $25,000.

Amazingly, when the offer closed six weeks later,
-- with Kickstarter and
Amazon
(AMZN) - Get Amazon.com, Inc. Report
ripping about $30,000 out for their trouble, he says -- in return for preorders of a slick, retractable stylus that turns a tablet computer into a virtual drawing board.
Not surprisingly, King said, "I am an evangelist for Kickstarter."
But, ever the thoughtful entrepreneur, he also saw issues.
"Many businesses and people are not prepared for Kickstarter," he warned. "It's trickier than it looks."
This is supposed to be crowdfunding's year in the business sun. The JOBS Act -- signed into law in April of last year -- has powerful new language meant to bring crowdfunding to the investor mob.
is the marketing line from San Diego-based GoFundMe that captures the land-rush vibe.
And crowdfunding has become crowded indeed. There is Ireland-based
, Fayetteville, Ark.-based EquityNet, or San Francisco's hip
and many, many more. America's A-List investors are also getting in. Former Treasury secretary Larry Summers
in a peer-to-peer lending outfit LendingClub last year. Heck, you can even go on a crowdfunding cruise. Entrepreneur Robert Dobyns is sponsoring just such a
that embarks from Galveston, Texas, later this year.
But King feels the sector will be a challenge for many.
"Being in retail gave me a big advantage," King says. "But how well companies handle the responsibility this technology raises, that is an open question."
"White Label" Crowdfunding
Even a brief wander through the crowdsourcing market shows King has reason to be concerned. Already, the vast number of crowdfunding services, names such as Crowdrise, IPO Village or Crowdtilt, have devolved quickly into similar, almost template-like designs and experiences. That implies the use of off-the-shelf software tools that open a world of security and ethical issues.
Sure enough, as I poked around in geek circles, up popped an emerging cottage industry in so-called "white label" tools such as Rio Rancho, N.M.-based Crowdforce offering turnkey crowdfunding sites with their own somewhat customizable software.
"Software development is (or, at least, has been to date) a 'very important beneficiary' of the crowdfunding ecosystem," wrote Adrian Bridgwater last week in a post on
, a software developer's media service based in San Francisco.
They've been effective. As of the end of 2012, North American Securities Administrators Association
that 8,800 sites featured the term "crowdfunding," a trend that drew regulator suspicion and action from early sector movers such as Kickstarter. Last year it disclosed its usage
and announced it would
enforce rules
that limit projects to calm concerns.
Crowdfunding follows porn into the digital slum
It's all probably too late. Reminiscent of the publishing, legal profession and, yes, the porn business, crowdfunding is clearly already so large and out of control that proper market structure is no longer an option.
Take Kickstarter. As of late January, it has 84,000 some-odd projects. Assuming even a basic 30-minute review of each, that's five years. That's assuming no projects are added, and that's just one of thousands of platforms.
For a market this big, that leaves automated tools as the prime means of regulation to protect the consumer and investor. And considering how ineffective they have been in managing the domestic mortgage meltdown, the international sovereign debt crises and Libor exchange scandal, it's going to be a tough slog to keep crowdsourced investing honest.
Bad guys are all too aware of that. A site called Whitelabelcrowdfunding.com flunked Google Chrome's safe browsing test in my usage. According to the Web giant security algo, this site is an active malware distributor.
None of this surprises King.
Kickstarter "definitely fuels the risk-taker gene in you," King told me. "But how successful a business will be at raising money and how they do after they raise money, I am not so sure."
All of which could ultimately make sites such as Kickstarter an investor kick in the teeth.
This commentary comes from an independent investor or market observer as part of TheStreet guest contributor program. The views expressed are those of the author and do not necessarily represent the views of TheStreet or its management.