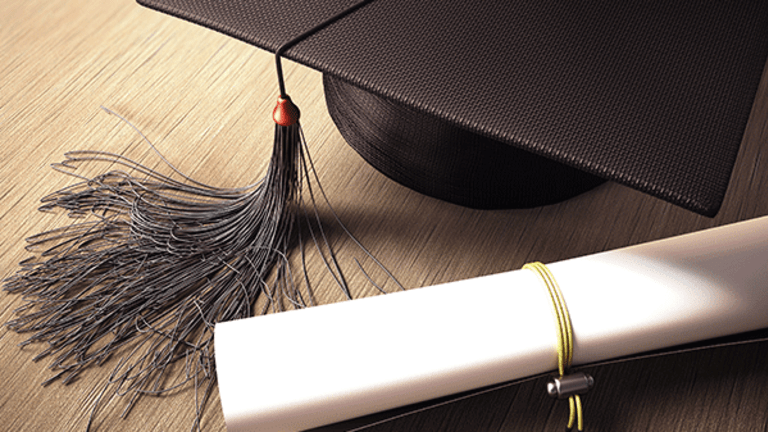 The Cost of College Depends Greatly on Your State and Which Major You Choose
New data show the cost of attending college can differ greatly, depending on where you live or what diploma you're pursuing.
Editors' pick: Originally published Jan. 9.
Colleges and universities are under significant pressure from college affordability advocates, and understandably so.
After all, the average cost of attending one-year of college was $32,405 at private colleges, $9,410 for state residents at public colleges and $23,893 for out-of-state residents attending public universities for the 2015-216 academic year, according to the College Board.
Additionally, public college costs have risen by 150% since 1975, and private college costs have climbed by 160%. That astronomical rate of college cost growth has led to $1.3 trillion in student loan debt.
But colleges and universities can't take all the blame for burgeoning college costs - the state your school resides in and the academic major you chose are big factors, as well.
Some of those cost differences are significant.
According to data from Trade-Schools.net, the five most expensive states to attend a college or a university in terms of out-of-state tuition are Vermont, Michigan, Connecticut, Virginia and Delaware. Annual tuition costs range from $29,250 to $35,710 in those states.
The least expensive states for out-of-state tuition are South Dakota, Wyoming, Kansas, Minnesota, and South Dakota. Annual tuition prices for these states range from $10,510 to $18,580, Trade-Schools.net reports.
Reasons vary for state-by-state college tuition differentials. "Perhaps this is because these states are home to schools like the University of Michigan, which has an out-of-state tuition that rivals Harvard's," Trade-School.net states. "Or perhaps the higher general cost of living in states like Connecticut factors in. Either way, an education from these states costs more on average than anywhere else in America."
The most expensive states for in-state college tuition are New Hampshire, Vermont, Pennsylvania, New Jersey, and Illinois, where prices range from $13,190 to $15,160. The least expensive state for in-state tuition are Wyoming, Montana, New Mexico, Florida and Utah, with a cost range of $4,890 to $6,360.
"The good news is that a low price tag doesn't mean a low-quality education," Trade-School.net adds in its report. "The University of Wyoming, for example, charges in-state students less than $5,000 a year, and it also boasts small class sizes, is popular for nursing students, and ranks in the top 200 colleges and universities in the entire U.S."
What college students choose as an academic major also weighs heavily on college costs. For instance, nursing school costs over $16,000 annually, but it does offer an average salary of $67,000 per year. "Education, communications, and business administration degrees also come at lower prices," the Trade-School.net report states.
Basic geography may also factor into college tuition costs, with rural states offering lower prices and states with big metropolitan areas charging vastly more for a college degree.
"There's a big difference between the U.S. North and South," says Michael Ray Smith, a professor at Lycoming College, in Willamsport, Pa., several hours away from Philadelphia, Pittsburgh and New York City. "The South tends to offer more inexpensive goods and services compared to the North, especially the northeast, where affluence is concentrated."
Families helping college students cope with high tuition costs are taking creative steps to help mitigate rising higher education prices.
A recent study from Better Homes and Gardens reveals that 35% of families would invest in local real estate to both house their college-bound children, and to capitalize on rising home prices in usually in-demand college cities and towns.
"Historically, most students lived on campus," says Kim Soper, co-owner at Better Homes and Gardens Real Estate Cypress in Lexington, Ky. "But the last 20 years have seen more students opting for off-campus housing, mainly because students and their families realize real estate in Lexington -- home of the University of Kentucky -- is a great investment."
Soper points to a few reasons why parents and grandparents would buy property in a college town, for reasons that go beyond giving their young family members a safe and affordable home near campus. "Here in Lexington, we've got several great hospitals, a booming technology industry and steady demand for housing," Soper adds. "Plus, the parent can rent out the other bedrooms to the friends of their college student, and the mortgage is often less than the cost of room and board on campus."
"And most importantly, four years later, the parent has an asset to sell," says Soper. "As long as the dorm prices remain high, purchasing a house off campus will remain an attractive option."