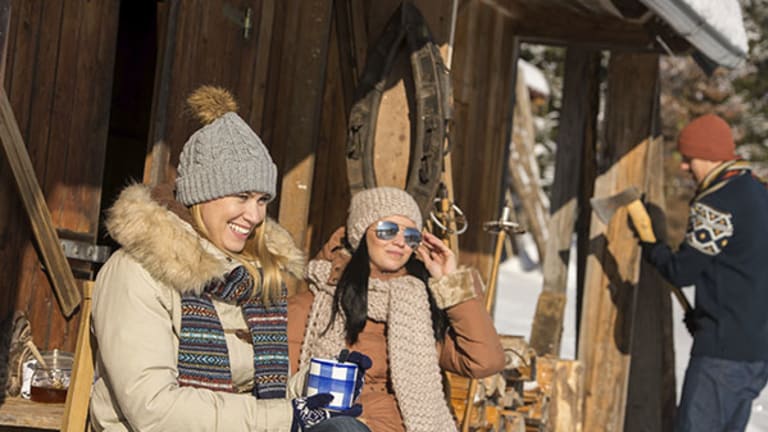 The Best Ski Towns for Non-skiers: 5 Destinations Offering Off-the-Slopes Fun
Even if skiing isn't your thing, you'll find plenty to do at these charming ski towns in North America.
NEW YORK (MainStreet) — You've been dreaming about escaping to a cozy ski village surrounded by beautiful chalets and majestic, snow-covered mountains. The only problem: you don't ski. While it's common for non-skiers to feel left out this time of year, the truth is that many of North America's most charming ski towns offer plenty of other activities to enjoy besides skiing, from ice skating, snowshoeing and tobogganing to shopping, dining out and touring art galleries and museums. Here's a roundup of five of the top ski towns that non-skiers will love this winter.
Stowe, Vt.
Located in north-central Vermont and home to Mount Mansfield, the Green Mountain State's highest peak, Stowe has been dubbed "The Ski Capital of the East." Its stellar slopes aren't all Stowe has to offer, though, and non-skiers can enjoy many off-mountain attractions during their stay.
Along Mountain Road and throughout other parts of town, you'll find a variety of interesting stores peddling art, jewelry, handcrafted furniture, Vermont specialty foods and clothing. Once you've worked up an appetite, you can sample Stowe's array of eclectic dining options, from Italian trattorias to micro-brew pubs to charming country inns.
If you're in need of pampering, you can book a relaxing massage at The Spa at Stowe Mountain Lodge. Then to tickle your sweet tooth, we suggest taking a guided tour of Ben & Jerry's ice cream factory in Waterbury, located about 20 minutes from Stowe by car. The family-friendly tours are 30 minutes and cost $4 for adults and $3 for seniors; admission is free for kids 12 and younger.
For an affordable place to stay in Stowe, consider booking a room at Northern Lights Lodge, which features 50 rustic-yet-cozy rooms, an indoor pool with a hot tub and sauna and a fireside lounge area. Room rates start at about $79 per night, though prices can increase on weekends and holidays (breakfast buffet included).
Lake Placid, N.Y.
Skiing is just one of the many thrilling winter activities that visitors can enjoy in this charming village in the Adirondacks Mountains of upstate New York, which hosted the 1932 and 1980 Olympic Winter Games. Non-skiers can snowshoe through more than 2,000 miles of walkable terrain, enjoy a horse-drawn sleigh ride through the snow, go ice skating or take a dog-sled ride. For something a bit more daring, visitors can check out Lake Placid's Olympic Sports Complex, where they can try biathlon shooting and take a bobsled ride with a professional driver and brakeman.
Lake Placid offers several affordable places to stay, including the Golden Arrow Lakeside Resort located on the shores of Mirror Lake. The eco-conscious and pet-friendly resort features architecture modeled after the ski chalets of Europe; a heated indoor pool with a sauna, steam bath and two whirlpool tubs; and a fitness center. Rates start at $79 per night.
Aspen, Co.
You might think of Aspen as a prime ski destination for the rich and famous, but this famous Rocky Mountain town isn't just for the glitterati and actually offers plenty of activities for non-skiers.
To enjoy Aspen's breathtaking scenery, consider taking a guided snowmobile tour through the White River National Forest led by the T-Lazy-7 tour company. For a bit of culture, check out the new Aspen Art Museum located in downtown Aspen, which showcases international contemporary art (admission is free). If you're a music lover, you can enjoy a concert at the live music venue Belly Up or take in a performance at the historic Wheeler Opera House, which has hosted the likes of The Eagles, Jerry Seinfeld, Oprah Winfrey and Sheryl Crow.
For a quaint, moderately priced hotel, consider staying at the historic Snow Queen Victorian Bed & Breakfast Lodge located in the center of downtown Aspen. Winter rates start at $129 per night for two people and include a complimentary breakfast in the lodge. Guests can also take a dip in the outdoor hot tub while enjoying views of Aspen Mountain.
Whistler, British Columbia
Located two hours north of Vancouver in the Coast Mountains of British Columbia, Canada, Whistler is considered to be one of the top ski resort destinations in the world. But if zooming down the slopes isn't your cup of tea, you won't be bored for a second in this Canadian hideaway.
Whistler Village, the central neighborhood of the town of Whistler, features pedestrian-only stone walkways that are lined with shops, eateries, galleries and hotels. One popular place to chill out—and warm up—is the FireRock Lounge in the Westin Hotel, where you can enjoy cocktails, craft beer and a bite to eat in front of a blazing fireplace. We also suggest taking a drive to Whistler Olympic Park, located about 20 minutes south of Whistler Village by car, where you can snowshoe through more than 20 miles of trails, go tobogganing, shoot biathlon rifles and even ride fat-tire bikes in the snow.
If you can't afford one of the pricier hotels in Whistler Village, you might want to consider staying at the cozy Fireside Lodge hostel, located two miles from the village. The lodge accommodates up to 64 people and features private rooms, dorms and loft rooms. Guests can also relax in the large lounge area; play pool, foosball, darts and ping pong in the games room; and enjoy cooking and eating in the communal kitchen and dining area. (Call for prices.)
Jackson, Wy.
Jackson, Wy., is located at the southern end of Jackson Hole, a 48-mile-long valley surrounded by pristine mountains. Skiers flock to this region in the winter for the deep powder conditions on the slopes, but you can rest assured there's still much to do for non-skiers.
To experience Jackson Hole's breathtaking surroundings, consider taking a guided tour through the region and its surrounding areas. Wildlife tours will provide views of wild animals in their natural habitat, such as moose, deer, elk and wolves. Looking for something a bit more romantic? Consider taking a horse-drawn sleigh ride through the area with your sweetie.
Visitors should also take a stroll through Jackson's Town Square, which features arches made of elk antlers at each corner and a variety of unique shops, from designer boutiques to western fine art galleries to quaint stores selling handmade goods. When the sun sets, you can enjoy Jackson's bustling nightlife scene, whether you prefer to see live music, go dancing or throw back a drink at one of Jackson's famous saloons.
The Lexington at Jackson Hole, located just 1.5 blocks from Jackson's Town Square, is a good place to stay if you're on a budget. The hotel offers spacious guest rooms, an indoor heated pool and hot tub, and a two-story lobby with a fireplace. Rates start at $104 per night and include a complimentary deluxe continental breakfast.
—Written by Kristin Colella for MainStreet