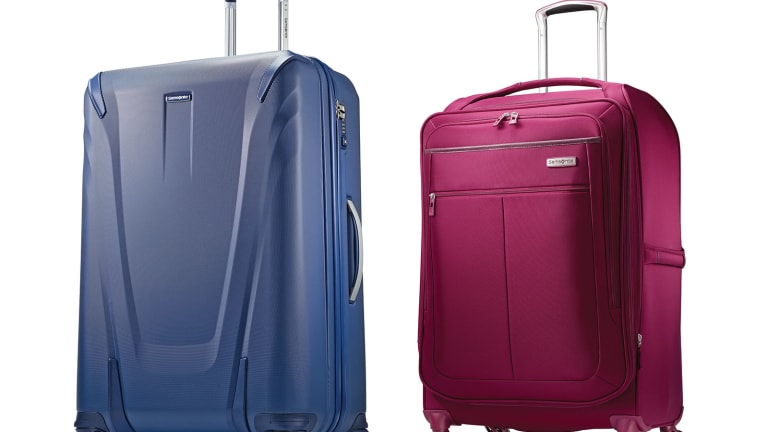 The Best Luggage for Different Travel Needs
Luggage vendors in the U.S. are seeing growing demand from various types of customers with different travel needs and preferences.
Luggage vendors in the U.S. are seeing growing demand from various types of customers with different travel needs and preferences.
NEW YORK ( MainStreet) -- Luggage vendors in the U.S. are seeing growing demand from various types of customers with different travel needs and preferences.
According to Technavio, an independent tech-focused global research firm, the market for travel and business bags is expected to grow at a CAGR of 13.58% by revenue and 8.31% by volume in the next four years.
Key vendors of travel and business bags in the U.S. include Briggs & Riley, Delsey, Eagle Creek, Samsonite, Travelpro, Tumi and Victorinox.
Although these vendors cater to travelers in general, each have their own strengths.
Samsonite and  Delsey are leading the pack in creating smart luggage. Samsonite is releasing a bag with a global tracking device, and Delsey is launching a bag with a phone charger.
Travelpro, known for having direct selling relationships with flight crews, is also working on producing a carry-on bag with built-in external USB, and exploring a variety of tracking devices.
"We want to ensure that the technology and consumer value behind the tracking devices is totally sound before going to market," says Scott Applebee, Travelpro's vice president for marketing. "Many of the tracking devices today are very expensive when you add in the data charges."
Other luggage vendors are focusing on innovations that allow travelers to pack more efficiently on either a carry-on or checked baggage.
Briggs & Riley has compression technology that expands the luggage without altering its original size; Eagle Creek has the Pack-It system which allows travelers to pack items flat and compact; and Victorinox has a dual-access design that accommodates different personal packing styles.
Tumi has a collection that addresses the specific needs of female travelers.
We looked at some of the latest and most innovative luggage from these vendors and matched them with different types of travelers -- from the chronic over-packer to the worrywart.
Click through to see which luggage is right for you.



For the chronic over-packer
Briggs & Rileyhas just introduced a collection that is perfect for travelers who always need a little more room in their suitcase. The new Baseline CX styles allow for up to 34% more packing capacity.
Using compression technology (as opposed to the more common zipper expansion), travelers can expand the luggage without altering its original size. This solves the problem of travelers who tend to over-stuff their carry-ons, only to worry later on if the bag will fit in the overhead bin.
While packing, you expand the interior of the bag by pulling up the handles on each side. Load up the bag with all your stuff, and once it's closed, you just push it down and the bag compresses.
If you're planning to go on a long trip and need to pack more than your carry-on can handle, you can take along the checkable Baseline CX. The medium expandable Spinner is just 24 inches high, so it will not take so much space in a small hotel room.
Other noteworthy features: mesh garment panels that prevent items from shifting; garment folder, with roll bar to prevent wrinkling; large front pocket for extra items; TSA-approved lock included.
Good to know: Briggs & Riley's Baseline CX collection isn't cheap. The commuter carry-on is $479, and the medium expandable Spinner is $569. The company, however, has a no-strings-attached lifetime guarantee. If the bag is ever broken or damaged, even if it was caused by an airline, Briggs & Riley will repair it free of charge.
Get the Briggs & Riley Baseline Medium Expandable Spinner on Amazon for $569
For the ultra-connected

For the past two years, Delsey has been working on  Pluggage, a suitcase with a built-in charger. Travelers can charge their smartphones anywhere, so no need to fight for available charging stations at airport lounges.
Customers who purchase a Pluggage bag will be able to download an app that confirms whether the traveler's checked bag has been loaded on the plane. The app will also alert the owner if the bag has been opened.
Other noteworthy features: an overload indicator to help travelers avoid getting slapped with an overweight baggage fee; users can vote  online for their favorite add-ons.
Good to know: The Pluggage is still in production and the first bags will not be available for purchase until the second quarter of 2016. The bag will cost around $600 for a 22-inch model.
If you can't wait that long for a new bag, you may want to check out  Delsey's new Helium Shadow 3.0. It's a hard-case bag, with a unique top lid opening for packing all your small electronic devices.
Get the Delsey Helium Shadow 3.0 19 Inch International Carry-On Expandable Spinner Trolley on Amazon for $135.99
For the shopaholic

Do you often travel with just your carry-on but somehow end up needing more space for the stuff you buy at your destination? The  Morphus 22 from Eagle Creek could be the bag for you. It's a full-size carry-on that turns into two full-size bags.
Travel light and use the Morphus 22 for your flight. If, after arriving at your destination, you feel the need to shop, just zip off the front gear bag from the back shell of your carry-on and you have a second bag.
Some airlines may allow you to carry both pieces on the flight; some may ask you to check one of the bags. Either way, you'll come home with a bagful of gifts and souvenirs.
Other noteworthy features: reflective accents provide dusk and nighttime visibility; zip-off gear bag's multiple carry options include zip-away backpack straps, removable padded shoulder strap, and grab handles. 
Good to know: All Eagle Creek bags integrate with a variety of Pack-It storage items. These are separately sold organizers that allow items to be packed flat and compact, maximizing luggage space. The Pack-It Specter Folder holds up to 12 pieces of clothing and keeps them relatively wrinkle free.
Get the Eagle Creek Travel Gear Pack-It Garment Folder on Amazon for $28


For the college-bound

Students going off to college need a lot of space to pack all their campus-life essentials, but they also need gear that will withstand airline luggage handlers, road trips, dorm stairs and parking lots.
Eagle Creek's 32-inch No Matter What Flatbed Duffel is a spacious rolling bag that has a durable wheel and handle system that works like a real suitcase. Made with a water-resistant bi-tech material, it's a good bag to take along on boating trips and off-road adventures.
To take full advantage of this bag and pack in as many items as needed, Eagle Creek recommends using  Pack-It organizer bags for separating clothes from shoes and other items.
Other noteworthy features: The roommate will not be bothered by the size of this bag as it stores away relatively flat and can be hidden under the bed.
Good to know: The 32-inch is the biggest of the No Matter What Flatbed Duffels, but it's available in three other sizes and five different colors. To open the bag, you need to disconnect the two compression straps first.
Get the Eagle Creek's 32-inch No Matter What Flatbed Duffel on Amazon for $219.99
For the worrywart

According to airline industry statistics, approximately 3,000 pieces of luggage are lost every hour worldwide. That information is enough to make travelers paranoid about the check-in process at the airport.
The good news is that technology is finally here to help with lost luggage.
In September 2015, Samsonite will start selling the GeoTrakR, a travel bag that comes with a removable global tracking device that can locate your bag through an app on your smartphone.
The tracking device, which just weighs 2.71 oz. has a 15-day battery life when fully charged. It shuts off while in flight, and turns back on when the plane comes to a full stop. The device is FAA, TSA and FCC compliant, and does not interfere with avionics in any way.
Other noteworthy features: The bag itself has four, multi-directional Spinner wheels and lightweight aluminum handle system. Inside, it has a tri-fold suiter, removable drawstring pouch, toiletry kit, and zippered pockets for personal items.
Good to know: Samsonite will be offering the GeoTrakR in three sizes: 21" Spinner for $299.99; 25" Spinner for $349.99; and 29" Spinner for $399.99.
For the worrywart (cont.)
If you cannot wait until September for the Samsonite GeoTrakR, with a removable tracking device, you might want to just use your existing luggage and then look into getting a separate luggage locator from LugLoc.

If you're shopping for a new travel bag, you might want to check out Samsonite's brand new line of Spinner suitcases.
The Silhouette Sphere 2 features Samsonite's new Split Spherical Spinner Wheels. Each half of the Sphere Wheel can move independently in the same or opposite direction to allow rolling over uneven or smooth surfaces. It is offered in soft-side and hard-side collections.
MIGHTlight is Samsonite's ultra-lightweight luggage collection -- the 21" Spinner carry-on weighs just less than 6.25 lbs. It comes in three colors: black, charcoal and berry.
Other noteworthy features: The soft-side collection of the Silhouette Sphere 2 and the MIGHTlight are both constructed of nylon fabric, with water-resistant coating. Both have matching boarding bags that are sold separately.
Get the Samsonite Silhouette Sphere 2 Hardside Spinner Hs 30.on Amazon for $199.00
Good to know: The MIGHTlight comes in an eye-catching berry color. No need to stress about finding your luggage in a sea of black travel bags.
Get the Samsonite Mightlight Spinner 30 on Amazon for $197.42


For the road warrior

Travelpro's Flight Crew collection is sold exclusively to pilots and flight attendants and has special features to help flight crews in their unique travel needs. The Travelpro Crew 10 is the consumer version of the Flight Crew with many of the same characteristics:  durability, functionality and ease of use.
If it's good enough for the most frequent travelers of the world, then it must be good enough for the seasoned business traveler.
The  Travelpro Crew 10 20-Inch Expandable Business Plus Rollaboard is a durable carry-on with protective side feet, crash-guard wheel housings and skid guards. The sealed ball-bearing wheels are made for high mileage travel.
Get the Travelpro Crew 10 20-Inch Expandable Business Plus Rollaboard on Amazon for $123.14
Other noteworthy features: This luggage is easy to maneuver and stable when it stands. It has a corduroy-lined sleeve for iPads or laptops, and a secondary front zip pocket with a ride-protected pocket to keep most other smart devices safe for travel.
Good to know:This luggage does not include a suiter. For travelers who need a lot more than a carry-on, Travelpro's Crew 10 line has 29-inch expandable Spinner suiter.
Most Spinner suitcases drift or pull to one side or the other, but with the Crew 10, the magnets instantly align wheels once the luggage is pushed, making it easier to maneuver through ticket lines and crowded airports.
Get the Travelpro Crew 10 29 Inch Expandable Spinner Suiter on Amazon for $254.99



For the sophisticated female traveler
Tumi has a new luggage collection that is both stylish and versatile -- perfect for women who travel.
The Hadley Wheeled Duffel is just the right size for overnight air travel and weekend getaways, with easy-to-access exterior pockets and lightweight telescoping handle. The Blair International Carry-On has a unique interior organization system, including a built-in suiter and a removable toiletry kit.
Both bags come with gold-tone accents and can be matched with the Nora Tote (made with the same coated canvas material as the suitcases), or the colorful Sadler Crossbody for hands-free travel.
Other noteworthy features: Tumi's latest line of women's travel bags are inspired by the rich Andean textiles of Peru; focal colors include aubergine and teal.
Good to know: Tumi's carry-on bags are the most expensive of all the bags featured in this report. The Blair International Carry-on is $1,195, and the Hadley Wheeled Duffel is $795.
Shop for Tumi bags on Amazon
For the attention-getter

You want a stylish travel bag but don't want to spend more than $500 on a carry-on?
Victorinox has a new hard-side luggage that is both striking and functional. The Spectra 2.0 Dual-Access Global Carry-On won the Red Dot Design Award last year for its innovative design.
The case has a front zippered quick-access door, and removable electronics panel to make it easier for you to quickly get a hold of your passport, tickets, tablet and other travel essentials.
The dual-access carry-on also accommodates your personal packing style. You can either pack through the front quick-access door using a traditional top down method, or through the main opening using the 50/50 split to separate your belongings into two compartments.
Other noteworthy features: ultra-light bag, with a scratch-resistant matte finish; protective corner guards and two layers of premium Bayer polycarbonate which absorbs impact without breaking or cracking.
Good to know: The material used for this bag is the same one used in football helmets, police riot shields and as a component in bulletproof glass.
To get the most attention from fellow travelers, go for either the red or white bag.
Get the Spectra 2.0 Dual-Access Global Carry-On on Amazon for $349.99