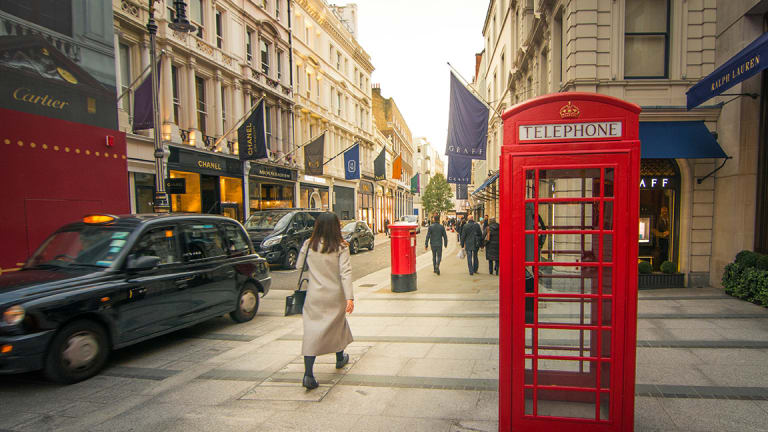 The Best Cities in Europe for Shopping
Whether you're looking for a Patek Philippe, a Louis Vuitton, locally-made goods, furniture, antiques or vintage fashions, here are some of the best places in Europe to satisfy your inner shopaholic.
Whether you like designer or vintage fashion, art, antiques, crafts or leather goods, Europe has some seriously good shopping. Paris, London, Berlin, and Milan are among the best shopping destinations in the world.
Do you like jewelry, watches or accessories? Handmade leather shoes? Maybe you like to explore bookstores, sift through stacks of old artifacts at flea markets, browse through interior design shops, or hunt for handmade rugs, whatever your pleasure, you'll find it on a trip to Europe. Here are some of the best shopping destinations on the continent, recommended by European Best Destinations, a Brussels-based travel organization.
Above, Bond Street in London, where you'll find all the big designer names.
Photo: Willy Barton / Shutterstock
Milan
Besides being one of the fashion capitals of the world, Milan is home to the world's oldest existing shopping mall, the Galleria Vittorio Emanuele, (pictured) completed in 1877 in Art Nouveau style. The city's golden shopping rectangle is loaded with expensive, trendy shops, with haute couture names like Versace, Prada, Chanel, Louis Vuitton and Gucci. Trip Advisor suggests: bring money and dress the part.
Photo: pcruciatti / Shutterstock
Amsterdam
There are plenty of shopping experiences in Amsterdam, from upscale designer boutiques to vintage stores. The Negen Straatjes (Nine Streets) in the city's historic district, pictured here, are filled with a range of unique shops, art galleries, and cafes. Antique shoppers will like the city center. The museum district has many designer names, including Dior, Ralph Lauren, DKNY, and Tommy Hilfiger.
Photo: Dennis van de Water / Shutterstock
Gothenburg, Sweden
Gothenburg shopping covers all the bases: small independent shops, international stores, large malls, thrift shops, craft shops and toy stores. There is an established fashion design scene and many local brands.
Photo: Rolf_52 / Shutterstock
Antwerp, Belgium
The city famous for its diamond market also gained fashion fame in the 1980s by the "Antwerp Six," a group of fashion design students from Antwerp's Royal Academy of Fine Arts who presented a distinct, radical vision for fashion at that time. The MoMu Fashion Walk focuses on the shops, buildings and other places which helped to turn Antwerp into the couture city it is today. There are also a number of themed open markets throughout Antwerp, selling antiques, food, books and other items.
Photo: Shutterstock
Porto, Portugal
The historic centre of Porto and the River Douro on the Gaia side, where the Port Wine lodges are located, are classified as World Heritage.
Visit the Livario Lello, one of the most beautiful bookshops in the world, (pictured) and the Rua Miguel Bombarda to take in some contemporary art and design.
Photo: Shutterstock
Rotterdam, Netherlands
Rotterdam offers shopping for all tastes, from big department stores to small boutiques. Donner is one of the largest and best-stocked bookstores in the Netherlands and GROOS is a design store for Rotterdam-based fashion, design, art, delicacies and lifestyle products. You'll find many local labels in this city. Pictured is the Rotterdam Market Hall, which has 96 fresh food stalls and shops.
Photo: mihaiulia / Shutterstock
Bordeaux, France
Shopping is just one reason to visit this famous wine-growing region, with its chateaux, gardens, cathedrals and museums. Shoppers can find Parisian fashion, ready-to-wear clothes, jewelry, leather goods, antiques and art. France's biggest "made in France" store, W.A.N., is here, with local art, gifts, clothes and accessories. Pictured is Rue Sainte Catherine, the main shopping street in Bordeaux.
Photo: MikeDotta / Shutterstock
Cannes, France
The Promenade de la Croisette, besides having some of the best beaches in Cannes, also hosts the top boutiques, including Bulgari, Cartier, Gucci, Ralph Lauren, Chanel and Armani. The shops on Rue Meynadier are more affordable, sellers are opened to bargaining, and there you can pick up some of the finest olives, wines, cheeses and herbs. The Marche Forville and the La Bocca district are also worth visiting. Above is actress Aishwarya Rai at the gala screening for "Girls of the Sun" at the Cannes film festival in 2018.
Photo: Featureflash Photo Agency / Shutterstock
Berlin
International designer fashion, hip Berlin style and cheap bargains can all be had in the city's shopping centers, department stores, small shops and high-class boutiques. The largest and most famous department store in Berlin is KaDeWe on Kurfurstendamm.
Photo: travelview / Shutterstock
Geneva
Geneva has a mind-blowing selection of fine, expensive things, which may be why window shopping is so popular here. Looking for a watch? Top brand watchmakers include Patek Philippe, Frank Muller, Swatch, Omega and Piaget. There's also fine chocolates, leather goods, antiques, art, tobacco, gifts and an array of open markets.
Photo: Martin Good / Shutterstock
Barcelona, Spain
Barcelona, known for its art and architecture, also has high fashion, antiques, and The Barcelona Shopping Line, one of Europe's largest retail areas. Many unique shops, some dating back more than 100 years, sell local produce, hand-crafted items, designer creations, gourmet foods, and sustainable fashions. Pictured is La Boqueria, a famous public market.
Photo: Andrey Bayda / Shutterstock
Hamburg, Germany
Affordable vintage chic? Check. Flea markets? Check. Design, furniture, jewelry, accessories? Check. Hamburg has it all, from luxury items in the Hamburger Altstadt or bargains in Sternschaze. Stroll around the many open air markets for fresh produce, arts and crafts, antiques and designer items.
Photo:Shutterstock
Zagreb, Croatia
The city has several malls and lots of unique shops. Croata is a one-of-a-kind store for men's neckties, and Take Me Home features the products of over 60 Croatian product designers under one roof with hand-made, locally-produced jewelry, handbags, art prints, handmade cosmetics, t-shirts, kitchenware, kids' toys, and more.
Photo: joyfull / Shutterstock
Madrid
For clothes and shoes, try the trendy, Bohemian Chueca area, or the Calle Gran Via (pictured) or Salamanca for more high-end style. Madrid's most popular flea market, El Rastro, has everything you could possibly want.
Photo: Alexandre Rotenberg / Shutterstock
Istanbul
Istanbul has malls, historical bazaars, small shops selling handmade carpets, state-of-the-art designer boutiques, and spice markets. The Grand Covered Bazaar, shown here, offers thousands of shops selling everything from jewelry and silk garments to carpets and leather goods.
Photo: Tekkol / Shutterstock
Budapest, Hungary
The main shopping areas are in the city center, Vaci Street, above, is perhaps the most famous, with its fashionable shops, restaurants and cafes. Designer shops in Budapest include Hugo Boss, Max Mara, Tommy Hilfiger, Lacoste and Mexx. There's a monthly design market featuring homegrown fashion; Budapest Design Week takes place every October, and Budapest Fashion Week is in April.
Photo: Subodh Agnihotri / Shutterstock
Lisbon, Portugal
Lisbon offers affordable shopping, and a variety of unique local shops featuring Portuguese products made from local materials such as cork and wool. Don't miss the quirky canned fish shop Conserveira De Lisboa, the tiny Luvaria Ulisses glove shop and Bertrand, the world's oldest bookshop. Above, local pottery for sale in Lisbon.
Photo: Shutterstock
Manchester, England
Top shopping spots include the Manchester Arndale, intu Trafford Centre, Exchange Square, pictured here, and Market Street. Manchester has the big British department stores like John Lewis, Selfridges, Debenhams and Marks & Spencer.
Photo: trabantos / Shutterstock
Paris
Paris, of course, is a world-renowned fashion center and shopping Mecca. It has chic boutiques, massive flea markets, department stores, street markets, art and antique galleries, and souvenir shops. Even if you don't like shopping, this is the place to do it.
Photo: Kiev.Victor / Shutterstock
Oslo, Norway
Grunerlokka is a good area of Oslo for alternative shopping- small, independent shops that sell original clothes, jewelry, ceramics and art - everything from boutiques run by young Norwegian designers to cool vintage shops.
Photo: basiczto / Shutterstock
Dusseldorf, Germany
Folks on TripAdvisor recommend Altstadt, Carlsplatz Markt, Schadow Arkaden and for luxury shops, Konigsallee.
Photo: Shutterstock
Stockholm
Home of Swedish clothing company H&M, the city offers all kinds of shopping. View Stockholm recommends Drottninggatan, where you'll find plenty of H&Ms alongside other department stores, great restaurants and cafes, and Stora Nygatan in Old Town, pictured here, for vintage shops, comic books and other unique shops.
Photo: NoyanYalcin / Shutterstock
Cologne, Germany
Cologne has one of the most popular shopping areas in Germany, Hohe Strasse and Schildergasse. Find exclusive brands on Mittelstrasse, the latest trends around Ehrenstrasse or fashion from upcoming young designers in the Belgian Quarter. Above, a souvenir at Cologne's beautiful Christmas market.
Photo: Shutterstock
Valencia, Spain
In Valencia, visit the Plaza Redonda, above, in the historic center of the city where you'll find ceramics, souvenirs, lace, and other items. Also go to Calle de las Cestas for handmade wickerwork and leather goods.
Photo: Shutterstock
London
Luxury goods in Mayfair, quirky finds along with pubs and restaurants in Covent Garden, (pictured here) large shopping centers such as Westfield and famous London department stores like Harrods, London won't disappoint. Top spots include Oxford Street, Regent and Jermyn Street, Bond Street and Mayfair and Carnaby Street for independent boutiques, heritage brands and new designer names.
Photo: Petr Kovalenkov / Shutterstock
Montpellier, France
The city centre Ecusson and Odysseum are the best places to find beautiful boutiques. At Montpellier's Arts Workshops, you can find ceramics, jewelry, wood working, furniture, tapestries, leather goods, stained glass and fashion by local artists. Good local products to buy in Montpellier include tapenade, wine and grisettes, a French sweet.
Photo: Shutterstock
Malaga, Spain
You'll find trendy designer brands along with more traditional goods in Malaga. The Mercadillos BC is a colorful seaside flea market held on the first Sunday of every month. At the historic Atarazanas market, pick up fresh produce and seafood at great prices.
Photo: Shutterstock
Rome
Like London and Paris, Rome is another city where you might need a guide book dedicated solely to shopping. Pay homage to some of the world's top designers here; the chicest shopping is in the Trident neighborhood, near the Spanish Steps. For a less pricey experience, go to Via del Corso or Via Appia Nuova. Try Via del Boschetto in the boho-chic Monti district for vintage shopping.
Photo: Shutterstock
Florence, Italy
Florence is the spot to pick up leather belts, gloves, bags and jackets, a classic Florentine straw hat, hand-made shoes or ceramics. Most of the leather shops are in the Santa Croce area. The big designer and jewelry shops are on Via Tornabuoni. In the Santo Spirito area, look for wood crafts, artisan jewelry, lamps, metal vases and other unique finds.
Photo: Damiano Mariotti / Shutterstock
Dublin
Dublin offers a very walkable shopping experience, according to Hotels.com, thanks to many pedestrian-only zones. They recommend The Jervis Shopping Center, Castle Market, Temple Bar and Henry Street. Look for woolen items, pick up some Irish whiskey, Irish chocolate, linen and cheeses.
Photo: jamegaw / Shutterstock