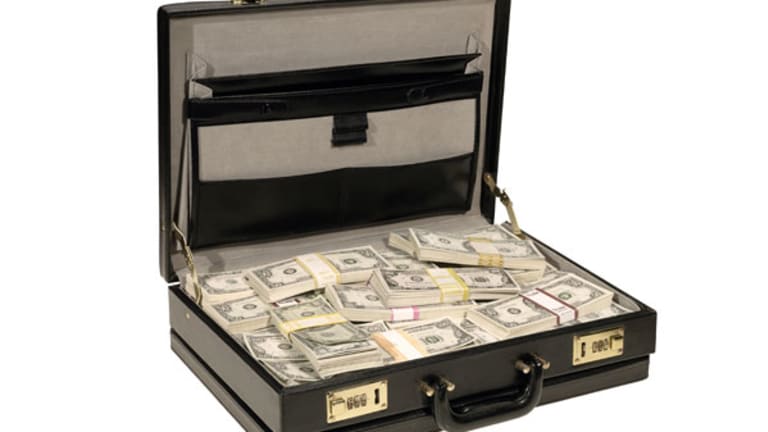 Publish date:
The Best Apps for Baby Boomers
Here are some useful smartphone apps for the older set.
Here are some useful smartphone apps for the older set.
NEW YORK (MainStreet) -- While smartphones such as the Apple (AAPL) - Get Apple Inc. (AAPL) Report iPhone may have started out as status symbols for 20-somethings in big cities, smartphone penetration has increased greatly, and smartphone sales now outpace sales of regular feature phones. That means the thousands of developers creating mobile apps for the iPhone, Blackberry (RIMM) and Android (GOOG) - Get Alphabet Inc. Class C Report platforms are increasingly offering apps aimed at older users. Here are some of the best apps we found that we think baby boomers -- from 50-somethings to new retirees -- would find appealing.
Words With Friends
As a general rule, the older you get, the more you want to play Scrabble. But as you get older it also gets more difficult to get everyone in your Scrabble group together for game night, as someone is inevitably swamped with work and family obligations.
There are many smartphone and tablet apps baby boomers -- from 50-somethings to new retirees -- will likely find appealing.
One solution is
Words With Friends
, a multiplayer game that bears more than a passing resemblance to Scrabble. It's multiplatform, so it's no problem if your group is split among iPhone, Blackberry and Android types. And you have days to actually make a move, so you can play when it's convenient for you. It costs $1.99 at the Apple App Store.
Elder 411/911
While some boomers are already at retirement age, some younger members of the generation are beginning to deal with another challenge: taking care of their elderly parents.
Marion Somers, an elder-care expert, created two apps to make this a little easier.
Elder 411
has a number of features to help with elder care, including exercise programs, legal advice and lectures on related topics. And
Elder 911
is dedicated to helping you through an emergency involving your elderly parents, including crisis preparation, questions to ask at the hospital and checklists of important documents such as living wills and health insurance information.
Both apps are free from the Apple app store.
Golf GPS Range Finder
If you've become interested in golfing as you approach retirement, you may be tempted to drop hundreds of dollars on a range finder to guide you in your struggle to make par. But several smartphone apps provide similar services using the phone's built-in GPS. One such app is the
, an app from the Apple App Store that allows you to drop pins on a satellite view of your current hole and calculate the distance automatically. Now if only there were an app to help you find the ball you just shanked into the woods.
E*Trade Mobile Pro
If you're trying to pad out your nest egg with a little day trading as you approach retirement, you could do a lot worse than monitoring your portfolio with the E*Trade app. It's free from the Apple, Android and Blackberry app stores, and it gets
from Apple users. The app allows you to track the major stock indices, get real-time quotes and trade stocks and options.
Silver Surf
No, this app has nothing to do with the Silver Surfer of the Fantastic Four comics. Rather, this is the Web browser equivalent of a large-print book.
An app for the iPad,
Silver Surf
has a number of features that optimize it for the older user, including large-text buttons and the ability to zoom in on small text that would normally send you reaching for your reading glasses. Best of all, it's free and very well-reviewed by users on the App Store.
iTriage (symptom checker)
As you get older, aches, pains and mysterious ailments are likely only to increase. Since you can't visit a doctor every time your body does something new, we'd recommend getting a symptom checker to give yourself a preliminary diagnosis of the ailment of the day. The iTriage app is free for iPhone and Android users, and it allows you to punch in your symptoms and view possible diagnoses. It also allows you to research diseases, and even includes directions to the nearest hospital, as well as emergency room wait times. The iOS version of the app has received thousands of
rave reviews
on the Apple App Store.
Retire Logix
Worried your savings won't be enough to provide a livable income into your golden years? The Retire Logix app is an interactive calculator that lets you estimate your retirement income needs and see how your various accounts at their current rates of return will contribute to meeting those needs. The calculator will even account for your Social Security and pension income, taking taxes and inflation into account. It's available for free from the Apple App Store, where it's received
positive reviews
.
Hipstamatic
Photography technology grows by leaps and bounds every year, but maybe you're nostalgic for the faded, washed-out snapshots of your youth. While you can't buy an old-school Polaroid camera outside of eBay anymore, you can do the next-best thing and download the
. Apple's 2010 app of the year, Hipstamatic takes photos with your iPhone's camera and allows you to add features such as blurring and discoloration. The app costs $1.99 in the app store, and while some may scoff at paying for an app that decreases the quality of your photos, it's a fun way to take a walk down memory lane.
>To submit a news tip, email:
.
RELATED STORIES:
>>10 Summer Smartphone Apps
>>15 Apps to Help You Invest
>>The Most Popular Free iPhone Apps Ever
Follow TheStreet.com on
and become a fan on