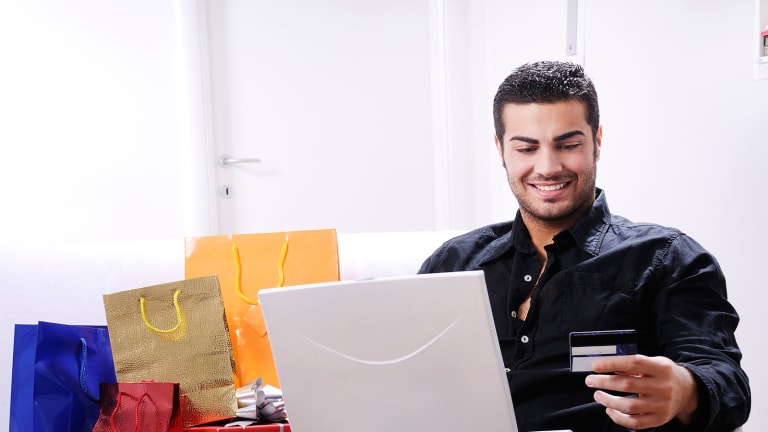 The Best and Worst Things to Charge on Your Credit Card
From medical bills to travel expenses, here's a rundown of which purchases should be put on your credit card -- and which should be left off plastic.
NEW YORK (MainStreet) — To charge or not to charge? That's the question credit card holders face when it comes time to make a purchase or pay a bill. The ability to earn rewards and defer payment until a later date can make credit cards mighty attractive, but it's important to stop and think before you swipe.
Although credit cards can be beneficial in certain situations, they're not always so great in others, especially when extra fees are involved or you could get a lower interest rate using another form of payment.
To help us determine whether using a credit card is a smart form of payment for several different types of bills and purchases, we consulted a variety of personal finance pros. Of course, we urge you to keep in mind that even when using a credit card is deemed beneficial by our experts, it's never wise to charge more than you can actually afford. If you can't pay off your balance in full each month, you can quickly sink into debt.
Here's our list of the best and worst things to charge on your credit card:
WORST: Taxes
If you owe money to the IRS, your first thought might to be to put your tax bill on your credit card, but doing so can actually cost you even more money. Many people don't realize that they'll be charged a processing fee of around 2% when they pay their taxes with a credit card. There is also a flat fee of around $3 when you pay your tax bill with a debit card.
The fees aren't charged by the IRS, but rather by third-party payment processing companies that the government has contracted to collect credit and debit card payments from taxpayers. The current credit card fees range from 1.87% to 2.35%, depending on which payment processing company you choose to submit your payment through (fees differ slightly when you decide to e-file your taxes). You can find a list of payment processors with information on the fees they currently charge and the types of cards they accept on the IRS website.
While you might not care much about the fee if your tax bill is small, you could be singing a different tune if you're stuck with a large bill.
"If you have a $4,000 tax bill, you could end up paying $80 or more upfront to pay with your credit card," says Matt Schulz, senior industry analyst for CreditCards.com.
Your best bet is to pay your tax bill by check or direct deposit rather than plastic. If you're unable to pay off your tax bill in full, consider working out a payment plan with the IRS rather than racking up interest charges on your card.
"If you are not financially able to pay your taxes, you may make monthly installments under an installment agreement," says tax attorney David Hryck, a partner at global law firm Reed Smith. "You can apply for an installment agreement online, over the phone or via various IRS forms."

WORST: College tuition
Paying for college can be a struggle for many young people, but putting your tuition bill on your credit card is usually a bad idea. Our experts say that student loans are typically a much better way to finance your education.
"Credit cards often come with high interest rates and fees," says financial aid expert Mark Kantrowitz, senior vice president and publisher of Edvisors.com. "Repayment begins immediately without options for financial relief, such as in-school deferments for students who decide to continue their education in graduate or professional school."
Some student loans require repayment to begin while the student is still in college, while others don't require repayment until after the student has graduated or dropped below half-time enrollment. Either way, the interest rates on student loans are typically lower than those of credit cards, so student loans will probably end up costing you less. 
If you're tempted by the lure of rewards points offered by your credit card company, consider this: "Colleges often pass on the transaction fees to the student, negating the value of the points," says Kantrowitz. "Some rewards cards specifically exclude tuition from eligibility for rewards."
In fact, simply qualifying for a credit card can be a roadblock for many college students.
"The Credit CARD Act of 2009 prevents consumers under age 21 from obtaining a credit card unless they have a cosigner age 21 or older or they can demonstrate an independent means of repaying the debt," says Kantrowitz.

WORST: Medical bills
The cost of doctor's appointments and hospital visits can add up quickly, especially if you're dealing with a serious health issue. It's easy to feel overwhelmed by mounting medical bills, but there are often better payment options than using a credit card.
If you can't pay off your balance in full, try contacting the doctor's office or hospital that took care of you to ask if you can work out a payment plan. Many medical providers are willing to offer patients the option to pay back their bills in installments, often with lower interest rates than those charged by credit card companies.
"Some hospitals may not even charge you interest," says David Melnyk, a financial advisor for Verus Wealth Management, LLC, in Rockledge, Fla. "It's worth the time to discover your options."
BEST: Online purchases
When shopping online, paying for your purchases with a credit card rather than other forms of payment—such as a debit card—is often your best bet.
"A credit card is a better choice to use for online purchases, as it offers greater protection against fraud," says Kevin Gallegos, vice president of Phoenix operations with Freedom Financial Network. "If you need to dispute a transaction, you can report it to the card issuer."
If you have a rewards card, your online purchases can help you earn cash back, miles or points—just make sure you don't charge more than you can afford.
"If you can pay it off at the end of the month and not get saddled with interest, you should collect on the points that are on the table," says Hryck.
Of course, it's important to be mindful of privacy and safety concerns whenever you use your credit card to make a purchase on the Internet.
"Make sure the sites you're going to are trusted and secure—look for the https:// designation [in the Web address] and a padlock icon somewhere on the browser," says Bruce McClary, vice president of public relations and external affairs for the National Foundation for Credit Counseling. "You should also make sure you're not using a public computer or public Wi-Fi when using your credit card online."

BEST: Travel-related expenses
From booking flights, vacations and rental cars to paying for food and activities during your trip, credit cards can be highly beneficial to travelers for a variety of reasons.
If you have a rewards card, booking your trip on your card can help you earn lots of points or airline miles. If you already have plenty of existing points or miles, you might be able to redeem them for flights, hotel rooms and even cash. Some cards also offer extra perks for travelers, such as free access to airport lounges, travel insurance and rental car insurance.
Credit cards also provide an extra measure of protection while you travel.
"If a credit card is stolen, you can notify the company to cancel the account," says Gallegos. "If cash is stolen, you usually are unprotected."
If you're traveling outside of the United States, just make sure you use a credit card that doesn't charge a foreign transaction fee when you make a purchase.
"Those fees, usually 3% on top of the purchase price, can really add up," says Sean McQuay, credit card associate for NerdWallet.com.

BEST: Appliances & Electronics
Are you in the market for a new washer/dryer, fridge, iPad or laptop? Paying for pricey electronics and appliances with your credit card can do more than just rack up points—it can offer you greater protections on those purchases. Most major card issuers offer price protection, extended warranties and return protection, and their level of coverage is comparable, says McQuay.
If you didn't know about these perks (and you're definitely not alone), it's time to pay attention because they can be a big plus for consumers. Price protection means that if you find out the price of item you purchased has dropped within a certain time frame (usually 60 to 90 days), you could get refunded for the difference. With an extended warranty, after the manufacturer's warranty expires on a product you've purchased, your credit card issuer will extend your coverage, usually for up to a year. If your card offers return protection, it means that if you try to return an item within a certain time frame and the merchant refuses to take it back, your credit card issuer may give you a refund.
It's a good idea to check your card's benefits statement for the specific details on the coverage you're offered.