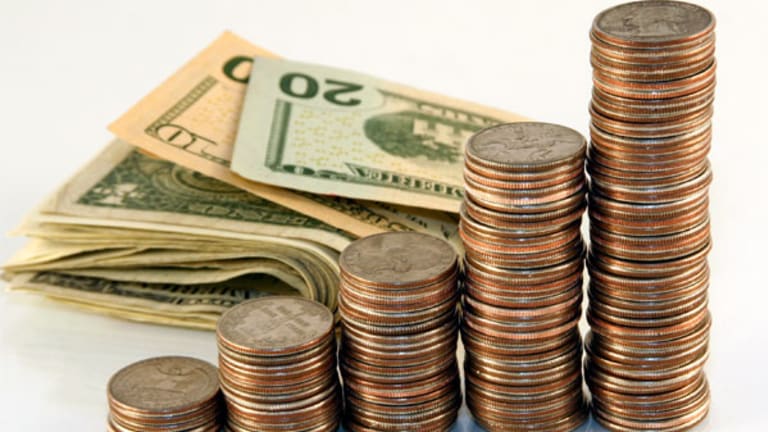 The Beer Dance: Our Craft Beer March Madness Bracket
We put 14 craft brewers from NCAA tournament host cities against each other. You pick the winners.
NEW ORLEANS (
) -- Oh, the sports world has March Madness all right, but you know what March Madness doesn't have? Beer. Not one drop.
No
Anheuser-Busch InBev
(BUD) - Get Anheuser-Busch InBev SA/NV Report
and Budweiser signs scattered throughout arenas. No
MolsonCoors
(TAP) - Get Molson Coors Beverage Company Class B Report
ads imploring fans to tap the Rockies. Nothing. What the big guys see as a loss, however, should be craft beer's shot at a Cinderella Story.
The NCAA Division I Men's Basketball Tournament is the biggest event in a college sport played by athletes predominantly below the legal drinking age. The NCAA bans alcohol sales during all its championships except football's postseason and bowls -- which it doesn't run -- and limits alcohol ads to malt beverages, beer and wine products with a sessionable 6% alcohol by volume or less. Even at that, beer ads made up less than 6% of all advertising during last year's Final Four.
That means
AT&T
,
Capital One
(COF) - Get Capital One Financial Corporation Report
and
Coca-Cola
(KO) - Get Coca-Cola Company Report
can splash their names all over the Big Dance without a care in the world while Bud and Coors have to watch the action from the cheap seats. If
Allstate
(ALL) - Get Allstate Corporation Report
,
Lowe's
(LOW) - Get Lowe's Companies, Inc. Report
,
Unilever
,
GM
(GM) - Get General Motors Company Report
,
UPS
(UPS) - Get United Parcel Service, Inc. Class B Report
or even
Hershey's
(HSY) - Get Hershey Company Report
come sniffing around for seats as corporate sponsor, the NCAA's answer is "Who needs two?" If
Diageo
wants the tournament's help selling a bit more Guinness around St. Patrick's Day, it has to stand in the cancellation line with everyone else.
With the NCAA putting the median age of the typical March Madness brewer at 48, there are still good odds for any brewer trying to make inroads with college fans through the tournament. It'll just take some local focus, a lot of legwork and a product that separates itself from the field: You know, the stuff regional and craft brewers rely on year-round.
Taking a look at the NCAA Tournament's host cities, we couldn't help but notice that each had one or more craft brewers either in town or nearby that could factor into as many road trip stories as opposing team cheerleaders or rich alums buying rounds. With the NCAA's rules leveling the playing field between those little guys and the big brewers, we figured it might not be a bad idea to see the best of what those brewers had to offer.
We went over the 14 host cities and with the help of ratings sites RateBeer and BeerAdvocate and some of the best research imaginable and were able to pick a beer to represent each city or region. Our one caveat was that they should be beers that could be enjoyed during the games -- not heavier than 7% ABV. Armed with that information, we gave First Four and Final Four hosts Dayton, Ohio, and New Orleans each a first-round bye for their trouble and bracketed the rest of the field based on region.
The result was The Beer Dance: A 14-pack of local favorites all vying for your affections over the next three weeks. Here's a look at which beers made the bracket and why:
East bracket
Boston:
It's tough to pick just one in a town that's also home to Harpoon Brewery and a region home to countless other craft choices, but Sam's national presence and notoriety made the decision a bit easier. The fact that
Boston Beer
(SAM) - Get Boston Beer Company, Inc. Class A Report
still makes dozens of beer styles when it could just coast on Boston Lager only strengthened the argument.
Craft beer fanboys argue constantly over whether Sam is still considered craft, but Boston Lager's easy-drinking 4.9% ABV and lovely balance of hoppy aroma and malty flavor makes a strong argument all its own. Boston Beer founder Jim Koch made the first batch of Boston Lager in 1984, and it's been a craft beer gateway brew ever since.
Columbus, Ohio:
Columbus Brewing's Columbus IPA
Hear that, Columbus? That's the sound of a bunch of PAC-10 alumni laughing at the thought of an Ohio IPA.
Don't wait for Urban Meyer to take Ohio State back to the Rose Bowl to exact revenge on those hopheads. Just hand them a bottle of this 6.5% ABV, 50 IBU beauty and let them get a sniff and sip of those citrusy Simcoe hops.
Then note the look of shock on their faces when it reaches its none-too-bitter finish while providing just enough malt to make them ready for more. That's right: Ohio can work its way around a hop without making drinkers feel like they've swallowed a grapefruit coated in lawn clippings. It has since 1988.
The Town doesn't need the Buckeyes to take on the best the West Coast has to offer. Just try the IPA.
Pittsburgh:
Penn Brewery's Penn Gold
Cans of Iron City Beer or bottles of Rolling Rock may have their place in Western Pennsylvania's beer history and iconography, but Penn Brewing's beers are in the region's veins. Made in the tradition of brews brought over by German settlers in the late 19th century, Penn Brewing pilsner, marzen, weizen, weizenbock and Oktoberfest beer has been as much a part of Pittsburgh as Primanti Brothers sandwiches and the Steelers since 1986.
Its Penn Gold, however, is in a class by itself. A Munich-style beer with 4% ABV, a light color and none-too-heavy body is the essential all-day beer. It has all of the flavor of a beer garden stein full of much darker stuff, but all of the weight of dad's lawnmower beer.
Nashville, Tenn.:
Yazoo Brewing's Dos Perros
You can play it as safe as Taylor Swift with your craft beer and still find an audience, but Yazoo has been taking more chances since it was founded in 2003 than the city's country music industry has in years.
We would have included the brewery's malty Sue porter, with a malty texture ensconced in enough smoke to make Tennessee BBQ seem mild by comparison. Unfortunately, that bad boy weighs in at a hefty 9% ABV.
Instead, we give you Yazoo's take on Mexican brewing that combines a whole bunch of Munich, English and Chocolate malt with two forms of hops and just a hint of maize flake. The result is a light, sessionable 3.5% ABV brew that matches up mighty well with some spicy BBQ, Thai dishes or a big plate of cheddar-and-jalapeno arepas. It's what people who lie on the beach in beer commercials would drink if they could get their hands on better beer.
South bracket
New Orleans:
Abita Turbodog
Abita gets a bye in the first round, but it's ready to dance right now.
Abita has been a New Orleans staple since 1986, and the beers that flow from the brewer's Abita Springs facility will be front and center during the Final Four festivities. If you want to make it to the championship and need something with alcohol content a little less hefty than a hurricane in a plastic cup, that's where Turbodog comes in.
A simple English brown ale that combines Willamette hops with pale, crystal and chocolate malt, Turbodog has a mild chocolate-and-toffee flavor to match its 5.6% ABV. It'll likely be the only thing that mellow in New Orleans during the Final Four.
Atlanta:
Sweetwater's 420 Extra Pale Ale
Sweetwater's location puts it in our South Bracket, but its heart was hoping it would be seeded out West.
Founded in 1997 with the hopes of bringing a West Coast-style brewery to Atlanta, Sweetwater excels when it's allowed to sweeten up the brew a bit. Its popular 420 Extra Pale Ale is no exception in combining a mouthful of fruity, citrusy Pale Ale flavor into an East Coast-appropriate 5.4% ABV package.
It's the kind of pale ale Sierra Nevada built a brand on, and it's a brisk sipping beer perfect for when Atlanta temperatures break into the mid-70s. Considering that's about where the mercury will be around tourney time, 420 is a tough pale ale to pass up ... especially for folks whose lips pucker at the thought of an overly bitter IPA.
Greensboro, N.C.:
Foothills' Hoppymum IPA
It was incredibly difficult to pass over a cocoa-infused imperial stout with notes of espresso, molasses, toffee and dark fruit, but at 9.75% ABV Foothills' Sexual Chocolate is about as subtle as
vocal stylings.
Instead, we ratcheted the alcohol level down a notch and went with the incredibly hoppy Hoppymum IPA at 6.2% ABV. Heavy on the Simcoe hops and boldly bitter, Hoppymum isn't for IPA drinkers seeking half measures.
It's as pungent as a double IPA twice its size, but has a nice dry finish that won't leave another one out of the question.
West bracket
Albuquerque, N.M.:
Marble Brewery's Marble Red Ale
The Southwest seems to love it a simple, flavorful ale recipe, which is why a great old-school red ale such as Marble's goes a long way with beer drinkers in this town.
Marble's only been around since 2008, but its Red Ale has all the character of a recipe several times its age. Brewed with caramel malt and three kinds of hops, the Red Ale has lovely copper-red color that looks every bit as good as its creamy texture and semi-citrusy finish taste.
At 6.2% ABV, this beer's just slightly more potent than its flavor suggests. Still, it's just mild enough to be savored slowly.
Portland, Ore.:
BridgePort Ale's IPA
If we could have forfeited this pick, we would have. As it is, there's no way to win by picking just one beer to represent Beervana.
The Rogue, Ninkasi, Deschutes and Full Sail breweries had plenty of brews up to the task, but they're each headquartered outside of Portland and had to go just to whittle down the list. Hair of the Dog has incredible brews, but a whole lot of their best drift into 10% ABV territory or higher. The
Widmer Brothers
( HOOK) were among craft beer's pioneers.
In the end, though, it was BridgePort IPA that won the day. We know, a West Coast IPA -- how original. Well BridgePort's IPA has about as much distance between it and the stereotypical mouthful-of-hops IPAs of the West Coast as Portland has between itself and a tournament-bound college basketball team.
It's not exceedingly bitter, nor is it as bland as what the East Coast generally considers an IPA. It's very fruity but, more importantly, the balance of malt and hops and its cask conditioning make it highly complex without being offputting to new drinkers. While its contemporaries try to be as bitter as possible to keep the riff-raff away, BridgePort's flavorful, easy-to-drink 5.5% ABV IPA welcomes everybody to the game. It's something the brewery's been doing fairly well since 1984.
Phoenix:
Four Peaks' Kilt Lifter Scottish Ale
It's the funny name that gets this strong Scottish ale on taps and in beer aisles across the country, but it's the mild malty flavor that keeps it around.
True to the ales of its heritage, Kilt Lifter doesn't do much to get in the way of a good session. It's thick to the point that you almost wonder if they forgot to carbonate it, but smooth enough to go down easier than its 6% ABV would suggest.
If you're into caramel, malt or things that smell and taste like warm baked goods in general, Kilt Lifter will likely be enough to settle the nerves after a few double OT nail-biters.
Omaha, Neb.:
Upstream Brewing's Flagship IPA
Nebraska's serious about its college sports, and it doesn't take its beer lightly either.
Upstream is better known for its high-powered Belgian-style Grand Cru and whiskey barrel-aged Ebenezer, which each manage about 9% ABV, but its Flagship IPA is no slouch. Though slightly underpowered at 6.2% ABV, it's still bursting with Cascade hops and a citrusy undercurrent.
We'll admit, Upstream has a bit of a pre-fab quality to it from the outside and its casual-dining menu doesn't inspire a whole lot of confidence at first glance. But the place is built around its beer and its Flagship IPA pulls no punches.
Midwest bracket
Dayton, Ohio:
Great Lakes Brewing's Edmund Fitzgerald Porter
The other town with a bye week in our bracket, Dayton lacks a strong craft presence of its own but is surrounded by an increasingly craft-heavy state in Ohio.
Instead of choosing Dayton's representative by proximity, however, we simply chose the best Ohio brew available in its taps and fridges. That's Edmund Fitzgerald Porter by a wide margin.
If you're a St. Patrick's Day-only Guinness drinker or a dark-beer pro who likes their porter to resemble motor oil as closely as possible, this is going to meet your needs. With lots of chocolate and roasted malts pairing with just enough English and Cascade hops, this mild English porter is far more sweet than it is bitter.
Sugar, caramel, chocolate, coffee -- all of those flavors make this more confection than beer. There's just a bit of hops on the tongue at the end to remind you what you're drinking, but this is as flawless an example of a porter as you'll find on these shores.
With all due respect to Mr. Gordon Lightfoot, this is a well-crafted tribute to a tragic loss. The Edmund Fitzgerald and its 29-person crew have been gone for more than 35 years, but this is as good a way as any to keep their memories alive.
St. Louis:
Schlafly Beer's Dry Hopped APA
If you're going to open a craft brewery in Anheuser-Busch's backyard, you'd better not bring some weak brew that tastes like glorified Michelob.
We had doubts about Schlafly Brewing when we first encountered a stray bottle of its special-release Pumpkin Ale in Chicago a few years back. Yet just as New Belgium and Avery breweries have flourished in Coors' long Colorado shadow, Schlafly has thrived as a craft alternative to the big brewery for more than 20 years.
Its Christmas Ale full of orange peel, berries, ginger, cardamom and clove is one of the best holiday seasonals in the country, but it's the regular lineup that's really made inroads -- even securing some tap space during Cardinals games at
Busch Stadium
. It boasts a simple, sessionable 4.4% ABV Pale Ale as its flagship beer, but the showstopper is a Cascade and Chinook hop-heavy Dry Hopped American Pale Ale. Just hoppy, bitter and aromatic enough to provide more punch than the standard Pale Ale, but sweet enough to prevent big-beer converts from recoiling in horror.
It's on the smaller side for an IPA at 5.9% ABV, but that's not such a bad thing if there's more than one in your future. Visit the Anheuser-Busch brewery, see some Clydesdales, but if you want more hops and malt than you'll find in a Bud, Schlafly should be your next stop.
Louisville, Ky.:
Bluegrass Brewing's American Pale Ale
It's understandable for barflies from beyond Kentucky's borders to turn their thoughts to distilleries instead of breweries when it comes to imbibing in the Bluegrass State. Kentucky supplies 95% of the world's bourbon, which accounts for $1.1 billion in U.S. exports and $2 billion of Kentucky's economy.
Where a bourbon lover looks at a bourbon barrel and see's God's gift to whiskey, a beer brewer sees it as a challenge. Oak barrel conditioning and aging is nothing new in the brewing world, but Bluegrass Brewing takes it a step further by procuring its barrels from the Four Roses distillery in Lawrenceburg and serving four barrel-aged brews at a clip.
We heartily recommend any four of these, which rotate in and out on a seasonal basis and typically have a higher ABV than the standard brews. If you're seeking consistency, however, there's no better place to start than with the Dark Star Porter. Not only is it a smooth, dark, chocolate-and-caramel concoction that warms the chest without scorching the tongue, but this 5.6% ABV is a nice gateway to BBC's 7.5% ABV Bourbon Barrel Rye Porter. We suggest checking into the St. Matthew's location on Wednesday night for some prime picking during their Bluegrass Jam and for a pint of near-perfect porter that could blacken the blue moon of Kentucky.
-- Written by Jason Notte in Boston.
>To contact the writer of this article, click here:
Jason Notte
.
>To follow the writer on Twitter, go to
.
>To submit a news tip, send an email to:
.
RELATED STORIES:
>>Sierra Nevada CEO Makes East Coast Beer Run
>>How Tapping The Jewish Beer Market Begat A Plan
>>Why Craft Beer Doesn't Have A Super Bowl Ad
Follow TheStreet.com on
and become a fan on
Jason Notte is a reporter for TheStreet. His writing has appeared in The New York Times, The Huffington Post, Esquire.com, Time Out New York, the Boston Herald, the Boston Phoenix, the Metro newspaper and the Colorado Springs Independent. He previously served as the political and global affairs editor for Metro U.S., layout editor for Boston Now, assistant news editor for the Herald News of West Paterson, N.J., editor of Go Out! Magazine in Hoboken, N.J., and copy editor and lifestyle editor at the Jersey Journal in Jersey City, N.J.