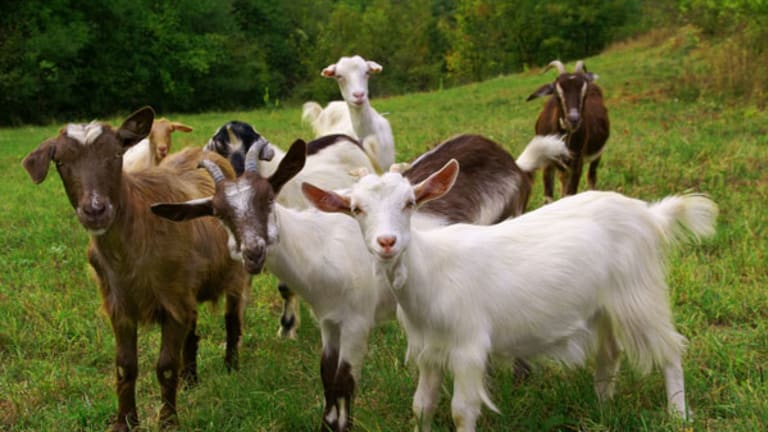 The 5 Strangest (and Best) Lawn and Garden Care Tactics You Can Buy
Here are some natural, alternative solutions to some of spring's peskier, more expensive problems.
PORTLAND, Ore. (TheStreet) -- Giant home centers such as Home Depot (HD) - Get Home Depot Inc. (The) Report and Lowe's (LOW) - Get Lowe's Companies Inc. Report have already opened their hangar-sized doors to accommodate the flood of spring business, but some of the best home and garden solutions available can't be found in their warehouse aisles.
As Americans start dusting off their garden equipment, ripping out weeds, emptying pots of long-dead plants and generally tidying up a bit, the home and garden industry is expecting a continued recovery from a recession that saw most homeowners make do with what they had and most renters put off buying for a bit. As new and existing home sales rebound, spring home and garden sales have followed.
Also see: Last-Minute Tax Tips For 2013
According to the Census Bureau, home and garden retailers took in $86.3 billion from March through May 2006, but saw their take fall as low as $67.7 billion at the height of the recession in 2009. While the $73.9 billion worth of shovels, rakes, soil and saplings bought last spring aren't a complete recovery, they're at least a bit sunnier than the slump the industry experienced for the past five years or so.
Then again, the American consumer's become a lot more frugal over the past couple of years and isn't going to buy a riding mower just to keep up appearances around the McMansion. In fact, buyers have no problem laying off the big-ticket power products altogether if there's a less expensive but similarly effective solution.
We took a look around the neighborhood and over the neighbors' fences and found some natural, alternative solutions to some of spring's peskier, more expensive problems:
Goat rental
Whether you have just enough front or back yard to get overgrown and unwieldy or find yourself overrun with nasty, prickly, invasive plants that just won't go away, nature has already devised the ultimate solution to your problem.
A good goat not only turns your kitchen scraps into easily degraded compost, but will go after kudzu, blackberry vines and other invasive species that can otherwise ravage a yard or field.
Google
(GOOG) - Get Alphabet Inc. Report
has used them to
at its Mountain View, Calif., campus and the U.S. Fish and Wildlife Service, the Bureau of Reclamation, the Bureau of Land Management, the Forest Service and the city of Seattle have all used goats to manage their property and keep grass, weeds and other plants at bay.
Also see: 9 Dumb Mortgage Moves
Goats are relatively inexpensive and require only what they eat as fuel. Companies such as
and
Rent A Goat
will lend you their goats for as much time as you need and can provide as many as 30 at a time on their own or through farm subcontractors. How many do you need? It depends on the size of the plot, but the folks at
Gizmodo
and
Movoto
have come up with an app for that. Just feed your property's measurements to
their calculator
and you'll get a pretty good idea of how many goats, cows, pigs or guinea pigs it'll take to tame your land in a day. It'll also give you an estimate of how many chickens will be required for the same job, which brings us to ...
Chicken coops
So not only can chickens tend to your little spot of earth; they'll go a step further and give you a steady supply of eggs for the cost of care and feed.
They're not the simple rental like their goat friends, though, and can get a bit involved in a hurry. Rural areas tend to have farm stores such as
,
,
and
that will not only occasionally give away chicks for free, but show new owners how to set up a coop, install heat lamps, feed chickens, fence them properly, deter predators and get the most egg for their money.
For city folks, however, there's a growing number of "chicken consultants" available in cities including
,
and
Dallas
that will not only get you set up with a coop and chickens, but offer advice if they get sick (and make house calls). In some cases, as
CNN found
in Los Angeles, consultants will offer chicken sitting services while urban owners are out of town.
Bee gardeners
Your garden doesn't pollinate itself, and the world's be population isn't what it once was. While once limited to larger farms and orchards, beekeepers and apiarists now lend their services to anyone.
Services such as Redwood City, Calif.-based
, Fairmount, Ill.-based
and Eastern Tennessee's
will either lend out bees to pollinate farms and gardens, teach gardeners and farmers how to keep their own hives of bees or sell bees to folks who want them.
Also see: 7 Things You Should Be Doing to Live to 100
While some rental and pollination services will give customers pounds worth of the honey made during the spring and summer, those in it for the long haul may want to consider investing in bees of their own. Not only will it help a farm, garden or orchard thrive and leave lots of honey and wax to work with, but it'll give beekeepers and excuse to pick up snazzy-looking cedar hives like those produced by Portland-based
for the garden or backyard. What's the point of artisanal urban beekeeping if you can't look good doing it?
Manure fuel
Sure, you could just restrict your exposure to manure to the few times you need some to fertilize the occasional planter or garden bed, but that won't get you much mileage.
in Fair Oaks, Ind., uses 5 million pounds of manure from its 30,000 cows to not only power its milking equipment, 10 barns, a cheese factory, a cafe, a gift shop, a dairy museum and a movie theater, but to provide natural gas for its 42 tractor-trailers. That's taking 2 million gallons of diesel fuel off of American highways and has the potential to take a 10 million gallon bite out of America's 135-million-gallon-a-year gasoline habit.
The best part? If you're near one of the 15 locations in Texas and the Midwest where Fair Oaks Farms and Chicago-based
AMP Americas
are partnering to set up natural gas filling stations, you and the converted engine of your choice can ride on the remnants of cow droppings for miles.
Household weed killer
The worst part of spring for any homeowners with grass, clover, moss or anything green on the ground is the moment those first yellow-headed succubi known as dandelions start showing their sunny, smug little faces around your property.
Mow them, you say? They just come back. Yank them out by the roots? You try it, tough guy. It's as if someone tied them down with Gordian knots beneath your soil. Get some of that high-potency, long-lasting weed killer to, ahem, round them up? Only if you're cool with killing a bunch of stuff around them, tainting the groundwater and potentially making the very thing you're trying to kill a stronger, mutated version of itself.
Know what you need to stock up on, according to the good folks at
PlanTea
? Boiled water, mulch, tarps and vinegar. It sounds really dumb, but pouring boiled water on dandelions will reduce them to dead, wilted husks of their former selves just a few weeks after a good dousing.
If you don't want to wait that long, smother them with some mulch or tarps to deprive them of oxygen. That will also likely kill whatever's around them, so don't commit to this unless you're willing to resign yourself to a mulch bed and little else.
Also see: 12 Ways Skimping Now Can Blow Up in Your Face Later
A far more effective method is using a 5% concentration of vinegar -- that's household vinegar to you and me -- to spray the dandelions to death. The vinegar acts as natural herbicide, but doesn't linger around in the soil to kill the plants you'd prefer to keep alive. This works on not only dandelion, but foxtail, velvetleaf, smooth pigweed and thistle as well. Happy pickling.
-- Written by Jason Notte in Portland, Ore.
>To contact the writer of this article, click here:
Jason Notte
.
>To follow the writer on Twitter, go to
.
>To submit a news tip, send an email to:
.
RELATED STORIES:
>>How Tapping The Jewish Beer Market Begat A Plan
>>Sierra Nevada CEO Makes East Coast Beer Run
>>Craft Brew Founder Widmer Savors Results
Jason Notte is a reporter for TheStreet. His writing has appeared in The New York Times, The Huffington Post, Esquire.com, Time Out New York, the Boston Herald, the Boston Phoenix, the Metro newspaper and the Colorado Springs Independent. He previously served as the political and global affairs editor for Metro U.S., layout editor for Boston Now, assistant news editor for the Herald News of West Paterson, N.J., editor of Go Out! Magazine in Hoboken, N.J., and copy editor and lifestyle editor at the Jersey Journal in Jersey City, N.J.