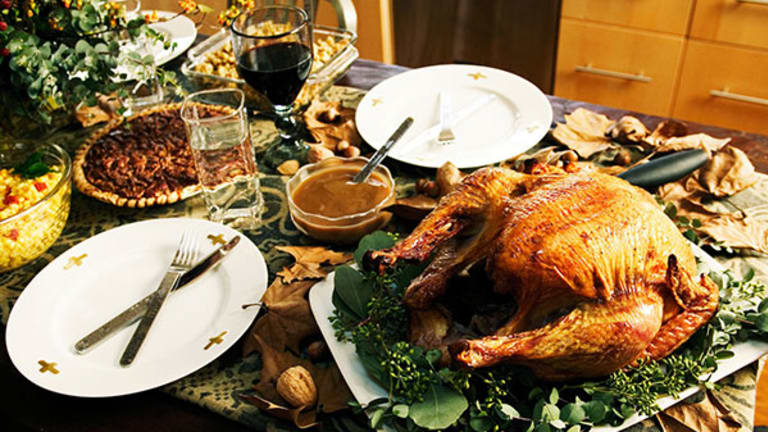 Thanksgiving Doesn't Deserve Your Pity
Our national debate over the sanctity of Thanksgiving and how we celebrate ignores the holiday's own history.
PORTLAND, Ore. (TheStreet) -- It's the second least popular consumer holiday on the calendar, and isn't far from the cellar. It wasn't celebrated nationwide until roughly 200 years after the event it commemorated. It starts with a giant rolling commercial, is packed with 12 hours of NFL football and ends with people shoving each other over $98 televisions.
Exactly why does everybody get so defensive over Thanksgiving?
Honestly, we really aren't too sure. We hear retorts about family time, tradition, country and even religion, but none of those explanations even come close to aligning with the history of the holiday or how it came to inhabit our cultural calendar.
The story we most commonly hear is that of the Pilgrims of Plymouth Plantation holding their harvest feast with the Wampanoag tribe in 1621. Lore tells us of the Patuxet Native American Squanto, who taught the newly arrived Pilgrims how to grow corn and fish, and about Wampanoag leader Massasoit feeding the Pilgrims when their food supplies fell short. If that's what we're noting, we're doing it wrong. That celebration lasted for three days, but we still can't agree on taking a second day off. We get the turkey and corn parts right, but there should be a whole lot more
deer killed and venison on the table
if we're going to remain true to the original menu. Also, take those potatoes and cranberries off the table and sub in some mussels and lobster. The former didn't hit plates in that region until much later and the latter was even more plentiful in that area than it is today.
If we're celebrating peace between the new colonists and the land's native people, that's just fine -- if the Plymouth Thanksgiving is the one we're recognizing. Massasoit did a fine job of maintaining the peace and had generally cordial relations with the newcomers, but there was another colony where things didn't go quite so swimmingly. Virginia loves to lay its own claim to Thanksgiving and notes that the Jamestown Colony held its own such celebration in 1610 and the small colony of Berkeley Hundred held a similar feast in 1619. Granted, these colonists and their Native American counterparts took a far different turn, as the Powhatan tribes slaughtered many of the settlers during the Indian Massacre of 1622. Reprisals by the remaining colonists included the decade-long seizure of Powhatan land by force and the poisoning of hundreds of Powhatans.
That can't be what we're commemorating, can it? No, it can't: mostly because the Thanksgiving holiday was born as a means of uniting a divided nation. Though President George Washington first declared a national day of Thanksgiving in 1789, it wasn't celebrated annually as a national holiday until 1863. That's right, Abraham Lincoln only made it a holiday 150 years ago in an attempt to settle tensions between the North and South. Since the South had already seceded, it didn't have much use for Lincoln's little holiday until about 1870.
We rarely even celebrate it on the day Lincoln dictated. While he wanted it on the final Thursday of November, President Franklin Delano Roosevelt changed it to the fourth Thursday of November back in 1939 to boost the economy a bit. This led one of our nation's most beloved holiday traditions: Complaining about the commercialism of Thanksgiving.
Republicans were furious about the move and noted that calendars, vacation days and even football games would have to be moved. A full 22 states kept the old date, while three celebrated on both dates. Atlantic City mayor Thomas Taggart, ever the Jersey wise guy, declared the new date "Franksgiving." Our nationwide freakout didn't officially end until 1956, when Texas finally got with the program and stopped using the old system.
Now, it just doesn't seem as if the U.S. is even that into the holiday at all. According to market research firm
IBISWorld
, Thanksgiving-related spending added up to $7.8 billion last year. That's just above the $7.41 billion spent on Halloween and well behind the $69.2 billion spent on Christmas. Even Mothers Day more than doubles its take at $17 billion.
Last year, a
Google
(GOOG) - Get Alphabet Inc. Class C Report
survey found that Thanksgiving joined Black Friday and the day after Christmas as the biggest days of the year for shopping-related mobile searches. The National Retail Federation found that 23.5% of shoppers surveyed planned to shop on Thanksgiving, with a whopping 39% of those ages 25 through 34 looking to hit the stores. Why? Because they can.
Wal-Mart
(WMT) - Get Walmart Inc. Report
,
Macy's
,
Kohl's
(KSS) - Get Kohl's Corporation (KSS) Report
,
Sears
(SHLD)
,
Target
(TGT) - Get Target Corporation Report
,
JC Penney
(JCP) - Get J. C. Penney Company, Inc. Report
and
Best Buy
(BBY) - Get Best Buy Co., Inc. Report
and others see it as a great way to boost sales during a year in which they're all underperforming. The NRF found that more than 35 million people started their holiday shopping on Thanksgiving last year, up 22% from 2011 and 58% from 2010. NPD Group, meanwhile, notes that Black Friday weekend sales increase more than 20% for stores open on Thanksgiving and that the more than 30% of those who shop online on Thanksgiving Day trails only the 35% or so who shop on Cyber Monday.
Shoppers, meanwhile, see it as something to do that doesn't involve sitting at home and watching 12 hours of football with uncommunicative extended family. Forget that Macy's drags Santa Claus down to Herald Square behind a parade of corporate logos each Thanksgiving morning to tell everyone it's time to do their Christmas shopping. The NFL has gone to 12-plus hours of broadcast time on network television and will continue to do so for the foreseeable future after getting 16 million people to watch its late game during dessert last year.
Again, however, nobody is forcing anyone to go shopping, watch logo-laden parades or spend half a day grinding a groove into the couch watching athletes miss their own Thanksgiving dinners. The U.S. has collectively decided that this is how it wants to spend one of its few days off. Post all the
petitions you want, lament the fact that
is the only thing promising to be at the Thanksgiving table through the whole meal: You're doing this to yourselves.
Every year, the nation wails, but every year it hits the stores as soon as retailers open the doors and plant themselves on the furniture as soon as the NFL kicks off. Don't cry for Thanksgiving and don't pretend its a societal cornerstone if you aren't willing to cement yourself to the table and chat up your family for a few hours at a time.
Thanksgiving doesn't need pity, it needs a smaller serving of hypocrisy.
-- Written by Jason Notte in Portland, Ore.
>To contact the writer of this article, click here:
Jason Notte
.
>To follow the writer on Twitter, go to
.
>To submit a news tip, send an email to:
.
RELATED STORIES:
>>Here's Your Thanksgiving Playlist
>>Why The NFL Deserves A Thanksgiving Scolding
>>Blockbuster's Self-Inflicted Tragedy Is Our Loss
Jason Notte is a reporter for TheStreet. His writing has appeared in The New York Times, The Huffington Post, Esquire.com, Time Out New York, the Boston Herald, the Boston Phoenix, the Metro newspaper and the Colorado Springs Independent. He previously served as the political and global affairs editor for Metro U.S., layout editor for Boston Now, assistant news editor for the Herald News of West Paterson, N.J., editor of Go Out! Magazine in Hoboken, N.J., and copy editor and lifestyle editor at the Jersey Journal in Jersey City, N.J.