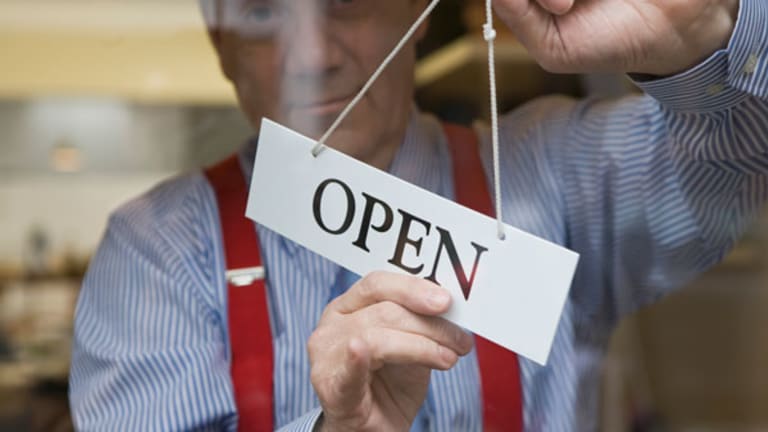 Teenager a Gem in Minority-Owned Small Business Sector
Bridgeja' Baker, owner of Creative Jewelry by Bridgeja', started making jewelry at age 10. Four years later, she hopes to take her jewelry line national.
NEW ORLEANS (
) -- Bridgeja' Baker, owner of
, fell in love with the jewelry-making business at age 10, after an unexpected trip to the orthodontist also led her into a bead and jewelry-making business right next door. With just one visit to that store, she instantly fell in love with the craft and began taking classes offered there.
Baker's mother Bridgette says that Bridgeja' knew she wanted to continue with the business after she made more than $1,100 at her first jewelry-selling party. Thirty-five classes and four years later, with the love and financial support of her parents, New Orleans-based Baker is hoping to start selling her jewelry line through national department stores.
Last year Baker made $15,000 in revenue, a 50% increase from 2010. She expects to exceed that number for 2012.
Winning SCORE's Outstanding Minority-Owned Small Business award for 2012 (SCORE is the Small Business Administration's partner organization designed to mentor entrepreneurs), Baker's company is the second of seven winners to be profiled by
TheStreet
. SCORE celebrated the winners at its fourth annual awards gala in New Orleans on August 16.
>>>Outstanding Veteran-Owned Small Business: SCORE Awards
"Bridgeja' Baker is the future of America," SCORE CEO Ken Yancey said in a statement.
"She founded her business before she was a teenager, and has been a success because of her work ethic and her commitment to her vision," Yancey said. "It is important for us to recognize those outstanding minority-owned small businesses, like Creative Jewelry by Bridgeja', that embody these best qualities of success in small business."
A conversation with Bridgeja' follows.
Tell us about your business and the industry you serve.
Baker:
My company operates by not only offering original designs, but by producing custom, special-order designs for my clientele. The company focuses on the quality selection of jewels and precious stones which require delicate handling and precision placement. The materials used to produce my jewelry designs are sterling silver, gold filled, natural gemstones, pearls, Swarovski crystals and pewter. My jewelry line consist of the following: necklaces, earrings, bracelets, barrettes, wire wrapped bangles/rings, bookmarks, eyeglass holders, cufflinks, lapel pins and tie pins.
In manufacturing my items I never utilize templates or kits for designs. All pieces are custom crafted and hand produced. All designs are crafted until the intended look is achieved.
My designs are made with a contemporary flair in mind, using bold-colored stones and strikingly attractive patterns. My designs are influenced by international cultures and elements such as African, Indian, Brazilian and Middle Eastern art creations.
How has the company been hurt by the recession? And what measures did you take to ensure its resiliency?
Baker:
The recession has hurt the company to some extent. However, I am creative and innovative.
For example, I market my designs
with savvy entrepreneur skills. I teach others how to make jewelry. I have several speaking engagements, conduct workshops and
church functions, which have helped to sustain my business while I continue to work at building my brand and base. I've also obtained a few wedding party contracts to customize the jewelry for two weddings.
I
also network, advertise and use social media which is a very good avenue to receive new customers.
Why is being a minority-owned business important today and important to our economy?
Baker:
I truly believe a minority-owned business is the fabric that makes up the economy. Visit any small town and you will find minority-owned businesses that are the heartbeat of so many communities. I am one of those businesses.
How have you been able to finance your business and tell us why you chose that route?
Baker:
My parents assisted me with the start-up of my business with their funds. I am eternally grateful and very appreciative for their financial backing and support. Granted I did have to pay them back, but I was given a longer period to repay them and at a lower interest rate than any bank could have given me. This was a win-win situation for me and my future.
What are your growth plans?
Baker:
Currently I have several of my designs in three local shops. My goal is within two to three years to expand to department stores nationally. I will continue to expand my line and brand locally before I expand nationally.
What has been the biggest lesson you've learned as a small business owner?
Baker:
The biggest lesson I've learned is when others don't see your vision, offer to buy them glasses!
-- Written by Laurie Kulikowski in New York.
To contact Laurie Kulikowski, send an email to:
Laurie.Kulikowski@thestreet.com
.
>To submit a news tip, email:
.
RELATED STORIES:
>>Outstanding Veteran-Owned Small Business Owner: SCORE Awards
>>Small Business Owners, The Time is Now for Mobile Payments
>>3 Surprising Cities for Small Business Success
Follow
TheStreet
on
and become a fan on
Disclosure: TheStreet's editorial policy prohibits staff editors, reporters and analysts from holding positions in any individual stocks.