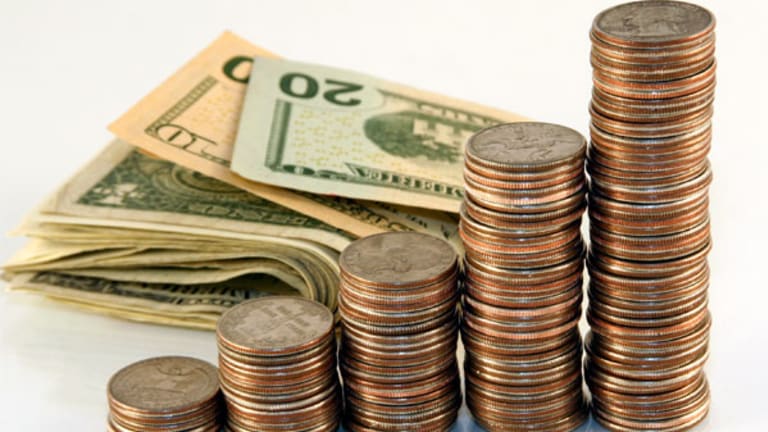 Technology Toys Make Waiting to Buy Pay Off
Let the early adopters pounce on products. Waiting on TVs, games and laptops can save big bucks.
BOSTON (TheStreet) -- How long is too long to wait before you buy the latest technological object of desire?
Early adopters often pay the cost, in cash and quality, for being first in line. They are, in essence, an extension of a company's R&D -- product testers willing to pay for the opportunity.
On the other side of the equation are those so afraid of overpaying for a soon-to-be "previous generation" model that they seem to be always waiting for the best time to buy.
Is there a sweet spot for how long to put off a purchase to minimize cost and maximize quality?
Apple
undefined
aficionados have long touted the "rules" for buying that company's products.
The true fanboys will grab the objects of their obsession the day they hit shelves. Many, however, wait for the "Rev. B," a revision that comes a few months later and, though usually at the same price, fixes bugs and deficiencies. The savvier will wait for future versions that are not only more stable but usually add a missing feature or two.
In recent years, however, it has been harder to follow that playbook.
Consider the iPad. When it hit stores last year, there were almost immediate rumors of better things to come. Hold off buying now, many advised. Soon there will be thinner models, more RAM, a faster processor and video cameras.
Perhaps enticed by marketing, "keeping up with the Joneses" or an appreciation of the zippy, fun device, an estimated 7 million buyers didn't wait for the next generation.
Smartphone junkies are constantly awaiting the next variation of a
Blackberry
(RIMM)
or
Droid
(GOOG) - Get Alphabet Inc. Class C Report
phone, ready to pounce on them Day One. They may do so at their own folly. Being first rarely means getting the best deal.
Back in 2005, iPhone buyers were outraged when, a mere two months after it went on sale, Apple dropped the $599 price tag by $200.
In addition to the peace offering of a $100 store credit, the outcry prompted spin control by CEO Steve Jobs. In an open letter posted on Apple's website, he addressed the role of early adopters.
"I can attest to the fact that the technology road is bumpy," he wrote. "There is always change and improvement, and there is always someone who bought a product before a particular cutoff date and misses the new price or the new operating system or the new whatever. This is life in the technology lane. If you always wait for the next price cut or to buy the new improved model, you'll never buy any technology product, because there is always something better and less expensive on the horizon."
Jobs' observation was harsh but spot on. But even though technology changes rapidly, in terms of price and features, is there an ideal time frame for putting off a purchase to maximize its value and save the most money?
Consider the following six technologies:
HDTV
If you put off buying an HDTV until this holiday season, you may have timed things perfectly. In terms of price, selection and features, this may be an ideal time to finally get in the hi-def game.
Gary Merson, editor-in-chief of the website
, says price and quality have reached an attractive balance this year. The bar has risen -- instead of being on a scale of 1 to 10, now everything is on a scale of 7 to 10 -- and everything is better and cheaper. "There are still areas where there is room for improvement, but not like when they first came out. We are about 80% of the way there now, versus 10% when they first came out," Merson says.
As for the cost, on average prices over the past few years have dropped at an annual rate of 20% to 25%, he says. Even greater price drops can be had by shopping around.
"I was at
Costco
(COST) - Get Costco Wholesale Corporation Report
the other day and they had a 54-inch, top-of-the line
Panasonic
(PC)
plasma for $999," Merson says. "That set would have gone for about $1,800 last year."
3-D TV
Beyond high-definition, 3-D TVs are poised to be the next big thing for consumers -- at least, if
Sony
(SNE) - Get SONY GROUP CORPORATION SPONSORED ADR Report
, Panasonic
LG
(LPL) - Get LG Display Co., Ltd Sponsored ADR Report
and
Samsung
have anything to say about it.
Merson thinks that by this time next year, prices on 3-D TVs will drop as much, if not at a faster rate, than HDTVs did.
"The interesting thing is we have 3-D TVs selling for under $1,000," he says. "The first HDTVs cost $10,000 and, by the end of the year, the cheapest ones were about $5,000. We didn't start at $10,000 with 3-D TVs, we started at about the same cost as a top-of-the-line model the year before without the 3-D feature. It is not apples and apples at all."
It is important to realize that 3-D is really just an added feature set of 2-D TVs, Merson says. In fact, in terms of the technology, it really doesn't take much in the way of signal processing to convert sets so they can display the new format.
What's driving up prices isn't necessarily what you would expect. "The bulk of the cost of is in the glasses, not the television," Merson says.
"I think there is a huge consumer objection, 'You mean I buy this TV and then I have to spend $600 on four pairs of glasses?'" he says. "The glasses will come down in price as they hit an economy of scale. They are going to be dropping significantly next year when they get into the millions in sales."
For those still intent on treating 3-D glasses as a luxury item, Merson says manufacturers are already working on specialized pairs with designer frames and even prescription lenses.
BLU-RAY
Still watching movies on "boring" old DVDs. Good for you. You've saved a bundle by not being an early adopter of Blu-ray technology.
To start with, you may have dodged the bullet of unwisely buying an HD DVD. In the battle between Sony and
Toshiba
to establish a home entertainment standard, Sony and its Blu-ray technology won out. HD TV is now relegated to the scrap heap of history, nestled beside Betamax players.
When they first hit the market, Sony's Blu-ray players sported a retail price of nearly $800, slightly less than what DVD players initially commanded in 1997 (those players fell in price by about half the following year).
According to published data by
, within a year Blu-ray players dropped to about $450, on down to just over $200 in their third year on shelves. This month, Black Friday shoppers could net the average player for under $70 or a feature-loaded one (with streaming capability, a technology unheard of in those earlier, more expensive models) for under $150.
LAPTOPS/NETBOOKS
To loosely paraphrase Moore's Law, attributed to
Intel
(INTC) - Get Intel Corporation (INTC) Report
co-founder Gordon E. Moore: Computing power doubles almost every two years (and becomes cheaper as it does so).
Given that computers, desktop and portable alike, have been around for decades, that translates into a whole lot of extra power for far less cash
Portable computing has never been a luxury for many, merely a crucial need they never knew they needed until the technology hit shelves. Putting off the purchase was easier said than done over the years. But if you were able to hold out, even for the past few years, the cost savings would have added up tremendously.
Today, the average consumer can find a perfectly suitable
Microsoft
(MSFT) - Get Microsoft Corporation (MSFT) Report
Windows- or Linux-powered laptop in the $500 range. Those opting for reduced form factor and CPU power can find netbook deals for under $250.
It might have been hard to imagine such prices back in 1998 when consumers cheered the first laptops to drop below the $2,000 mark (just a year earlier $3,000 to $3,500 was ballpark).
Back in 1995, the price points were even more remarkable by today's standards. An Apple PowerBook 190cs (with a mere 10.4" display) retailed for $2,200; the more "professional" Powerbook 5300cd commanded a king's ransom of $6,000. By comparison, the new MacBook Air, a lightweight laptop with a flash hard drive, starts at about $1,000.
MP3 PLAYERS
Recall, if you will, the first iPod, released in late 2001. Your $400 netted a mere 5 gigabytes of storage for your music collection.
Fast-forward a year and the price dropped by $100. The leftover money could go to as much as 20 gigabytes of capacity.
Today, for the same price, you can buy an iPod Touch with 32 gigs, a built-in Web browser, email capability, access to thousands of "apps," a built-in camera, video conferencing, a movie player and an e-book reader. Oh yeah, and it plays music.
VIDEO GAMING
If you have been holding out on buying a video game system until this year, you may have saved enough to buy a copy or two of
Activision's
(ATVI) - Get Activision Blizzard, Inc. Report
Call of Duty: Black Ops
.
Earlier this year, Xbox consoles had $50 knocked off their sticker price. Last year, Wii systems were marked down $50 and there was a $100 price cut on Sony's PS3 systems.
Is it worth waiting to see if prices drop further? Because the console itself is a loss leader -- true profits come from the sale of the games -- it is unlikely to see prices drop very far on an Xbox, Wii or Playstation. Instead, be prepared to drool over new accessories, such as the $150 Xbox Kinect motion sensor or the PS3's Wii-like Move wand.
As for the games, if you can resist the siren call of first-person shooters, waiting a year can cut the price of a game by 50% or more. The popular
Halo Reach
, once retailing for $60, can be found on sale for $35 at many retailers.
There may also be a push to drive down the high cost of new games with some industry leaders, among them Brian Farrell, CEO of
THQ Inc.
(THQI)
, a developer and publisher of interactive games, advocating a $40 standard.
-- Written by Joe Mont in Boston.
>To contact the writer of this article, click here:
Joe Mont
.
>To follow the writer on Twitter, go to
.
>To submit a news tip, send an email to:
.
RELATED STORIES:
>>10 Eccentric Sites For Holiday Shopping
>>6 Hyped Tech Innovations That Elicited Yawns
>>Panasonic, Samsung Roll Out 3D-TV Deals
Get more stock ideas and investing advice on our sister site,