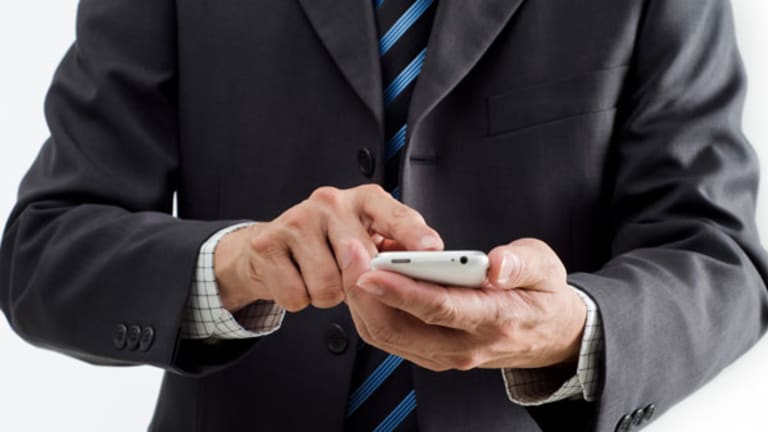 Tech Rights Give Companies Upper Hand
When dealing with a larger company, a smaller firm should ensure it controls its own technology.
BOSTON (
) -- In his company's most recent earnings conference call,
Netezza
( NZ) Chief Executive Officer Jim Baum focused on the launch of a new hardware platform and the phasing out of an older one.
"We were very proud of the fact that we were able to manage this transition with no disruption to our business," he said.
But a lawsuit filed against one of the company's business partners says otherwise. Now, Netezza's ability to offer geographic-information software may be in jeopardy, straining customer relationships with the likes of the Central Intelligence Agency.
Regardless of what will happen in court, the complaint illustrates the power that a small company can wield if it holds on to its own source code, or technology, when teaming up with a big company. The case brings to mind how Skype's co-founders shook up the market when their company,
Joltid
, sued
eBay
, charging eBay had been using Joltid's technology without permission. In other words, when eBay bought Skype for $2.6 billion four years ago, it didn't buy all the source code associated with running Skype. EBay eventually settled the suit, though the source-code issue threatened eBay's plans to sell a big chunk of Skype to investors for $2 billion.
At issue is the source code behind Spatial, geographic-data-analysis software that can parse and pinpoint map-based information such as hurricane patterns and wireless phone calls.
Intelligent Integration Systems
, a small Boston-based software company, developed the technology behind Spatial, which initially ran on Netezza's previous data warehousing platform, the Netezza Performance Server. (Offering geospatial capabilities helps Netezza compete with companies such as
Oracle
(ORCL) - Get Oracle Corporation Report
and
Teradata
(TDC) - Get Teradata Corporation Report
.) Netezza's old platform ran on processors from
Motorola
( MOT). The newer platform, dubbed TwinFin, runs on chips from
Intel
(INTC) - Get Intel Corporation Report
.
To that end, moving a software application from one platform to the next would require a rewrite of the geospatial source code, which Intelligent Integration Systems owns. Intelligent Integration Systems officials say they didn't know about plans for TwinFin when they signed the contract with Netezza, and that the company never agreed to develop software for future platforms. But the lawsuit alleges that Intelligent Integration Systems is contractually required to port the Spatial software to TwinFin, and states that along with suing the company, Netezza is ending its contract with Intelligent Integration Systems.
"Intelligent Integration Systems' delay in developing a 'port' of the Geospatial Product to the TwinFin was endangering an existing customer relationship with a large government agency and would interfere with Netezza's efforts to sell the Geospatial Product as an extension to TwinFin," Netezza's complaint says. And while Netezza doesn't disclose the customer in the complaint, an attached letter filed with the Suffolk County Superior Court refers directly to the CIA.
"As for the urgency of work for the customer referenced in your Oct. 14, 2009, letter, is my understanding that Paul Davis
CEO of Intelligent Integration Systems was contacted by Skip McCormick, who claimed to be accompanied by an employee of Netezza and who also represented that he was the 'CIO of the CIA,' " reads a letter from the defendant's attorney,
Quinn Emanuel
partner Kevin Reed, to the plaintiff's general counsel, Corey DuFresne. (According to a CIA spokeswoman, the agency's chief information officer is Al Tarasiuk, not Skip McCormick, although a Google search yields references to a Skip McCormick at the CIA.) The attorney's letter goes on to say that Intelligent Integration Systems contacted Netezza to arrange for non-disclosure waivers that would allow Intelligent Integration Systems to talk to the CIA.
In the Oct. 14 letter, Netezza's counsel asks Intelligent Integration Systems to port the geospatial software to the TwinFin platform by Oct. 23, threatening that if Intelligent Integration Systems neglects to do so and Netezza loses its customer, "Netezza will incur substantial damages." However, Netezza didn't provide Intelligent Integration Systems with a TwinFin appliance until the first week of October, according to a letter from Davis to Netezza's Baum and product manager Jon Shepherd. Davis suggests that Netezza planned to offer Spatial for TwinFin to the CIA before the product was feasible, not to mention before Intelligent Integration Systems had agreed to create it.
"Jon's statement, apparently embraced by Jim, that the customer can 'just work with whatever we give them' is not consistent with how Intelligent Integration Systems works," the letter says. "We really don't believe that is how our national security agencies work. Frankly, that response suggests a cavalier sales approach to a profound issue. Lives are at stake. Frankly, we are concerned that, on these critical national-defense issues, Netezza appears to be trying to sell products that don't exist and to which it has no legal rights."
A CIA spokeswoman said that the agency "does not, as a rule, comment publicly on matters before the court." (An online search confirms that someone named Skip McCormick has a CIA e-mail address, but the CIA didn't respond to requests for his title.) Netezza also declined to comment on pending litigation. Defendant Intelligent Integration Systems declined to comment on the case too. But its chairman -- a former Army helicopter pilot and a founding officer of genome-mapping company
Celera Genomics
( CRA) -- criticized Netezza for putting the aforementioned documents into the public record.
"We were surprised to see that Netezza publicly disclosed information about the use of Netezza and Intelligent Integration Systems' spatial toolkit in intelligence matters," said Marshall Peterson, co-founder of Intelligent Integration Systems, in an e-mail message to
TheStreet.com.
"This is generally not considered good practice since the knowledge of the tools used can help our enemies better understand our intelligence capabilities and how to best circumvent that capability."
"Netezza's statement that the CIA wanted code that was not tested is also surprising," Peterson said. "As a combat veteran, I can speak from experience that reliable information is crucial to combat operations. The worst nightmare of every soldier, every pilot -- anyone involved in combat operations -- is to mis-target and hit allies or non-combatants in so-called friendly fire. I cannot believe that the CIA or any other agency of the U.S. government would utilize any software or tools that were not well-tested and proven before putting our troops and our national interest at stake."
-- Reported by Carmen Nobel in Boston.