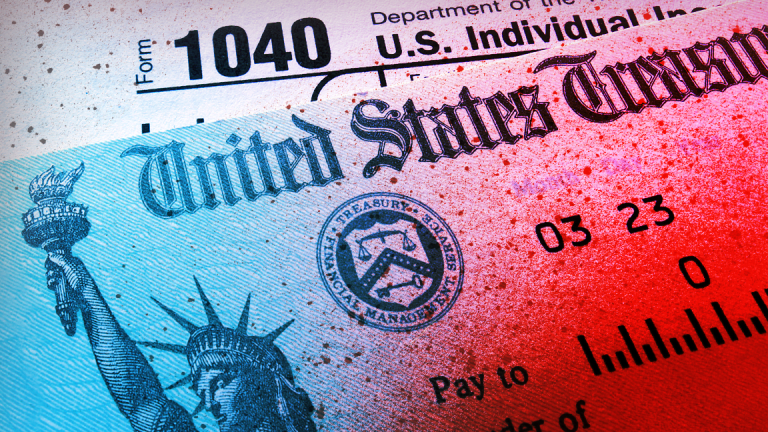 Your Tax Refund Should Not Be Your Emergency Healthcare Fund
Healthcare payments spike the week after tax refund checks go out, but there are better ways to cover health and emergency expenses.
The average American taxpayer has finally built emergency fund for healthcare.
Unfortunately, it's their tax refund.
More than half of U.S. workers (54%) told the Financial Industry Regulatory Authority that they don't have the equivalent of 12 to 18 months of pay saved for an emergency fund. As a result, the JPMorgan Chase Institute found that the level of overall healthcare spending is 60% higher in the week after receiving a tax refund payment than in a typical week during the 100 days before. After that tax refund check arrives, out-of-pocket healthcare spending on debit cards increases by 83%, without an offsetting change to credit card spending.
That indicates that having cash on hand changes healthcare spending, as does the fact that 62% of that post-refund healthcare spending triggered was paid to healthcare providers in person. While checking account holders with more than $3,500 only increased healthcare spending 11% after receiving a tax refund, those with less than $536 increased healthcare spending 220% after getting their check.
Healthcare on Hold
"We already knew that many families don't have enough of a cash buffer to cover the cost of a major medical emergency," says Diana Farrell, president and CEO of the JPMorgan Chase Institute. "Now we also see that a significant number of Americans put off going to the doctor and other routine health services until they actually have cash in their account, even when they know that it is coming."
Dentists receive 32% of in-person payments after tax refunds arrive, with doctors and hospitals getting 23% and 6% respectively. The remaining 39% went toward other healthcare services, including nursing service providers, medical laboratories, opticians, optometrists and chiropractors. Basically, if folks can put off medical treatment until they have more money on hand, they're doing so.
This isn't incredibly surprising, as just 39% of U.S. workers told Bankrate.com they have enough savings to cover a $1,000 emergency room visit. Among those who are not able to pay that expense, 36% would need to borrow money to pay for it. Meanwhile, during the past year, more than one-third of American households (34%) report they have had a major unexpected expense. Half of the time that expense was $2,500 or more, including 30% that paid $5,000 or more.
"Unplanned expenses can pop up at any time and your best protection is having an emergency savings cushion," says Bankrate.com chief financial analyst, Greg McBride.
Of the nearly 4 in 10 workers who would borrow money to pay unforeseen bills, nearly 1-in-5 Americans (19%) would have to put that expense on a credit card and finance it over time, 12% would borrow from family or friends, and 5% would take out a personal loan. However, among households with annual income of $75,000 or more, 62% would use savings and just 3% would borrow from family or friends.
"Build your savings cushion by having a regular direct deposit into a dedicated savings account," McBride suggests. "Even when unplanned expenses arise, you're only one paycheck away from beginning to replenish that savings cushion."
A Better Plan B
So how do you start saving? Well, Bankrate notes that the first step most of you take when compiling savings is to cut back on everything. Dining out is the first luxury to go, with 59% very or somewhat likely to cut back on restaurant meals this year in order to save money.
Anthony D. Criscuolo, certified financial planner with Palisades Hudson Financial Group in Fort Lauderdale, advises putting emergency planning ahead of other long-term savings. Make an emergency budget in advance and look for non-essential costs like cable and streaming services that you can cut when times get tight.
Finally, don't get too comfortable. Just because you're in a better job now or feeling more confident in your spending habits doesn't mean an emergency isn't waiting somewhere down the line. If you don't end up dipping into your emergency fund, it can become part of your nest egg. Just don't start looking at it as playing-around money if fortune turns in your favor.
"A weekend trip with your friends is not an emergency," Criscuolo says. "You never know when an emergency will occur or how severe it may be. If an emergency hits right after you used some of the money, you may never be able to replenish the account and what's left may not be enough to last through the length of the emergency."
60 Second Tips on TheStreet. Watch and Subscribe to our Youtube channel
More of What's Trending on TheStreet:
This article is commentary by an independent contributor. At the time of publication, the author held no positions in the stocks mentioned.