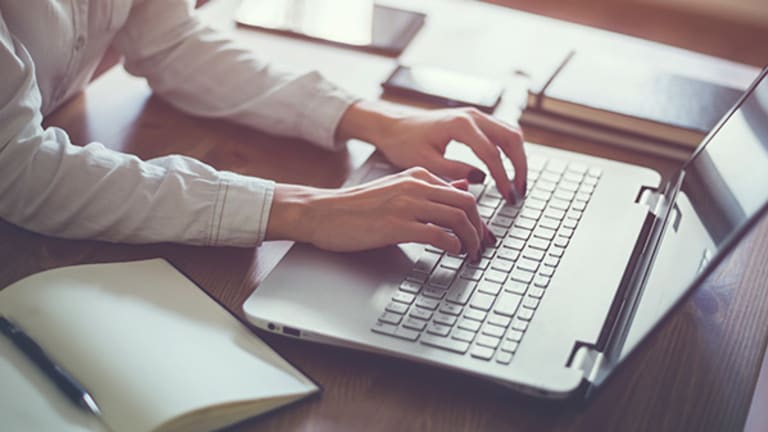 Year-End Tax Tips for the Self-Employed
There are 55 million people that consider themselves self-employed, and that means lots of folks in this country who need to take advantage of complicated deductions.
Editor's pick: Originally published Dec. 20.
There are a tons of perks to being self-employed. You can sneak out to watch your kid's soccer game, you often can work in your fuzzy slippers and you get to write-off a ton of stuff for tax purposes.
And you're not alone. There are 55 million people that consider themselves self-employed -- whether they are independent contractors or freelancers, according to research conducted by Intuit. And that number is expected to hit 60 million by 2020.
The problem is that while you love the empowerment of doing everything on your own, many of you leave money on the table come tax time if you take a DIY approach to that too.
Intuit found that the average self-employed worker has more than 1,000 financial transactions per year, yet only one-third of you actually claim those business-related expenses.
That's nuts. You're working too darn hard.
You use technology for everything else in your life - start using it for your taxes too. 
There are some great programs out there now. As long as you're willing to put the time in - because properly preparing your own tax return can take hours - you can save yourself a ton of money.
So check out H&R Block's Premium, which is geared toward the self-employed.
And TurboTax just launched a specific self-employed program that can help you find all those deductions and expenses that you may not have thought of.
And if you haven't already considered using an accounting software like QuickBooks, it will help you stay organized and tax time so much easier. 
Because we get it -- you're too busy trying to keep the lights on to worry about the little nuances of the tax code.
So let these programs help you prepare your Schedule C - Profit or Loss from Business. Below are some of the scenarios you'll be walked through, so start thinking and gathering your documentation.
Home Office Deduction
If you have a room in your house that you use exclusively for work, then you should absolutely take the home office deduction.
Too many people are afraid it will raise the audit flag and skip it. And if your home office also doubles as your laundry room, then you should skip it.
But if its legitimately a room that you use for solely work purposes, then you can deduct a percentage of your mortgage interest or rent, taxes, utility bills and insurance costs. Calculate all this on Form 8829 - Expense for the Business Use of Your Home.
You can also skip the math and use the simplified method, which allows you to deduct $5 for every square foot. The maximum deduction under this method is $1,500 but if your office is 300 square feet or less it's the easier way to go.
Purchase of New Equipment
If you need to buy equipment, consider doing it before the end of the year. Any purchases under $2,500 are fully deductible (check out Section 179 of the tax code if you need some light reading), and there is talk that this perk may go away as part of the Trump tax overhaul. So go get yourself a new laptop while you still can. 
Retirement Contributions
While you don't have a company pension waiting for you at the end of the self-employed rainbow, you do have the ability to contribute more money to your retirement accounts than your W-2 brethren.
For instance, you can contribute as much as 25% of your net earnings from self-employment (not including contributions for yourself) up to $53,000 to a SEP IRA (your employed friends can contribute a maximum of $18,000 to their 401(k) if they are under 50).
And you get a deduction for a piece of your contribution.
Medical Premiums
W-2 employees have a tough time deducting this stuff, because only the amount that exceeds 10% of their adjusted gross income (7.5% for those age 65 and older on 2016 returns) is deductible. 
As a self-employed person, you can deduct your medical premiums right on the front page of your Form 1040. And include the costs of Medicare and Medicare Part B and D if you qualify and you're still running your business.
Mileage Deduction
Definitely keep a log of where you're going and the clients you're going to see. And then you can deduct 54 cents per mile you drive for work. But be careful to claim that your car is being used only for business purposes. Uncle Sam is going to need serious proof for that. (Not even one school drop off? C'mon.)
Start-Up Costs
Think about your start-up costs -- like research to launch the business, advertising, web-hosting fees, proto-types of your product - they're all deductible, says Lisa Greene-Lewis CPA, communications manager and tax expert at Intuit.
New Form
As we mentioned before, if you were paid through a third-party network, like PayPal, your earnings will be reported on a Form 1099-K -- Payment Card and Third Party Network Transactions.
This income still needs to be reported on Schedule C. 
Estimated Tax Payments
If you're new to this self-employed stuff and didn't make estimated payments all year, don't panic. You have one more shot on January 15, 2017. So try to estimate your tax bill, and send some money to the IRS and your state.
If you didn't pay in enough money throughout the year, try to make some last-minute year-end tax moves now, like beefing up your charitable contributions. That will get your overall 2016 tax bill down so then you will owe less. 
And then prepare for 2017. Estimates technically are due on April 15, June 15, September 15 and January 15 of the following year. 
So enjoy the many perks of being self-employed. Control your own destiny, and be your own boss. Just keep your hard-earned money. Uncle Sam doesn't have start-up costs anymore, but you do.