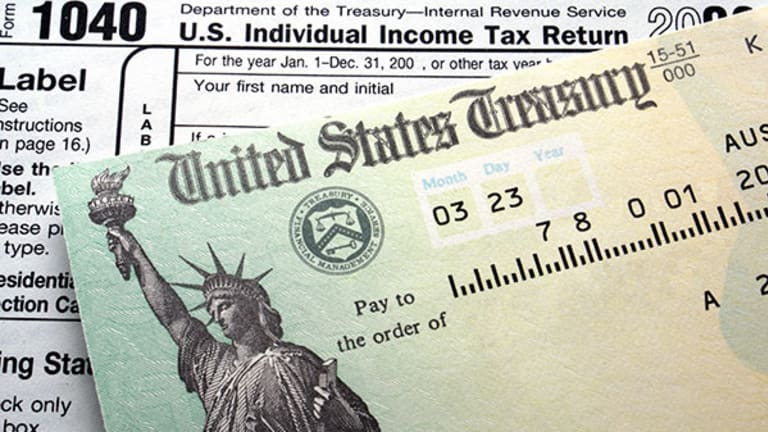 Why Debt Is Eating Up Your Tax Refund
Total U.S. household debt has surpassed $12.5 trillion, with credit card debt alone accounting for $1 trillion. If you're getting a refund, it's long been spent.
Forget about your tax refund: it's already spoken for.
Back in Feburary, the Federal Reserve Bank of New York announced that total household debt increased by $226 billion (or 1.8%) to $12.58 trillion during the fourth quarter of 2016. That's the largest quarterly increase in total household debt since the fourth quarter of 2013 and $460 billion in debt more than U.S. consumers had amassed a year earlier. It also put debt just 0.8% below its peak of $12.68 trillion in the third quarter of 2008.
Almost every form of debt increased from the same time in 2015. Mortgage debt is up $231 billion to $8.48 trillion. Student loan debt increased $78 billion to $1.31 trillion. Auto loan debt is up $93 billion to $1.16 trillion. Credit card debt climbed by $46 billion to $779 billion. Even all of those figure may be low.
"Debt held by Americans is approaching its previous peak, yet its composition today is vastly different as the growth in balances has been driven by non-housing debt," says Wilbert van der Klaauw, senior vice president at the New York Fed. "Since reaching a trough in mid-2013, the rebound in household debt has been led by student debt and auto debt, with only sluggish growth in mortgage debt."
According to the Federal Reserve in Washington, D.C., revolving debt of all kinds exceeded $1 billion in the fourth quarter of 2016 for the first time since 2008 and returned to that mark again in February. That said, credit card delinquency rates were around 10% the last time revolving debt hit the $1 billion mark in 2008. At the end of last year, only 7% of credit card debt was past due.
"Credit card debt is rising quickly, but delinquencies are still really low," says Matt Schulz, CreditCards.com's senior industry analyst. "Many Americans are doing a good job of controlling their debts, but eventually with big debts and rising interest rates, it's likely that something will have to give. I expect delinquencies to start rising more quickly in 2017."
Consumer spending and saving habits are doing little to prove him wrong. A survey by TD bank found that 21% of consumers would advise their younger selves to use their tax return to fund a savings account. However, only 12.5% currently plan to do so. Why aren't they saving more? Because 25% are using their tax return to pay down debt, while 23% are using it to pay bills.
While it's great that just 6% of taxpayers expecting a refund this year will blow it on a vacation or shopping spree, according to Bankrate.com report, spending it on necessities such as food or utility bills (29%), and using it to pay down debt (27%) is just a stopgap solution. The 34% who plan to save or invest it have the right idea.
"Millennials are actually the age group most likely to have already filed their 2016 returns, and the age group most likely to save or invest their refund," said Sarah Berger, The Cashlorette at Bankrate. "This shows a sense of responsibility and overall financial savviness among young adults. They're setting up a solid foundation for their future financial selves. It can be tempting to splurge with that refund, but saving it is so much smarter; consider it an investment in yourself."
Yes, as the folks at NerdWallet note, the average refund of $3,120 can easily cover a new water heater ($1,944.50) or an emergency room visit ($1,750), but paying down debt and eliminating it altogether is a far more sound investment.
"2017 will be a record-setting year for credit card debt," Schulz says. "Americans' credit card debt will almost certainly reach its highest levels ever later this year and keep growing from there. Add in a few expected rate increases from the Fed over the next two years, and that makes it even more important than usual to focus on paying down your credit card debt."
So how do you make the most of that tax refund? Well, MassMutual corporate vice president Tara Reynolds suggests that younger workers should attack their debt by starting with high-interest credit cards and student loans first. That will free up more income to do things like change your withholding for next year and put the extra into your retirement plan. If you have a health savings account or are considering an insurance policy to protect you in case you are ever incapacitated or disabled, now might be the time to fund it.
If you're over 30, keep hacking at high-interest credit cards and shoveling savings to retirement. If you're over 50, however, start socking away that $5,000 extra a year in catch-up contributions to your retirement. plan. If you're thinking about opening a 529 plan for your child's college fund or putting together a health savings account for yourself, stop waiting. Finally, if you're getting ready to retire, change your withholding, take the $5,000 extra a year and get your retirement in order. Buy some supplemental disability insurance if you must, but make sure you clean out any remaining credit card debt.
"If you're struggling with card debt, don't bury your head in the sand," Schulz says. "Take some sort of action, even if it's small. Consider a balance transfer card, for example. We're seeing zero-percent offers for up to 21 months, and that can have a huge impact on your ability to pay down that debt."
Editors' pick: Originally published April 15.