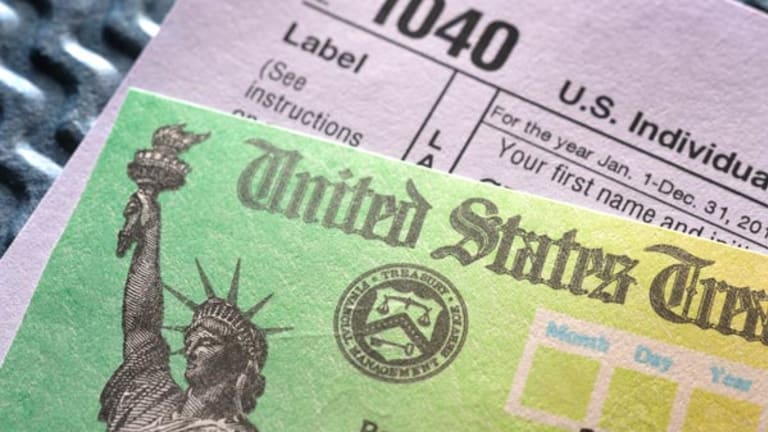 Waiting for Your W-2? Don't Worry Yet
Nothing fouls up a fast tax refund like a slow-moving W-2 form, but simple filers shouldn't fret.
BOSTON (TheStreet) -- Bite your nails until April 18 all you want, slackers, but there's a healthy portion of the taxpaying populace that's just a W-2 form away from ending its annual tax torment -- if only that form would arrive.
The observed celebration of Emancipation Day in Washington, D.C., on April 15 pushes this year's tax deadline back three days, and changes made to the tax code in December mean waiting until Feb. 14 to file for taxpayers making itemized deductions such as mortgage interest and medical expenses; students seeking a college tuition and fees deduction; or teachers looking to deduct expenses. That's cutting it a little close for those lucky enough to limit their tax paperwork to a W-2 and banking interest statement and able to file taxes through one of the short forms -- which describes 5 million of the more than 20 million federal returns handled each year via Intuit's (INTU) - Get Intuit Inc. (INTU) Report Turbo Tax, says Bob Meighan, vice president of customer advocacy for the company and a certified public accountant.
"These filers shouldn't be concerned about the IRS processing delay," Meighan says. "The 1040A and 1040EZ filers are not affected by the delay and should go ahead and file and get their refund."
The problem is that the tax season's early birds are only as punctual as their employers allow them to be. The Internal Revenue Service stipulates that employers need to have their workers' W-2 forms postmarked by no later than Jan. 31, but leaves plenty of room in its code for exceptions and deadline extensions. Kathy Pickering, executive director of H&R Block's (HRB) - Get H&R Block, Inc. (HRB) Report Tax Institute, says such instances are rare, but not out of the question.
"If an employer is in an unusual situation, which we saw after Hurricane Katrina and some of the other disaster situations -- where some companies even shut down completely and there was nobody to provide the W-2 -- there are some exceptions," Pickering says. "The IRS does allow for substitutions, but it has to be after Feb. 15 and you can reconstruct that information to the best of your ability."
Recent economic uncertainty may be inspiring impatience among taxpayers assured a refund. The unemployment rate sits at 9.4% and, with H&R Block putting last year's average refund at $2,900, a lot of newly jobless people are looking for any help they can get. Making W-2 information available online -- as 190,000 companies have by adding 70 million employees' W-2 information to H&R Block's database -- helps get that information out earlier than it can be printed and mailed, but can also create confusion for the Web-wary.
"A lot of employers get their W-2s out earlier in the month and some make that information available electronically, which causes a lot of talk among people asking 'Do you have your W-2? I don't have mine,'" Pickering says. "Folks should not get worried about not having their W-2 until the first week in February."
In the event a W-2 still doesn't arrive by Feb. 15, a taxpayer still has some options. Calling the employer and IRS is a must, but if neither is able to help, taxpayers can still fill out the substitute Form 4852 with information from their last 2010 paycheck. Even if a W-2 shows up after that form is filed, a 1040X revision form can take care of any inconsistencies. Still, Meighan and Pickering warn that those steps are a last resort. Antsy refund seekers shouldn't consider them an alternative to their W-2.
"Just to be really clear and specific, it is not OK to file a tax return with your last pay stub unless it is an extraordinary situation," Pickering says.
Sneaking in a simple return before the Feb. 14 stampede shouldn't be a concern, either. Products such as H&R Block's W-2 Early Access program and TurboTax's SnapTax app -- which automatically files a user's return based on a picture of their W-2 taken with their smartphone -- are among several options that make it easy for those with minimal forms to file once they arrive. Meighan and Pickering still suggest double-checking seemingly obvious steps, including making sure you have all W-2s, especially if you just switched jobs, and assessing your current employer's status before stressing out about a slow-moving form.
"Normally, I would attribute it to the employer being in financial difficulty where they've had to let some people go and it could be the accounting and payroll people," Meighan says. "Normally, though, I don't hear many cases of W-2 being delayed."
—For the best rates on loans, bank accounts and credit cards, enter your ZIP code at BankingMyWay.com.