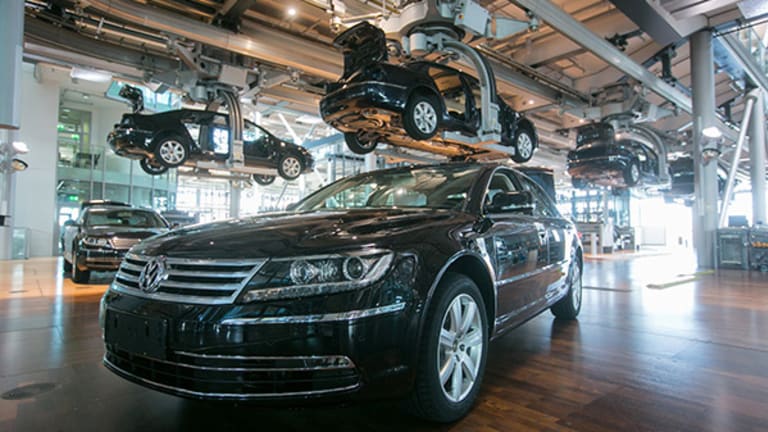 Publish date:
Volkswagen Dieselgate Could Affect Your Taxes
The car buybacks and owner compensation? Yeah, that may be taxable. Here's what you need to know before the IRS and VW drive you crazy.
The car buybacks and owner compensation? Yeah, that may be taxable. Here's what you need to know before the IRS and VW drive you crazy.
If you are one of the 490,000 people affected by the Volkswagen Dieselgate, you not only have a big car issue - you may have a tax issue, too. 
After admitting to cheating on exhaust admissions, Volkswagen agreed to pay $10 billion on car buybacks and owner compensation.
This is the largest auto settlement on record, so while you're doing your year-end tax planning, don't forget to include this debacle.
What Happened?
As a refresher, back in September 2015, VW admitted to installing software in its diesel cars to camouflage the fact that some of it vehicles emitted up to 40 times the legally allowable pollution levels. The software made them seem squeaky clean.
No surprise, VW got caught. 
So if you had a 2.0-liter diesel Beetle, Golf, Jetta, Passat and Audi A3 cars from the 2009 through 2015 model years you were one of the many duped.
Back in October, a U.S. judge approved a total settlement of $14.7 billion that included $4.7 billion that VW was to spend on programs that would offset excess emissions and boost clean-vehicle projects. 
But to claim a piece of the $10 billion, you have to apply for eligibility at the VW court settlement page. And you have until 9/1/2018 to do this.
If you took action already and either traded in your car, received money on a lease or had your car modified so it legitimately can meet emission standards, you may have a tax issue on your 2016 tax return.
And while it was not the intention of the world's No. 2 automaker to cause a taxable event, you have to be prepared. 
So what do you do?
Keep all your settlement records and don't spend all the money! Cash payments from VW are starting at around $5,100, so please, just put some aside in case the IRS decides to call this a taxable event.
And while we can look to history and IRS past court cases for guidance, anything is possible. The bigger problem -- in typical IRS fashion - is that the agency will probably opine after you file your 2016 tax return. So then you will have no choice but to amend if you didn't file according to its rulings. 
Total pain, we know. But unfortunately, it's happened before.
So here are a few possible scenarios. 
You originally bought the car and traded it in for a new one.
VW will buy your car back for the Sept 2015 fair market value. As of December 1, there are over 9,000 buybacks that had been scheduled, says Jeannine Ginivan, senior manager of corporate and internal communications at Volkswagen Group of America, Inc.
Now you will owe capital gains if you make money on this trade in, but we all know that your car depreciates the second you pull it out of the lot. The drama of this situation caused it to depreciate even more, so odds are good you're actually going to have a loss on the trade-in. And unfortunately, you can't deduct a personal loss on your tax return.
Even worse, if you trade in the car for a new one, you may owe your state sales tax on the purchase, says Lynn Ebel, manager at H&R Block's The Tax Institute.
If you leased the car and received a payment from VW, you have no choice but to wait for guidance from the IRS. 
"If the IRS interprets that payment as not relating to the car's value, then it would be a taxable cash settlement," says Fred Slater, a CPA and partner at MS1040 LLC in Manhattan. If the payment is considered part of the car's value, then maybe you're O.K. 
But who knows? So set some money aside.
You used the car for business.
If you used the car for business purposes and claimed depreciation on it -- which means you deducted a piece of the purchase price each year on your tax return -- some or all of your payment may be subject to taxation, notes Ginivan, who suggests people refer to the Monetary Compensation section of the settlement page for more details. 
And to add insult to injury..
You may actually get a Form-1099 from VW for the money you received. Typically, you must report everything on those forms on your tax return. But if the IRS later decides that the money you received is not taxable, then you didn't need to report it and now you have another headache. "The burden falls on the taxpayer to prove that the 1099 did not need to be reported," says Ebel, who will update their site as we get answers. That would mean you may have to amend your return and show the IRS (its own) documentation to prove the amount is not taxable.
It's nuts. 
So please, just be cautious. Talk to your advisor. Keep all your documents. And stay tuned. We will update you as soon as the IRS makes a decision.
And we get it -- the lack of guidance can drive you crazy.